Verified VCDS User
Verified
Joined

Feb 10, 2016
Messages

198
Reaction score

50
Location
VCDS Serial number

C?ID=269481
I have a 2008 MK5 Golf GTI with
DSG
, multifunction steering wheel, Red MFA+ that came with a Premium7 haedunit that I am retrofitting a Premium8 RCD-510-AE and Kufatec Fiscon Bluetooth harness. The RCD installs and works OK, bu the Fiscon bluetooth harness isn't providing any bluetooth functionality. This device is just a harness that sits between the factory radio harness and the headunit (so there is no cutting or splicing of the wires). Completely plug&play. The installation insructions call for the usual enabling of the 77-Telephone in the Gateway, which I did. The other instructions were for the multifunction streering wheel to be coded, but this isn't accepted. Also the option to enable the bluetooth in the headunit coding fails with a 31-out of range error message.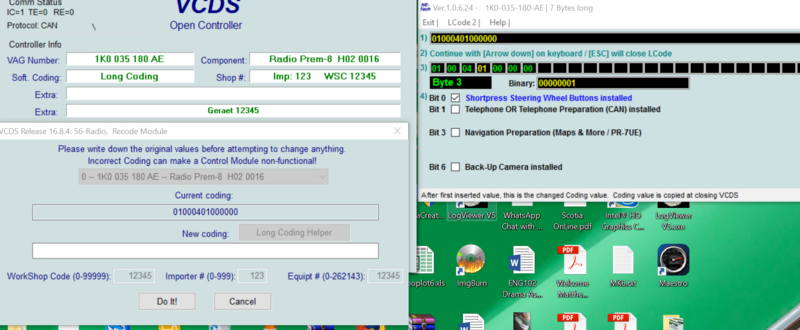 The fiscon Bluetooth unit should be able to work independently of the headunit (using only the MFA+ and the multifunction steering wheel, but the car isn't seeing it (with Telephone-77 enabled in the gateway). I originally thought it was a missing fuse issue, but the fuse socket doesn't have the wiring to accept a fuse in that empty fuse-socket.
I noticed from day1 of getting my
VCDS
cable that my central electronics coding for
Transmission Type
is set to "manual" (as opposed to automatic since I have a
DSG
). Is this correct, or am I confusing this term with something else?
Please see my autoscan below. The antenna isn't properly attached to the radio, and I got T-boned 2 weeks ago that damaged the rear left speaker.
Code:
Tuesday,03,January,2017,18:29:29:39976VCDS -- Windows Based VAG/VAS Emulator Running on Windows 10 x64


VCDS

 Version: 16.8.4.2 (x64)
Data version: 20161129 DS267.0
www.Ross-Tech.com


Dealer/Shop Name: Matthew Taylor
Workshop Code: 123 12345 012345


VIN: WVWZZZ1KZ8W111078   License Plate: 




Chassis Type: 1K (1K0)
Scan: 01 02 03 08 09 0F 15 16 17 19 25 42 44 46 4F 52 55 56 77


VIN: WVWZZZ1KZ8W111078   Mileage: 157120km-97629miles


01-Engine -- Status: Malfunction 0010
02-Auto Trans -- Status: OK 0000
03-

ABS

 Brakes -- Status: Malfunction 0010
04-Steering Angle -- Status: OK 0000
08-Auto HVAC -- Status: Malfunction 0010
09-Cent. Elect. -- Status: Not registered 0011
0F-Digital Radio -- Status: Cannot be reached 1100
15-Airbags -- Status: Malfunction 0010
16-Steering wheel -- Status: OK 0000
17-Instruments -- Status: OK 0000
19-CAN Gateway -- Status: Malfunction 0010
25-Immobilizer -- Status: OK 0000
42-Door Elect, Driver -- Status: Malfunction 0010
44-Steering Assist -- Status: Malfunction 0010
46-Central Conv. -- Status: Malfunction 0010
4F-Centr. Electr. II -- Status: OK 0000
52-Door Elect, Pass. -- Status: Malfunction 0010
55-Headlight Range -- Status: Malfunction 0010
56-Radio -- Status: Malfunction 0010
77-Telephone -- Status: OK 0000
 
-------------------------------------------------------------------------------
Address 01: Engine        Labels: 06F-907-115-AXX.clb
   Part No SW: 1K0 907 115 R    HW: 8P0 907 115 B
   Component: 2.0l R4/4V TFSI     0020  
   Revision: 5BH16---    Serial number: VWX7Z0G83NA8OV
   Coding: 040300101C070060
   Shop #: 

WSC

 66565 257 00032
   VCID: 354FD8585CDD5EEA2A-8060


2 Faults Found:
000256 - Mass Air Flow Sensor (G70) 
               P0100 - 004 - Supply Voltage
             Freeze Frame:
                    Fault Status: 01100100
                    Fault Priority: 2
                    Fault Frequency: 1
                    Reset counter: 255
                    Mileage: 157009 km
                    Time Indication: 0
                    Date: 2000.00.00
                    Time: 21:38:24


             Freeze Frame:
                    RPM: 0 /min
                    Load: 0.0 %
                    Speed: 0.0 km/h
                    Temperature: 69.0°C
                    Temperature: 39.0°C
                    Absolute Pres.: 990.0 mbar
                    Voltage: 12.065 V


000054 - Oxygen (Lambda) Sensor B1 S2: Heating Circuit 
               P0036 - 004 - Malfunction / Open Circuit
             Freeze Frame:
                    Fault Status: 01100100
                    Fault Priority: 2
                    Fault Frequency: 1
                    Reset counter: 255
                    Mileage: 157010 km
                    Time Indication: 0
                    Date: 2000.00.00
                    Time: 21:58:55


             Freeze Frame:
                    RPM: 1342 /min
                    Load: 18.0 %
                    Speed: 26.0 km/h
                    Temperature: 81.0°C
                    Temperature: 33.0°C
                    Absolute Pres.: 1000.0 mbar
                    Voltage: 13.843 V


Readiness: 0110 0101


-------------------------------------------------------------------------------
Address 02: Auto Trans        Labels: 02E-927-770.clb
   Part No SW: 02E 300 044 J    HW: 02E 927 770 AD
   Component: GSG 

DSG

         082 1407  
   Revision: 04808020    Serial number: 00000907050136
   Coding: 0000020
   Shop #: 

WSC

 09537 809 89632
   VCID: 1C192DFCDF37EFA235-8048


No fault code found.


-------------------------------------------------------------------------------
Address 03: 

ABS

 Brakes        Labels: 1K0-907-379-MK60-F.lbl
   Part No SW: 1K0 907 379 AC    HW: 1K0 907 379 AC
   Component: ESP FRONT MK60      0101  
   Revision: 00H11001    
   Coding: 0004738
   Shop #: 

WSC

 12345 123 12345
   VCID: 73CB2640122900DAC4-8026


1 Fault Found:
01314 - Engine Control Module 
            013 - Check 

DTC

 Memory


-------------------------------------------------------------------------------
Address 08: Auto HVAC        Labels: 1K0-907-044.lbl
   Part No SW: 1K0 907 044 BS    HW: 1K0 907 044 BS
   Component: ClimatronicPQ35 120 1111  
   Revision: 00120021    Serial number: 00000000000000
   Shop #: 

WSC

 00000 000 00000
   VCID: 79D7146830457A8A8E-802C


3 Faults Found:
00797 - Sunlight Photo Sensor (G107) 
            010 - Open or Short to Plus
00709 - Sunlight Photosensor 2 (G134) 
            010 - Open or Short to Plus
00229 - Refrigerant Pressure 
            002 - Lower Limit Exceeded


-------------------------------------------------------------------------------
Address 09: Cent. Elect.        Labels: 3C0-937-049-30-H.lbl
   Part No SW: 3C0 937 049 AJ    HW: 3C0 937 049 AJ
   Component: Bordnetz-SG     H54 2202  
   Revision: 00H54000    Serial number: 01000007456322
   Coding: E70E9E0F000414004F14000414000080800900005C100100000000000000
   Shop #: 

WSC

 12345 123 12345
   VCID: 71C72C48683532CA36-8024


   Subsystem 1 - Part No: 1K2 955 119 E  Labels: 1KX-955-119.CLB
   Component: Wischer 300807 021  0501  
   Coding: 00038837
   Shop #: 

WSC

 12345  


   Subsystem 2 - Part No: 1K0 955 559 AF  Labels: 1K0-955-559-AF.CLB
   Component: 

RLS

     130907 046  0204  
   Coding: 00221517
   Shop #: 

WSC

 12345  


5 Faults Found:
00924 - Relay for Headlamp Cleaning System (J39) 
            009 - Open or Short to Ground - Intermittent
             Freeze Frame:
                    Fault Status: 00101001
                    Fault Priority: 4
                    Fault Frequency: 2
                    Reset counter: 226
                    Mileage: 157009 km
                    Time Indication: 0
                    Date: 2005.09.13
                    Time: 31:63:63


             Freeze Frame:
                        ON
                    Voltage: 11.80 V
                        ON
                        ON
                        OFF
                        OFF
                        OFF


01299 - Diagnostic Interface for Data Bus (J533) 
            005 - No or Incorrect Basic Setting / Adaptation
             Freeze Frame:
                    Fault Status: 01100101
                    Fault Priority: 2
                    Fault Frequency: 1
                    Reset counter: 186
                    Mileage: 157124 km
                    Time Indication: 0
                    Date: 2005.09.13
                    Time: 31:63:63


             Freeze Frame:
                        ON
                    Voltage: 12.15 V
                        ON
                        ON
                        OFF
                        OFF
                        OFF


00380 - Special Vehicle Control Module (J608) 
            004 - No Signal/Communication
             Freeze Frame:
                    Fault Status: 01100100
                    Fault Priority: 2
                    Fault Frequency: 7
                    Reset counter: 186
                    Mileage: 157116 km
                    Time Indication: 0
                    Date: 2005.09.13
                    Time: 31:63:63


             Freeze Frame:
                        ON
                    Voltage: 12.20 V
                        ON
                        ON
                        OFF
                        OFF
                        OFF


02390 - Control / Regulation for Ambience Lighting (E400) 
            009 - Open or Short to Ground
             Freeze Frame:
                    Fault Status: 01101001
                    Fault Priority: 5
                    Fault Frequency: 1
                    Reset counter: 186
                    Mileage: 157009 km
                    Time Indication: 0
                    Date: 2005.09.13
                    Time: 31:63:63


             Freeze Frame:
                        ON
                    Voltage: 11.80 V
                        ON
                        ON
                        OFF
                        OFF
                        OFF


00987 - Lamp for Brake Light; Left (M9) 
            012 - Electrical Fault in Circuit
             Freeze Frame:
                    Fault Status: 01101100
                    Fault Priority: 1
                    Fault Frequency: 1
                    Reset counter: 186
                    Mileage: 157009 km
                    Time Indication: 0
                    Date: 2005.09.13
                    Time: 31:63:63


             Freeze Frame:
                        ON
                    Voltage: 13.55 V
                        ON
                        ON
                        OFF
                        OFF
                        ON




-------------------------------------------------------------------------------
Address 0F: Digital Radio
Cannot be reached


-------------------------------------------------------------------------------
Address 15: Airbags        Labels: 1K0-909-605.lbl
   Part No SW: 1K0 909 605 T    HW: 1K0 909 605 T
   Component: 3A AIRBAG VW8   020 2300  
   Revision: 05020000    Serial number: 0038PD1FKU0T  
   Coding: 0013121
   Shop #: 

WSC

 01269 785 00200
   VCID: 3D5FC07864ED86AAE2-8068


   Subsystem 1 - Serial number: 6332MSME2C406B29H


   Subsystem 2 - Serial number: 6342MSME2C42223ED


   Subsystem 3 - Serial number: 6352QSME3D213635D


   Subsystem 4 - Serial number: 6362QSME3C0B0C41L


8 Faults Found:
00654 - Seat Belt Tensioner Igniter; Driver Side (N153) 
            001 - Upper Limit Exceeded - MIL ON
00655 - Seat Belt Tensioner Igniter; Passenger Side (N154) 
            001 - Upper Limit Exceeded - MIL ON
00588 - Airbag Igniter; Driver Side (N95) 
            007 - Short to Ground - Intermittent - MIL ON
00589 - Airbag Igniter 1; Passenger Side (N131) 
            001 - Upper Limit Exceeded - MIL ON
01228 - Airbag Cut-Off Switch for Passenger Side (E224) 
            010 - Open or Short to Plus - MIL ON
02756 - Redundant signal path of Airbag cut-off switch - front passenger side (E224) 
            010 - Open or Short to Plus - MIL ON
00588 - Airbag Igniter; Driver Side (N95) 
            001 - Upper Limit Exceeded - Intermittent - MIL ON
01578 - Airbag Deactivation Warning Lamp; Passenger Side (K145) 
            009 - Open or Short to Ground - Intermittent - MIL ON


-------------------------------------------------------------------------------
Address 16: Steering wheel        Labels: 1K0-953-549-MY8.lbl
   Part No SW: 1K0 953 549 AQ    HW: 1K0 953 549 AQ
   Component: J0527           036 0070  
   Coding: 0012102
   Shop #: 

WSC

 12345 123 12345
   VCID: 01277C885895224AC6-8054


   Subsystem 1 - Part No: XXXXXXXXXXX 
   Component: E0221           002 0010


No fault code found.


-------------------------------------------------------------------------------
Address 17: Instruments        Labels: 1K0-920-xxx-17.lbl
   Part No SW: 1K6 920 974     HW: 1K6 920 974 
   Component: KOMBIINSTRUMENT VDD 1216  
   Revision: V0002000    Serial number: VWX7Z0G83NA8OV
   Coding: 0004103
   Shop #: 

WSC

 12345 123 12345
   VCID: 71C72C48683532CA36-8024


No fault code found.


-------------------------------------------------------------------------------
Address 19: CAN Gateway        Labels: 1K0-907-530-V3.clb
   Part No SW: 1K0 907 530 L    HW: 1K0 907 951 
   Component: J533  Gateway   H07 0052  
   Revision:   H07 01    Serial number: 040907F1000254
   Coding: ED811D060007030001
   Shop #: 

WSC

 12345 123 12345
   VCID: 3041E94CA3BF7BC279-8064


3 Faults Found:
00380 - Special Vehicle Control Module (J608) 
            004 - No Signal/Communication
             Freeze Frame:
                    Fault Status: 01100100
                    Fault Priority: 2
                    Fault Frequency: 1
                    Reset counter: 186
                    Mileage: 157124 km
                    Time Indication: 0
                    Date: 2000.00.00
                    Time: 18:07:16


02649 - Digital Radio Tuner 
            004 - No Signal/Communication
             Freeze Frame:
                    Fault Status: 01100100
                    Fault Priority: 2
                    Fault Frequency: 1
                    Reset counter: 186
                    Mileage: 157124 km
                    Time Indication: 0
                    Date: 2000.00.00
                    Time: 18:08:21


01044 - Control Module Incorrectly Coded 
            000 -  - 
             Freeze Frame:
                    Fault Status: 01100000
                    Fault Priority: 1
                    Fault Frequency: 1
                    Reset counter: 255
                    Mileage: 157124 km
                    Time Indication: 0
                    Date: 2000.00.00
                    Time: 18:08:16




-------------------------------------------------------------------------------
Address 25: Immobilizer        Labels: 1K0-920-xxx-25.clb
   Part No SW: 1K6 920 974     HW: 1K6 920 974 
   Component: IMMO            VDD 1216  
   Revision: V0002000    Serial number: VWX7Z0G83NA8OV
   Shop #: 

WSC

 00000 000 00000
   VCID: 71C72C48683532CA36-8024


No fault code found.


-------------------------------------------------------------------------------
Address 42: Door Elect, Driver        Labels: 1K0-959-701-MIN3.lbl
   Part No SW: 1K0 959 701 M    HW: 1K0 959 701 M
   Component: Tuer-SG         006 120B  
   Coding: 0000564
   Shop #: 

WSC

 00000 785 00200
   VCID: 3851D16C4BCFA38231-806C


2 Faults Found:
00109 - Left Mirror Turn Signal Lamp (L131) 
            012 - Electrical Fault in Circuit - Intermittent
00380 - Special Vehicle Control Module (J608) 
            004 - No Signal/Communication


-------------------------------------------------------------------------------
Address 44: Steering Assist        Labels: 1Kx-909-14x-44.clb
   Part No: 1K0 909 144 H
   Component: EPS_ZFLS Kl. 69     2901  
   Revision: 00H15000    
   Shop #: 

WSC

 00000 000 00000
   VCID: 2F43EA30BE81643A60-807A


2 Faults Found:
01312 - Powertrain Data Bus 
            014 - Defective - Intermittent
             Freeze Frame:
                    Fault Status: 00101110
                    Fault Priority: 4
                    Fault Frequency: 127
                    Reset counter: 214
                    Mileage: 156897 km
                    Time Indication: 0
                    Date: 2000.00.00
                    Time: 11:38:26


             Freeze Frame:
                    Voltage: 13.63 V
                        DU
                    Temperature: 51.0°C
                    RPM: 1498 /min
                    Speed: 31.0 km/h
                    Speed: 31.0 km/h
                    Count: 3


00778 - Steering Angle Sensor (G85) 
            008 - Implausible Signal - MIL ON
             Freeze Frame:
                    Fault Status: 11101000
                    Fault Priority: 6
                    Fault Frequency: 1
                    Reset counter: 183
                    Mileage: 157009 km
                    Time Indication: 0
                    Date: 2000.00.00
                    Time: 21:38:39


             Freeze Frame:
                    Battery Volts: 12.3 V
                        DD
                    Temperature: 38.0°C
                    Count: 5
                    Steering Angle: -0.48°
                    Count: 1
                        SteerAng Init




-------------------------------------------------------------------------------
Address 46: Central Conv.        Labels: 1K0-959-433-MAX.clb
   Part No SW: 1K0 959 433 BT    HW: 1K0 959 433 BT
   Component:    KSG PQ35 G2  020 0204  
   Revision: 00020000    Serial number: 00000000000000
   Coding: 9890020851030C7F42CE0F0FF0085A26509C40
   Shop #: 

WSC

 12345 123 12345
   VCID: 032B76804289305AD4-8056


   Subsystem 1 - Component:   Sounder No Answer     


   Subsystem 2 - Component:       NGS n.mounted     


   Subsystem 3 - Component:      IRUE n.mounted     


1 Fault Found:
01134 - Alarm Horn (H12) 
            004 - No Signal/Communication
             Freeze Frame:
                    Fault Status: 01100100
                    Fault Priority: 4
                    Fault Frequency: 1
                    Reset counter: 183
                    Mileage: 157009 km
                    Time Indication: 0
                    Date: 2000.00.00
                    Time: 21:38:39




-------------------------------------------------------------------------------
Address 4F: Centr. Electr. II (J533)       Labels: 1K0-907-532.clb
   Part No SW: 1K0 907 532     HW: 1K0 907 951 
   Component: J533  Gateway H07 0052  
   Revision:   H07 01    Serial number: 040907F1000254
   Coding: 00000000
   Shop #: 

WSC

 12345 123 12345
   VCID: 66ED4F1491FBE57253-8032


No fault code found.


-------------------------------------------------------------------------------
Address 52: Door Elect, Pass.        Labels: 1K0-959-702-MIN3.lbl
   Part No SW: 1K0 959 702 M    HW: 1K0 959 702 M
   Component: Tuer-SG         006 120B  
   Coding: 0000564
   Shop #: 

WSC

 00000 785 00200
   VCID: 3957D46870C5BA8ACE-806C


1 Fault Found:
00380 - Special Vehicle Control Module (J608) 
            004 - No Signal/Communication


-------------------------------------------------------------------------------
Address 55: Headlight Range        Labels: 1T0-907-357.lbl
   Part No: 1T0 907 357 
   Component: Dynamische LWR      0003  
   Coding: 0000003
   Shop #: 

WSC

 00000 785 00200
   VCID: 74C9255C172707E2DD-8020


1 Fault Found:
01539 - Headlights Not Adjusted 
            005 - No or Incorrect Basic Setting / Adaptation


-------------------------------------------------------------------------------
Address 56: Radio (J503)       Labels: 5M0-035-1xx-56.clb
   Part No SW: 1K0 035 180 AE    HW: 1K0 035 180 AE
   Component: Radio Prem-8  H02 0016  
   Revision: -----16S    Serial number: VWZ4Z7L3180243
   Coding: 01000401000000
   Shop #: 

WSC

 12345 123 12345
   VCID: 63EB560062C9905AB4-8036


5 Faults Found:
01317 - Control Module in Instrument Cluster (J285) 
            004 - No Signal/Communication
             Freeze Frame:
                    Fault Status: 01100100
                    Fault Priority: 6
                    Fault Frequency: 1
                    Reset counter: 186
                    Mileage: 157124 km
                    Time Indication: 0
                    Date: 2000.00.00
                    Time: 18:11:43


03138 - Input AUX IN 
            011 - Open Circuit
             Freeze Frame:
                    Fault Status: 01101011
                    Fault Priority: 5
                    Fault Frequency: 1
                    Reset counter: 186
                    Mileage: 157124 km
                    Time Indication: 0
                    Date: 2000.00.00
                    Time: 18:11:48


00856 - Radio Antenna 
            011 - Open Circuit
             Freeze Frame:
                    Fault Status: 01101011
                    Fault Priority: 5
                    Fault Frequency: 1
                    Reset counter: 186
                    Mileage: 157124 km
                    Time Indication: 0
                    Date: 2000.00.00
                    Time: 18:11:43


02633 - Antenna for Satellite Tuner 
            011 - Open Circuit
             Freeze Frame:
                    Fault Status: 01101011
                    Fault Priority: 5
                    Fault Frequency: 1
                    Reset counter: 186
                    Mileage: 157124 km
                    Time Indication: 0
                    Date: 2000.00.00
                    Time: 18:11:43


02635 - Tuner Not Enabled/Activated 
            000 -  - 
             Freeze Frame:
                    Fault Status: 01100000
                    Fault Priority: 7
                    Fault Frequency: 1
                    Reset counter: 186
                    Mileage: 157124 km
                    Time Indication: 0
                    Date: 2000.00.00
                    Time: 18:11:43




-------------------------------------------------------------------------------
Address 77: Telephone
Cannot be reached


End-------------------------(Elapsed Time: 01:17)--------------------------