Verified VCDS User
Verified
Joined

Jun 29, 2016
Messages

13
Reaction score

0
Location
VCDS Serial number

C?ID=47704
My first post here! after ~9 years of using
VCDS
! Now to the point:
I have a 2016 Golf R NA version. It comes with MIB2 and Fender Audio System.
I am not happy with the Fender overall performance and I am exploring the option to retrofit a Dynaudio Excite system which is the standard one in EU and
ROW
. Based on my findings so far the PN of the Dynaudio Amplifier for the MIB2 platform is the same part number as the Fender one found in my car:
5Q0 035 456
, the speakers of course are different but can be purchased later.
Just for the sake of proof of concept, since the amplifier seems to be the same,
I want to configure the audio settings on Information Electronics (5F) long code as Dynaudio
. Assuming the HW/DSP is the same and that the "Dynaudio features" (equalization parameters, DSP functions, etc) should be loaded into the AMP and appear in the Audio Settings menu in the MIB2 display.
I am using
VCDS
15.7.4 and my 2016 NA Golf R (with Discover Media and Fender Sound System with subwoofer) long code for 5F Information Electronics is
027300020000000051220002001808001F0207F401200105C6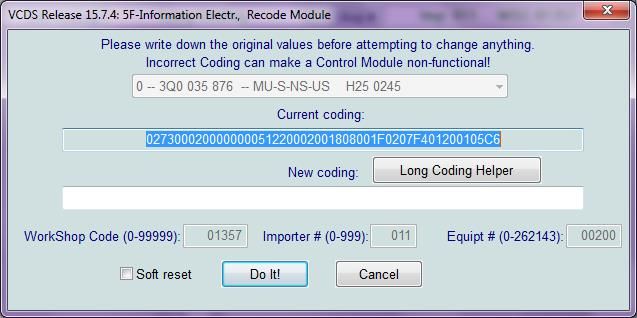 So far the only information I found here and in other forums about audio system settings are:
1. Bytes 04/07 (Sound System Channels): My code for Fender is "0000". As you can see the long code help doesn't provide relevant information.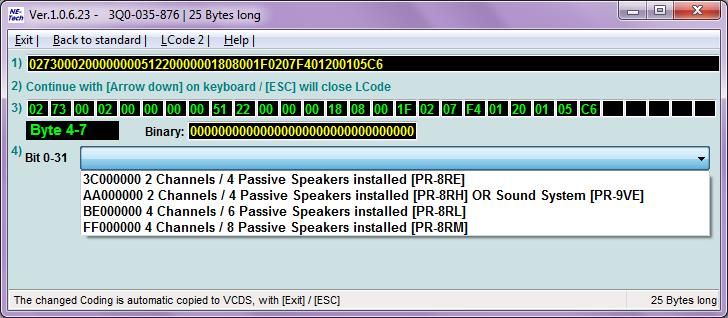 2. Byte 11 Sound System. My code for Fender is "02". As you can see the long code help doesn't provide relevant information.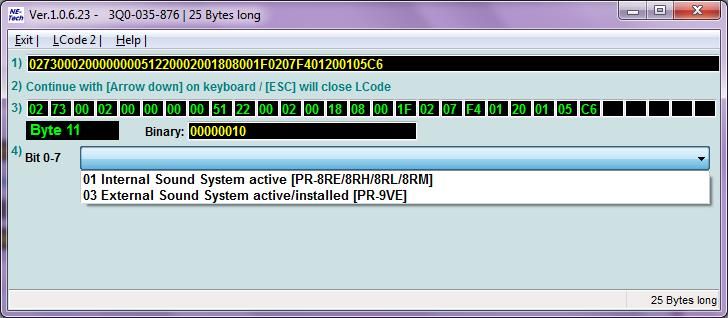 Are there dependencies on the Country settings? Any Golf R with MIB2 and Dynaudio in
ROW
can share their codes? I also checked the excel with various countries comparison but it looks the same as mine (Fender) on the relevant bytes.
Pointers are appreciated.