Verified VCDS User
Verified
Joined

Apr 23, 2014
Messages

82
Reaction score

82
Location
VCDS Serial number

C?ID=11844
A couple of weeks ago, I wrote a post with some comments about my first experience using the HEX-NET device. I had managed to set it up in 'access point' mode, but reached an impasse when the device wanted a firmware update, something that cannot be accomplished in access point mode. That post is here:
HEX-NET Firmware Update: Just how is this task accomplished?
.
Today, after waiting a week to rescue the device from my neighbors RS7, I got it operating in 'infrastructure mode'. Here are my comments about this whole experience. I'm not a computer wizard, but then again, I'm not a noob either. Below is a chronological list of what I encountered as I set the device up to work in infrastructure mode, then attempted to update the firmware, then attempted to log into
VCDS
-Mobile for the first time.
Defining Profiles
Once I grasped the concept of what was involved here, and after I went to the Ross-Tech website and used the search feature of that website to find the little Java application needed to set up the profiles, the whole process was not too difficult. The following thoughts occurred to me as I was doing this:
1)
Why didn't this Java application (HexNetConfig) get automatically installed on my computer when I downloaded
VCDS
14.xxx? It's not like it is the size of Adobe Creative Suite 6. Heck, it's tiny, and adding it into the big package that contains the
VCDS
application 14.x would not increase the size of the download by even 1%.
2)
Why did I have to go digging into my computer using File Explorer to find this little Java application after I downloaded it? Isn't it possible to have a button somewhere on the "Port and Protocol Options" page that says 'Configure HEX-NET', and when I push that button, the HexNetConfig application would launch automatically? I mean, heck, I have to go to the "Port and Protocol Options" page anyway to carry out the communications test, it would sure make sense (to me, anyway) to have a push-button right there under the TEST button that says 'Configure HEX-NET'. What I am getting at is this: I think you should make it appear to the end user that the process of configuring the HEX-NET device is a function that is built into the
VCDS
application. Doesn't matter that this work is done in a separate Java app - just let me launch that app from within the main
VCDS
'control panel', which is "Port and Protocol Options".
3)
Got the Java application running. It opens in a really small window (previously discussed here:
Suggestion for Human Interface Improvement of Wi-Fi Configuration Utility
. In fact, that window is so darn small, it doesn't even present all the information that is contained in the window... the user has to stretch the window out (by dragging one corner with the mouse) in order to see the 'current active profile' message at the bottom.
Compare the first picture (Java window opens at default size) with the second picture (after I enlarged the size of that window). See the additional information at the bottom of the second window that was hidden in the default size window?
What the Default size window looks like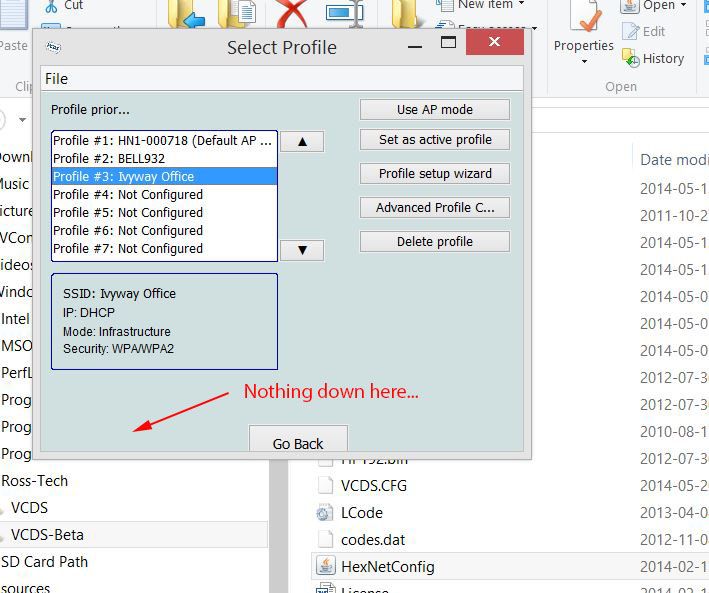 After the User Enlarges the Window by Dragging on a Corner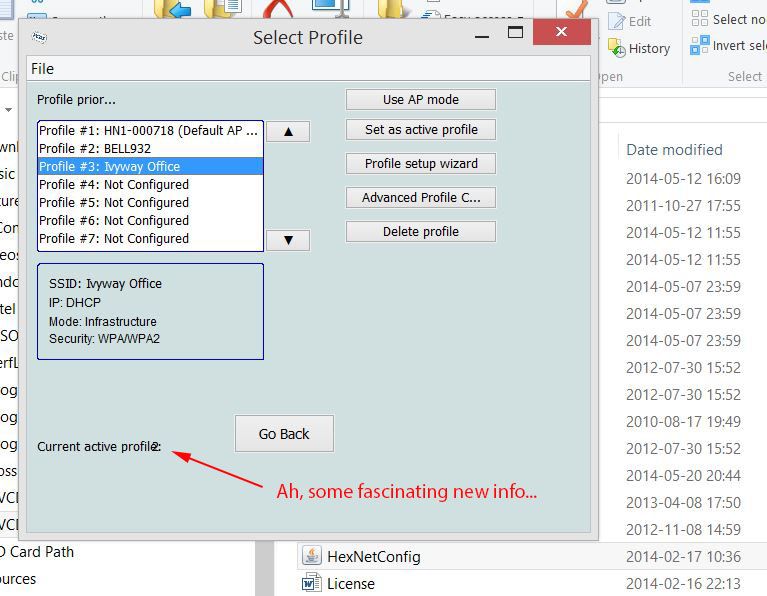 Note also that there is a layout error in the bottom of the second picture (above) - the text string 'Current Active Profile' is imposed on top of the variable (the number) that identifies the current active profile, in this case a 2. I think it would make more sense if that 'Current Active Profile' display was moved up and put directly below the 'Delete Profile' button. Also if instead of giving us a number, you gave us the name of the router, so the whole string read 'Current Active Profile is BELL932', rather than 'Current Active Profile: 2'. It would be simpler, more clear, less liable to oversight or misunderstanding to use plain language.
On the topic of 'plain language', what's the story on the 'profile prior...' label? Does that mean the profile I was using prior to this one? Or does it mean "Profiles in Order of Priority"? If the latter, then please spell it all out in plain language! Sure, you guys know what it means, because you live and breathe the code every day. We users don't understand - nor do we appreciate - truncated text or abbreviations and acronyms in place of plain, easy to understand language.
Eventually, I got to the screen below: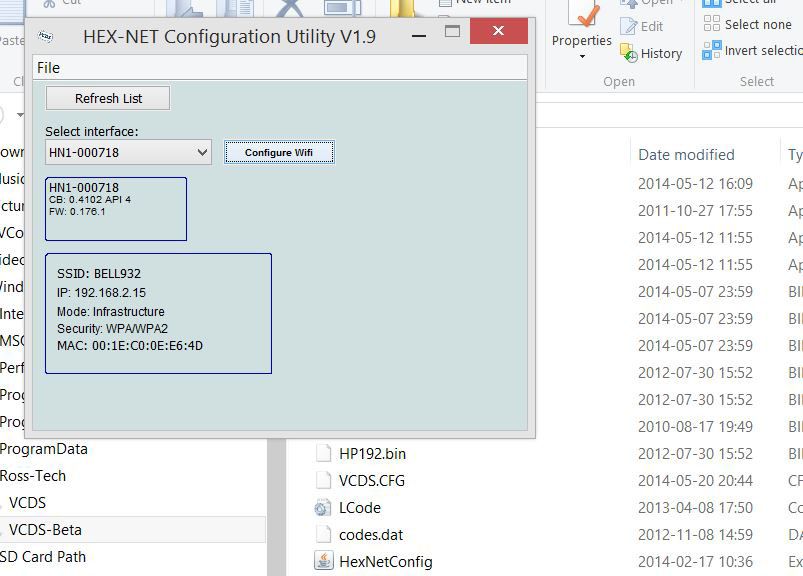 More acronyms and abbreviations. Rather than having a tiny (width-wise) box that contains an unidentified serial number and some things called '

CB

' and '

FW

', why not make the small box at the top the same size as the larger box underneath it (the one with SSID, etc.), and spell things out in plain language, as follows:

HEX-NET Serial Number:

HN

-1-000718

Code Block Version: 0.4102 API 4

Firmware Version: 0.176.1

You might think that is unnecessary, but just think of how many times your support people are going to be asking a customer

"What's your firmware version?"

or

"What's your Serial Number?"

and the customer is going to reply

"I dunno, where is that information"

, at which point your support people are going to say

"Well, look for the secret code letters '

FW

', and that will tell you the firmware version, 'cause our programmers didn't want to type the extra 6 characters necessary to spell the word out in full".

Moving along, the next screen I saw was this one:
Consider that I am a new user, I'm still trying to figure out how to use this new-fangled wireless device with my traditional
VCDS
desktop program. I haven't even got to the point where I can use the device with the desktop version of
VCDS
(this because the device wants a firmware update), and now I'm asked to go do something entirely new, which is to use the
VCDS
-Mobile web-based application. OK, time to go back to the Ross-Tech website and search for a movie that explains what the heck
VCDS
-Mobile is.
It sure would be a lot easier if instead of looking like the picture above, the prompt to update the firmware looked like the picture below:
It would be even nicer if pushing the button in the picture above took me directly to the "Options - Check for Updates" page, instead of presenting me with the screen below, which contains an instruction to go find the "Options - Check for Updates" page myself.
What the heck is a 'dataset update'? Remember, I just launched
VCDS
-Mobile for the very first time, I haven't even got to first base on my attempt to update the firmware, and now I am getting another bit of information telling me that I might need to do a 'dataset update', whatever that might be.
Eventually, I got to the right place to download the firmware. But, once again, I'm presented with acronyms and abbreviations that detract, rather than adding, to the legibility and clarity of the information presented. Have a look at the image below. Why not write 'Firmware Update' at the top, rather than
FW
Update? Maybe I know what 'ETA' means (heck, I ought to, having made my living as an aircraft pilot all my life), but do you think every user - especially users to whom English is a second language - will understand 'ETA'? Why not change that label to read 'Time Remaining'? That would certainly make things more clear. If you really want to stick with aviation abbreviations, at least use the correct one, which in this case would be ETE (Estimated Time Enroute). An ETA is always a clock time, not an integer.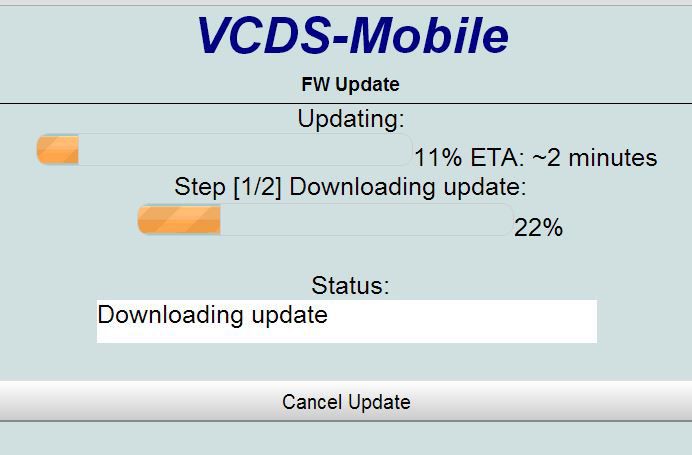 Eventually, the message below appeared. There's nothing at all wrong with my internet connection. I can tell that by looking at performance monitoring in Task Manager, or by simply going to a web page in a browser. This message is spurious.
Should the 'Cancel Update' button at the bottom of the picture above still be present (active, not dimmed out) at this stage of the game? Like, if the device is already rebooting, could I still cancel the update? I kind of doubt it, so, maybe best to get rid of that 'Cancel Update' button once the device starts to reboot.
Next, the screen below appeared. I've already had one ball thrown at me from out of left field (needing to go to
VCDS
-Mobile when I was in the process of trying to update the firmware), now here comes the second ball out of left field.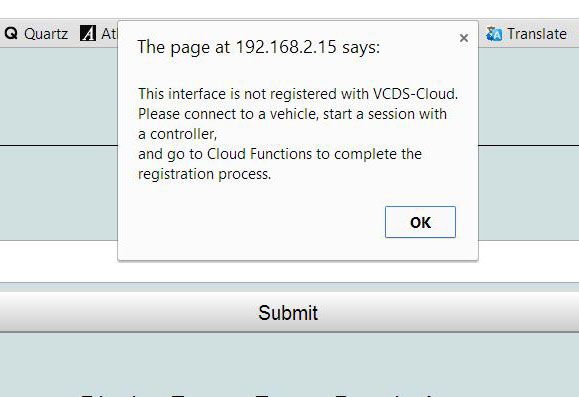 What if I don't happen to have a vehicle handy? What if it is the middle of winter, and I don't have an indoor garage? Is it possible to accomplish this by connecting the device to the computer using the USB cable that you provided? If so, that would be a heck of a lot easier way to do it. After all, all of these activities we are discussing are 'first day of use' activities, it is reasonable to assume I still have the shipping box and the USB cable with me.
(message continued in next post, this due to the 10 image per post limit)