Verified VCDS User
Verified
Joined

Feb 10, 2016
Messages

198
Reaction score

50
Location
VCDS Serial number

C?ID=269481
What does it mean below by: "Siren configuration blocked"? This is the setting that I got the car with. I know that the car alarm's siren is physically missing altogether, but I'm trying to understand the meaning of that option below. This is in controller #46 for my MK5 Golf.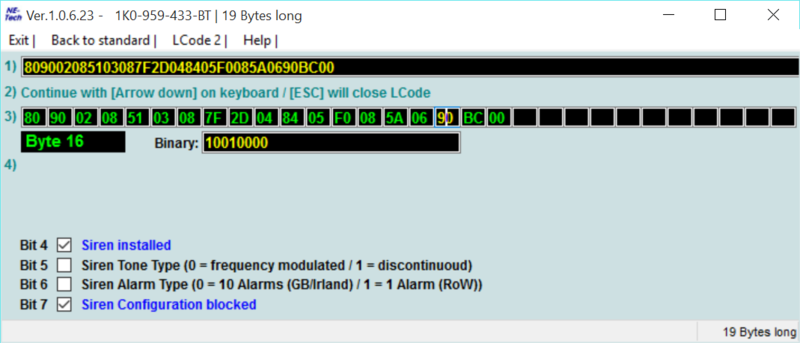 Is there any way to have the car alarm make the audible note through the car's (driving) horn instead of the (non-existent) siren? My MK5 Golf is one of those models where the horn doesn't work unless the ignition is ON. Is there any way of enabling that circuit (for the horn) to always remain HOT in
VCDS
(without having to have the car re-wired)?
As it relates to Byte 17, Bit 2: What type of transmission is being referenced here? I know it has nothing to do with the gearbox or
DSG
, so I assume that it must be some sort of signal.
As customary, I've posted my log below: I restored a few values in some of the controllers to get rid of some of the errors I was experiencing.
Code:
Wednesday,24,February,2016,18:06:56:39976VCDS -- Windows Based VAG/VAS Emulator Running on Windows 10 x64


VCDS

 Version: 15.7.4.1 (x64)
Data version: 20160216
www.Ross-Tech.com




VIN: WVWZZZ1KZ8W111078   License Plate: 
Mileage: 146390km-90962mi   Repair Order: 




                Address 09: Cent. Elect.       Labels: 3C0-937-049-30-H.lbl
Control Module Part Number: 3C0 937 049 AJ    HW: 3C0 937 049 AJ
  Component and/or Version: Bordnetz-SG     H54 2202
           Software Coding: E78F8F2700041500471400001400000000097F075C100100000000000000
            Work Shop Code: 

WSC

 11111 111 45725
           Additional Info: 1K2955119E  Wischer 300807 021  0501   1K0955559AF 

RLS

     130907 046  0204   
                      VCID: 71C72C48683532B681-8024
5 Faults Found:


02498 - Left Low Beam Reflector Motor (V294) 
            012 - Electrical Fault in Circuit
02499 - Right Low Beam Reflector Motor (V295) 
            012 - Electrical Fault in Circuit
00924 - Relay for Headlamp Cleaning System (J39) 
            009 - Open or Short to Ground
00317 - Rear Lid Control Module (J605) 
            004 - No Signal/Communication
00987 - Lamp for Brake Light; Left (M9) 
            012 - Electrical Fault in Circuit


--------------------------------------------------------------------------------
--------------------------------------------------------------------------------




                Address 09: Cent. Elect.       Labels: 3C0-937-049-30-H.lbl
Control Module Part Number: 3C0 937 049 AJ    HW: 3C0 937 049 AJ
  Component and/or Version: Bordnetz-SG     H54 2202
           Software Coding: E78F8F2700041500471400001400000000097F075C100100000000000000
            Work Shop Code: 

WSC

 11111 111 45725
           Additional Info: 1K2955119E  Wischer 300807 021  0501   1K0955559AF 

RLS

     130907 046  0204   
                      VCID: 71C72C48683532B681-8024
5 Faults Found:


02498 - Left Low Beam Reflector Motor (V294) 
            012 - Electrical Fault in Circuit
02499 - Right Low Beam Reflector Motor (V295) 
            012 - Electrical Fault in Circuit
00924 - Relay for Headlamp Cleaning System (J39) 
            009 - Open or Short to Ground
00317 - Rear Lid Control Module (J605) 
            004 - No Signal/Communication
00987 - Lamp for Brake Light; Left (M9) 
            012 - Electrical Fault in Circuit


--------------------------------------------------------------------------------
--------------------------------------------------------------------------------




Address 09: 

DTCs

 cleared
--------------------------------------------------------------------------------
--------------------------------------------------------------------------------




Address 09-02:1K0 955 559 AF recoded (Short coding) from 00208933 to 00221517  (11111/111/45725)  


--------------------------------------------------------------------------------
--------------------------------------------------------------------------------




Address 15: 

DTCs

 cleared
--------------------------------------------------------------------------------
--------------------------------------------------------------------------------




Address 15:1K0 909 605 T recoded (Short coding) from 0013121 to 0013121  (01269/785/00200)  


--------------------------------------------------------------------------------
--------------------------------------------------------------------------------




                Address 19: CAN Gateway       Labels: 1K0-907-530-V3.clb
Control Module Part Number: 1K0 907 530 L    HW: 1K0 907 951 
  Component and/or Version: J533  Gateway   H07 0052
           Software Coding: ED811F060002030001
            Work Shop Code: 

WSC

 12345 785 00200
                      VCID: 3041E94CA3BF7BBECE-8064
3 Faults Found:


01325 - Control Module for Tire Pressure Monitoring (J502) 
            004 - No Signal/Communication
02010 - Left Entry Assistance Control Module (J572) 
            004 - No Signal/Communication
00317 - Rear Lid Control Module (J605) 
            004 - No Signal/Communication


--------------------------------------------------------------------------------
--------------------------------------------------------------------------------




Address 19: 

DTCs

 cleared
--------------------------------------------------------------------------------
--------------------------------------------------------------------------------




Address 19:1K0 907 530 L recoded (Long Coding) from ED811F060002030001 to ED811F060002020001  (12345/785/00200)  
--------------------------------------------------------------------------------
--------------------------------------------------------------------------------




Address 19: 

DTCs

 cleared
--------------------------------------------------------------------------------
--------------------------------------------------------------------------------




Address 42: 

DTCs

 cleared
--------------------------------------------------------------------------------
--------------------------------------------------------------------------------




Address 44: 

DTCs

 cleared
--------------------------------------------------------------------------------
--------------------------------------------------------------------------------




Address 46:1K0 959 433 BT recoded (Long Coding) from 9890020851030C7F42CC8F0F70085A2690BC00 to 819002085103087F2D04840570085A0690BC00  (11111/111/45725)  
--------------------------------------------------------------------------------
--------------------------------------------------------------------------------




Address 03: 

DTCs

 cleared
--------------------------------------------------------------------------------
--------------------------------------------------------------------------------




Chassis Type: 1K (1K0)
Scan: 01 02 03 08 09 15 16 17 19 25 42 44 46 4F 52 55 56


VIN: WVWZZZ1KZ8W111078   Mileage: 146390km-90962miles


01-Engine -- Status: Malfunction 0010
02-Auto Trans -- Status: OK 0000
03-

ABS

 Brakes -- Status: Malfunction 0010
04-Steering Angle -- Status: OK 0000
08-Auto HVAC -- Status: Malfunction 0010
09-Cent. Elect. -- Status: Malfunction 0010
15-Airbags -- Status: Malfunction 0010
16-Steering wheel -- Status: Malfunction 0010
17-Instruments -- Status: OK 0000
19-CAN Gateway -- Status: Malfunction 0010
25-Immobilizer -- Status: OK 0000
42-Door Elect, Driver -- Status: Malfunction 0010
44-Steering Assist -- Status: Malfunction 0010
46-Central Conv. -- Status: Malfunction 0010
4F-Centr. Electr. II -- Status: OK 0000
52-Door Elect, Pass. -- Status: OK 0000
55-Headlight Range -- Status: Malfunction 0010
56-Radio -- Status: Malfunction 0010
 
-------------------------------------------------------------------------------
Address 01: Engine        Labels: 06F-907-115-AXX.clb
   Part No SW: 1K0 907 115 R    HW: 8P0 907 115 B
   Component: 2.0l R4/4V TFSI     0020  
   Revision: 5BH16---    Serial number: VWX7Z0G83NA8OV
   Coding: 040300101C070060
   Shop #: 

WSC

 80182 411 444102
   VCID: 354FD8585CDD5E969D-8060


2 Faults Found:
000256 - Mass Air Flow Sensor (G70) 
               P0100 - 004 - Supply Voltage
             Freeze Frame:
                    Fault Status: 01100100
                    Fault Priority: 2
                    Fault Frequency: 1
                    Reset counter: 255
                    Mileage: 146101 km
                    Time Indication: 0
                    Date: 2000.00.00
                    Time: 20:10:32


             Freeze Frame:
                    RPM: 758 /min
                    Load: 25.9 %
                    Speed: 0.0 km/h
                    Temperature: 93.0°C
                    Temperature: 66.0°C
                    Absolute Pres.: 990.0 mbar
                    Voltage: 13.716 V


000054 - Oxygen (Lambda) Sensor B1 S2: Heating Circuit 
               P0036 - 004 - Malfunction / Open Circuit
             Freeze Frame:
                    Fault Status: 01100100
                    Fault Priority: 2
                    Fault Frequency: 1
                    Reset counter: 255
                    Mileage: 146101 km
                    Time Indication: 0
                    Date: 2000.00.00
                    Time: 20:10:42


             Freeze Frame:
                    RPM: 750 /min
                    Load: 23.5 %
                    Speed: 0.0 km/h
                    Temperature: 93.0°C
                    Temperature: 65.0°C
                    Absolute Pres.: 990.0 mbar
                    Voltage: 13.716 V


Readiness: 0110 0101


-------------------------------------------------------------------------------
Address 02: Auto Trans        Labels: 02E-927-770.lbl
   Part No SW: 02E 300 044 J    HW: 02E 927 770 AD
   Component: GSG 

DSG

         082 1407  
   Revision: 04808020    Serial number: 00000907050136
   Coding: 0000020
   Shop #: 

WSC

 09537 809 89632
   VCID: 1C192DFCDF37EFDE82-8048


No fault code found.


-------------------------------------------------------------------------------
Address 03: 

ABS

 Brakes        Labels: 1K0-907-379-MK60-F.lbl
   Part No SW: 1K0 907 379 AC    HW: 1K0 907 379 AC
   Component: ESP FRONT MK60      0101  
   Revision: 00H11001    
   Coding: 0004738
   Shop #: 

WSC

 00000 785 00200
   VCID: 73CB2640122900A673-8026


7 Faults Found:
01309 - Power Steering Control Module (J500) 
            004 - No Signal/Communication - Intermittent
01542 - Yaw Rate Sensor (G202) 
            014 - Defective - Intermittent
01487 - System Function Test 
            000 -  -  - Intermittent
01486 - System Function Test Activated 
            000 -  - 
00778 - Steering Angle Sensor (G85) 
            005 - No or Incorrect Basic Setting / Adaptation
01314 - Engine Control Module 
            013 - Check 

DTC

 Memory
01309 - Power Steering Control Module (J500) 
            008 - Implausible Signal


-------------------------------------------------------------------------------
Address 08: Auto HVAC        Labels: 1K0-907-044.lbl
   Part No SW: 1K0 907 044 BS    HW: 1K0 907 044 BS
   Component: ClimatronicPQ35 120 1111  
   Revision: 00120021    Serial number: 00000000000000
   Shop #: 

WSC

 00000 000 00000
   VCID: 79D7146830457AF639-802C


1 Fault Found:
00229 - Refrigerant Pressure 
            002 - Lower Limit Exceeded


-------------------------------------------------------------------------------
Address 09: Cent. Elect.        Labels: 3C0-937-049-30-H.lbl
   Part No SW: 3C0 937 049 AJ    HW: 3C0 937 049 AJ
   Component: Bordnetz-SG     H54 2202  
   Revision: 00H54000    Serial number: 01000007456322
   Coding: E78F8F2700041500471400001400000000097F075C100100000000000000
   Shop #: 

WSC

 11111 111 45725
   VCID: 71C72C48683532B681-8024


   Subsystem 1 - Part No: 1K2 955 119 E  Labels: 1KX-955-119.CLB
   Component: Wischer 300807 021  0501  
   Coding: 00038805
   Shop #: 

WSC

 11111  


   Subsystem 2 - Part No: 1K0 955 559 AF  Labels: 1K0-955-559-AF.CLB
   Component: 

RLS

     130907 046  0204  
   Coding: 00208933
   Shop #: 

WSC

 11111  


5 Faults Found:
02498 - Left Low Beam Reflector Motor (V294) 
            012 - Electrical Fault in Circuit
             Freeze Frame:
                    Fault Status: 01111100
                    Fault Priority: 3
                    Fault Frequency: 1
                    Reset counter: 0
                    Mileage: 146104 km
                    Time Indication: 0
                    Date: 2005.09.13
                    Time: 31:63:63


             Freeze Frame:
                        ON
                    Voltage: 13.60 V
                        ON
                        ON
                        OFF
                        OFF
                        OFF


02499 - Right Low Beam Reflector Motor (V295) 
            012 - Electrical Fault in Circuit
             Freeze Frame:
                    Fault Status: 01111100
                    Fault Priority: 3
                    Fault Frequency: 1
                    Reset counter: 0
                    Mileage: 146104 km
                    Time Indication: 0
                    Date: 2005.09.13
                    Time: 31:63:63


             Freeze Frame:
                        ON
                    Voltage: 13.60 V
                        ON
                        ON
                        OFF
                        OFF
                        ON


00924 - Relay for Headlamp Cleaning System (J39) 
            009 - Open or Short to Ground
             Freeze Frame:
                    Fault Status: 01101001
                    Fault Priority: 4
                    Fault Frequency: 1
                    Reset counter: 0
                    Mileage: 146395 km
                    Time Indication: 0
                    Date: 2005.09.13
                    Time: 31:63:63


             Freeze Frame:
                        ON
                    Voltage: 11.75 V
                        ON
                        ON
                        OFF
                        OFF
                        OFF


00317 - Rear Lid Control Module (J605) 
            004 - No Signal/Communication
             Freeze Frame:
                    Fault Status: 01110100
                    Fault Priority: 2
                    Fault Frequency: 1
                    Reset counter: 0
                    Mileage: 146355 km
                    Time Indication: 0
                    Date: 2005.09.13
                    Time: 31:63:63


             Freeze Frame:
                        ON
                    Voltage: 13.65 V
                        ON
                        ON
                        OFF
                        OFF
                        OFF


00987 - Lamp for Brake Light; Left (M9) 
            012 - Electrical Fault in Circuit
             Freeze Frame:
                    Fault Status: 01111100
                    Fault Priority: 1
                    Fault Frequency: 1
                    Reset counter: 0
                    Mileage: 146101 km
                    Time Indication: 0
                    Date: 2005.09.13
                    Time: 31:63:63


             Freeze Frame:
                        ON
                    Voltage: 13.25 V
                        ON
                        ON
                        OFF
                        OFF
                        ON




-------------------------------------------------------------------------------
Address 15: Airbags        Labels: 1K0-909-605.lbl
   Part No SW: 1K0 909 605 T    HW: 1K0 909 605 T
   Component: 3A AIRBAG VW8   020 2300  
   Revision: 05020000    Serial number: 0038PD1FKU0T  
   Coding: 0013121
   Shop #: 

WSC

 01269 785 00200
   VCID: 3D5FC07864ED86D655-8068


   Subsystem 1 - Serial number: 6332MSME2C406B29H


   Subsystem 2 - Serial number: 6342MSME2C42223ED


   Subsystem 3 - Serial number: 6352QSME3D213635D


   Subsystem 4 - Serial number: 6362QSME3C0B0C41L


7 Faults Found:
00654 - Seat Belt Tensioner Igniter; Driver Side (N153) 
            001 - Upper Limit Exceeded - MIL ON
00655 - Seat Belt Tensioner Igniter; Passenger Side (N154) 
            001 - Upper Limit Exceeded - MIL ON
00588 - Airbag Igniter; Driver Side (N95) 
            001 - Upper Limit Exceeded - Intermittent - MIL ON
01228 - Airbag Cut-Off Switch for Passenger Side (E224) 
            010 - Open or Short to Plus - MIL ON
02756 - Redundant signal path of Airbag cut-off switch - front passenger side (E224) 
            010 - Open or Short to Plus - MIL ON
00589 - Airbag Igniter 1; Passenger Side (N131) 
            001 - Upper Limit Exceeded - MIL ON
00588 - Airbag Igniter; Driver Side (N95) 
            007 - Short to Ground - Intermittent - MIL ON


-------------------------------------------------------------------------------
Address 16: Steering wheel        Labels: 1K0-953-549-MY8.lbl
   Part No SW: 1K0 953 549 AQ    HW: 1K0 953 549 AQ
   Component: J0527           036 0070  
   Coding: 0012102
   Shop #: 

WSC

 00000 785 00200
   VCID: 01277C885895223671-8054


   Subsystem 1 - Part No: XXXXXXXXXXX 
   Component: E0221           002 0010


1 Fault Found:
01748 - Switch for Tiptronic in Steering Wheel (E438); Up 
            008 - Implausible Signal - Intermittent


-------------------------------------------------------------------------------
Address 17: Instruments        Labels: 1K0-920-xxx-17.lbl
   Part No SW: 1K6 920 974     HW: 1K6 920 974 
   Component: KOMBIINSTRUMENT VDD 1216  
   Revision: V0002000    Serial number: VWX7Z0G83NA8OV
   Coding: 0004103
   Shop #: 

WSC

 12345 111 45725
   VCID: 71C72C48683532B681-8024


No fault code found.


-------------------------------------------------------------------------------
Address 19: CAN Gateway        Labels: 1K0-907-530-V3.clb
   Part No SW: 1K0 907 530 L    HW: 1K0 907 951 
   Component: J533  Gateway   H07 0052  
   Revision:   H07 01    Serial number: 040907F1000254
   Coding: ED811F060002030001
   Shop #: 

WSC

 12345 785 00200
   VCID: 3041E94CA3BF7BBECE-8064


3 Faults Found:
01325 - Control Module for Tire Pressure Monitoring (J502) 
            004 - No Signal/Communication
             Freeze Frame:
                    Fault Status: 01110100
                    Fault Priority: 2
                    Fault Frequency: 1
                    Reset counter: 248
                    Mileage: 146211 km
                    Time Indication: 0
                    Date: 2000.00.00
                    Time: 16:47:55


02010 - Left Entry Assistance Control Module (J572) 
            004 - No Signal/Communication
             Freeze Frame:
                    Fault Status: 01110100
                    Fault Priority: 2
                    Fault Frequency: 1
                    Reset counter: 252
                    Mileage: 146355 km
                    Time Indication: 0
                    Date: 2000.00.00
                    Time: 19:30:29


00317 - Rear Lid Control Module (J605) 
            004 - No Signal/Communication
             Freeze Frame:
                    Fault Status: 01110100
                    Fault Priority: 2
                    Fault Frequency: 1
                    Reset counter: 252
                    Mileage: 146355 km
                    Time Indication: 0
                    Date: 2000.00.00
                    Time: 19:34:10




-------------------------------------------------------------------------------
Address 25: Immobilizer        Labels: 1K0-920-xxx-25.clb
   Part No SW: 1K6 920 974     HW: 1K6 920 974 
   Component: IMMO            VDD 1216  
   Revision: V0002000    Serial number: VWX7Z0G83NA8OV
   Shop #: 

WSC

 00000 000 00000
   VCID: 71C72C48683532B681-8024


No fault code found.


-------------------------------------------------------------------------------
Address 42: Door Elect, Driver        Labels: 1K0-959-701-MIN3.lbl
   Part No SW: 1K0 959 701 M    HW: 1K0 959 701 M
   Component: Tuer-SG         006 120B  
   Coding: 0000564
   Shop #: 

WSC

 00000 785 00200
   VCID: 3851D16C4BCFA3FE86-806C


1 Fault Found:
00109 - Left Mirror Turn Signal Lamp (L131) 
            012 - Electrical Fault in Circuit - Intermittent


-------------------------------------------------------------------------------
Address 44: Steering Assist        Labels: 1Kx-909-14x-44.clb
   Part No: 1K0 909 144 H
   Component: EPS_ZFLS Kl. 69     2901  
   Revision: 00H15000    
   Shop #: 

WSC

 00000 000 00000
   VCID: 2F43EA30BE816446D7-807A


2 Faults Found:
01312 - Powertrain Data Bus 
            014 - Defective - Intermittent
             Freeze Frame:
                    Fault Status: 00101110
                    Fault Priority: 4
                    Fault Frequency: 4
                    Reset counter: 33
                    Mileage: 146211 km
                    Time Indication: 0
                    Date: 2000.00.00
                    Time: 20:59:37


             Freeze Frame:
                    Voltage: 13.50 V
                        DU
                    Temperature: 60.0°C
                    RPM: 1498 /min
                    Speed: 2.0 km/h
                    Speed: 2.0 km/h
                    Count: 3


00778 - Steering Angle Sensor (G85) 
            008 - Implausible Signal - MIL ON
             Freeze Frame:
                    Fault Status: 11101000
                    Fault Priority: 6
                    Fault Frequency: 1
                    Reset counter: 238
                    Mileage: 146101 km
                    Time Indication: 0
                    Date: 2000.00.00
                    Time: 20:10:39


             Freeze Frame:
                    Battery Volts: 13.9 V
                        DU
                    Temperature: 56.0°C
                    Count: 5
                    Steering Angle: -0.70°
                    Count: 1
                        SteerAng Init




-------------------------------------------------------------------------------
Address 46: Central Conv.        Labels: 1K0-959-433-MAX.clb
   Part No SW: 1K0 959 433 BT    HW: 1K0 959 433 BT
   Component:    KSG PQ35 G2  020 0204  
   Revision: 00020000    Serial number: 00000000000000
   Coding: 9890020851030C7F42CC8F0F70085A2690BC00
   Shop #: 

WSC

 11111 111 45725
   VCID: 032B76804289302663-8056


   Subsystem 1 - Component:   Sounder No Answer     


   Subsystem 2 - Component:       NGS n.mounted     


   Subsystem 3 - Component:      IRUE n.mounted     


2 Faults Found:
01134 - Alarm Horn (H12) 
            004 - No Signal/Communication
             Freeze Frame:
                    Fault Status: 01100100
                    Fault Priority: 4
                    Fault Frequency: 1
                    Reset counter: 238
                    Mileage: 146101 km
                    Time Indication: 0
                    Date: 2000.00.00
                    Time: 20:10:39


00950 - Central Locking Motor - tailgate (V53); UNLOCK 
            007 - Short to Ground
             Freeze Frame:
                    Fault Status: 01100111
                    Fault Priority: 4
                    Fault Frequency: 10
                    Reset counter: 239
                    Mileage: 146114 km
                    Time Indication: 0
                    Date: 2000.00.00
                    Time: 18:00:03




-------------------------------------------------------------------------------
Address 4F: Centr. Electr. II (J533)       Labels: 1K0-907-532.clb
   Part No SW: 1K0 907 532     HW: 1K0 907 951 
   Component: J533  Gateway H07 0052  
   Revision:   H07 01    Serial number: 040907F1000254
   Coding: 00000000
   Shop #: 

WSC

 12345 785 00200
   VCID: 66ED4F1491FBE50EE4-8032


No fault code found.


-------------------------------------------------------------------------------
Address 52: Door Elect, Pass.        Labels: 1K0-959-702-MIN3.lbl
   Part No SW: 1K0 959 702 M    HW: 1K0 959 702 M
   Component: Tuer-SG         006 120B  
   Coding: 0000564
   Shop #: 

WSC

 00000 785 00200
   VCID: 3957D46870C5BAF679-806C


No fault code found.


-------------------------------------------------------------------------------
Address 55: Headlight Range        Labels: 1T0-907-357.lbl
   Part No: 1T0 907 357 
   Component: Dynamische LWR      0003  
   Coding: 0000003
   Shop #: 

WSC

 00000 785 00200
   VCID: 74C9255C1727079E6A-8020


4 Faults Found:
01539 - Headlights Not Adjusted 
            005 - No or Incorrect Basic Setting / Adaptation
01535 - Control Circuit for Right Headlight Range Adjusting Motor (V49) 
            010 - Open or Short to Plus
01534 - Control Circuit for Left Headlight Range Adjusting Motor (V48) 
            010 - Open or Short to Plus
01533 - Terminal 56 (High Beams) 
            011 - Open Circuit - Intermittent


-------------------------------------------------------------------------------
Address 56: Radio        Labels: 1K0-035-1xx-56.lbl
   Part No SW: 1K0 035 180 M    HW: 1K0 035 180 M
   Component: Radio PM6       018 0035  
   Revision: 00018000    Serial number: VWZ5Z7G2174742
   Coding: 0040400
   Shop #: 

WSC

 00000 785 00200
   VCID: 2A75FB248563016E00-807E


1 Fault Found:
00872 - Bass Speaker Rear Left (R15) 
            011 - Open Circuit - Intermittent
             Freeze Frame:
                    Fault Status: 00111011
                    Fault Priority: 3
                    Fault Frequency: 3
                    Reset counter: 37
                    Mileage: 146241 km
                    Time Indication: 0
                    Date: 2000.00.00
                    Time: 14:51:21




End-------------------------(Elapsed Time: 01:07)--------------------------


--------------------------------------------------------------------------------
--------------------------------------------------------------------------------




Chassis Type: 1K (1K0)
Scan: 01 02 03 08 09 15 16 17 19 25 42 44 46 52 55 56


VIN: WVWZZZ1KZ8W111078   Mileage: 146390km-90962miles


01-Engine -- Status: Malfunction 0010
02-Auto Trans -- Status: OK 0000
03-

ABS

 Brakes -- Status: Malfunction 0010
04-Steering Angle -- Status: OK 0000
08-Auto HVAC -- Status: Malfunction 0010
09-Cent. Elect. -- Status: Malfunction 0010
15-Airbags -- Status: Malfunction 0010
16-Steering wheel -- Status: Malfunction 0010
17-Instruments -- Status: OK 0000
19-CAN Gateway -- Status: OK 0000
25-Immobilizer -- Status: OK 0000
42-Door Elect, Driver -- Status: OK 0000
44-Steering Assist -- Status: Malfunction 0010
46-Central Conv. -- Status: Malfunction 0010
52-Door Elect, Pass. -- Status: OK 0000
55-Headlight Range -- Status: Malfunction 0010
56-Radio -- Status: Malfunction 0010
 
-------------------------------------------------------------------------------
Address 01: Engine        Labels: 06F-907-115-AXX.clb
   Part No SW: 1K0 907 115 R    HW: 8P0 907 115 B
   Component: 2.0l R4/4V TFSI     0020  
   Revision: 5BH16---    Serial number: VWX7Z0G83NA8OV
   Coding: 040300101C070060
   Shop #: 

WSC

 80182 411 444102
   VCID: 354FD8585CDD5E969D-8060


2 Faults Found:
000256 - Mass Air Flow Sensor (G70) 
               P0100 - 004 - Supply Voltage
             Freeze Frame:
                    Fault Status: 01100100
                    Fault Priority: 2
                    Fault Frequency: 1
                    Reset counter: 255
                    Mileage: 146101 km
                    Time Indication: 0
                    Date: 2000.00.00
                    Time: 20:10:32


             Freeze Frame:
                    RPM: 758 /min
                    Load: 25.9 %
                    Speed: 0.0 km/h
                    Temperature: 93.0°C
                    Temperature: 66.0°C
                    Absolute Pres.: 990.0 mbar
                    Voltage: 13.716 V


000054 - Oxygen (Lambda) Sensor B1 S2: Heating Circuit 
               P0036 - 004 - Malfunction / Open Circuit
             Freeze Frame:
                    Fault Status: 01100100
                    Fault Priority: 2
                    Fault Frequency: 1
                    Reset counter: 255
                    Mileage: 146101 km
                    Time Indication: 0
                    Date: 2000.00.00
                    Time: 20:10:42


             Freeze Frame:
                    RPM: 750 /min
                    Load: 23.5 %
                    Speed: 0.0 km/h
                    Temperature: 93.0°C
                    Temperature: 65.0°C
                    Absolute Pres.: 990.0 mbar
                    Voltage: 13.716 V


Readiness: 0110 0101


-------------------------------------------------------------------------------
Address 02: Auto Trans        Labels: 02E-927-770.lbl
   Part No SW: 02E 300 044 J    HW: 02E 927 770 AD
   Component: GSG 

DSG

         082 1407  
   Revision: 04808020    Serial number: 00000907050136
   Coding: 0000020
   Shop #: 

WSC

 09537 809 89632
   VCID: 1C192DFCDF37EFDE82-8048


No fault code found.


-------------------------------------------------------------------------------
Address 03: 

ABS

 Brakes        Labels: 1K0-907-379-MK60-F.lbl
   Part No SW: 1K0 907 379 AC    HW: 1K0 907 379 AC
   Component: ESP FRONT MK60      0101  
   Revision: 00H11001    
   Coding: 0004738
   Shop #: 

WSC

 00000 785 00200
   VCID: 73CB2640122900A673-8026


4 Faults Found:
01486 - System Function Test Activated 
            000 -  - 
00778 - Steering Angle Sensor (G85) 
            005 - No or Incorrect Basic Setting / Adaptation
01314 - Engine Control Module 
            013 - Check 

DTC

 Memory
01309 - Power Steering Control Module (J500) 
            008 - Implausible Signal


-------------------------------------------------------------------------------
Address 08: Auto HVAC        Labels: 1K0-907-044.lbl
   Part No SW: 1K0 907 044 BS    HW: 1K0 907 044 BS
   Component: ClimatronicPQ35 120 1111  
   Revision: 00120021    Serial number: 00000000000000
   Shop #: 

WSC

 00000 000 00000
   VCID: 79D7146830457AF639-802C


1 Fault Found:
00229 - Refrigerant Pressure 
            002 - Lower Limit Exceeded


-------------------------------------------------------------------------------
Address 09: Cent. Elect.        Labels: 3C0-937-049-30-H.lbl
   Part No SW: 3C0 937 049 AJ    HW: 3C0 937 049 AJ
   Component: Bordnetz-SG     H54 2202  
   Revision: 00H54000    Serial number: 01000007456322
   Coding: E78F8F2700041500471400001400000000097F075C100100000000000000
   Shop #: 

WSC

 11111 111 45725
   VCID: 71C72C48683532B681-8024


   Subsystem 1 - Part No: 1K2 955 119 E  Labels: 1KX-955-119.CLB
   Component: Wischer 300807 021  0501  
   Coding: 00038805
   Shop #: 

WSC

 11111  


   Subsystem 2 - Part No: 1K0 955 559 AF  Labels: 1K0-955-559-AF.CLB
   Component: 

RLS

     130907 046  0204  
   Coding: 00221517
   Shop #: 

WSC

 11111  


1 Fault Found:
00924 - Relay for Headlamp Cleaning System (J39) 
            009 - Open or Short to Ground
             Freeze Frame:
                    Fault Status: 01101001
                    Fault Priority: 4
                    Fault Frequency: 1
                    Reset counter: 1
                    Mileage: 146395 km
                    Time Indication: 0
                    Date: 2005.09.13
                    Time: 31:63:63


             Freeze Frame:
                        ON
                    Voltage: 12.20 V
                        ON
                        ON
                        OFF
                        OFF
                        OFF




-------------------------------------------------------------------------------
Address 15: Airbags        Labels: 1K0-909-605.lbl
   Part No SW: 1K0 909 605 T    HW: 1K0 909 605 T
   Component: 3A AIRBAG VW8   020 2300  
   Revision: 05020000    Serial number: 0038PD1FKU0T  
   Coding: 0013121
   Shop #: 

WSC

 01269 785 00200
   VCID: 3D5FC07864ED86D655-8068


   Subsystem 1 - Serial number: 6332MSME2C406B29H


   Subsystem 2 - Serial number: 6342MSME2C42223ED


   Subsystem 3 - Serial number: 6352QSME3D213635D


   Subsystem 4 - Serial number: 6362QSME3C0B0C41L


6 Faults Found:
00588 - Airbag Igniter; Driver Side (N95) 
            007 - Short to Ground - MIL ON
00589 - Airbag Igniter 1; Passenger Side (N131) 
            001 - Upper Limit Exceeded - MIL ON
01228 - Airbag Cut-Off Switch for Passenger Side (E224) 
            010 - Open or Short to Plus - MIL ON
02756 - Redundant signal path of Airbag cut-off switch - front passenger side (E224) 
            010 - Open or Short to Plus - MIL ON
00654 - Seat Belt Tensioner Igniter; Driver Side (N153) 
            001 - Upper Limit Exceeded - MIL ON
00655 - Seat Belt Tensioner Igniter; Passenger Side (N154) 
            001 - Upper Limit Exceeded - MIL ON


-------------------------------------------------------------------------------
Address 16: Steering wheel        Labels: 1K0-953-549-MY8.lbl
   Part No SW: 1K0 953 549 AQ    HW: 1K0 953 549 AQ
   Component: J0527           036 0070  
   Coding: 0012102
   Shop #: 

WSC

 00000 785 00200
   VCID: 01277C885895223671-8054


   Subsystem 1 - Part No: XXXXXXXXXXX 
   Component: E0221           002 0010


1 Fault Found:
01748 - Switch for Tiptronic in Steering Wheel (E438); Up 
            008 - Implausible Signal - Intermittent


-------------------------------------------------------------------------------
Address 17: Instruments        Labels: 1K0-920-xxx-17.lbl
   Part No SW: 1K6 920 974     HW: 1K6 920 974 
   Component: KOMBIINSTRUMENT VDD 1216  
   Revision: V0002000    Serial number: VWX7Z0G83NA8OV
   Coding: 0004103
   Shop #: 

WSC

 12345 111 45725
   VCID: 71C72C48683532B681-8024


No fault code found.


-------------------------------------------------------------------------------
Address 19: CAN Gateway        Labels: 1K0-907-530-V3.clb
   Part No SW: 1K0 907 530 L    HW: 1K0 907 951 
   Component: J533  Gateway   H07 0052  
   Revision:   H07 01    Serial number: 040907F1000254
   Coding: ED811F060002020001
   Shop #: 

WSC

 12345 785 00200
   VCID: 3041E94CA3BF7BBECE-8064


No fault code found.


-------------------------------------------------------------------------------
Address 25: Immobilizer        Labels: 1K0-920-xxx-25.clb
   Part No SW: 1K6 920 974     HW: 1K6 920 974 
   Component: IMMO            VDD 1216  
   Revision: V0002000    Serial number: VWX7Z0G83NA8OV
   Shop #: 

WSC

 00000 000 00000
   VCID: 71C72C48683532B681-8024


No fault code found.


-------------------------------------------------------------------------------
Address 42: Door Elect, Driver        Labels: 1K0-959-701-MIN3.lbl
   Part No SW: 1K0 959 701 M    HW: 1K0 959 701 M
   Component: Tuer-SG         006 120B  
   Coding: 0000564
   Shop #: 

WSC

 00000 785 00200
   VCID: 3851D16C4BCFA3FE86-806C


No fault code found.


-------------------------------------------------------------------------------
Address 44: Steering Assist        Labels: 1Kx-909-14x-44.clb
   Part No: 1K0 909 144 H
   Component: EPS_ZFLS Kl. 69     2901  
   Revision: 00H15000    
   Shop #: 

WSC

 00000 000 00000
   VCID: 2F43EA30BE816446D7-807A


2 Faults Found:
01312 - Powertrain Data Bus 
            014 - Defective - Intermittent
             Freeze Frame:
                    Fault Status: 00101110
                    Fault Priority: 4
                    Fault Frequency: 4
                    Reset counter: 33
                    Mileage: 146211 km
                    Time Indication: 0
                    Date: 2000.00.00
                    Time: 20:59:37


             Freeze Frame:
                    Voltage: 13.50 V
                        DU
                    Temperature: 60.0°C
                    RPM: 1498 /min
                    Speed: 2.0 km/h
                    Speed: 2.0 km/h
                    Count: 3


00778 - Steering Angle Sensor (G85) 
            008 - Implausible Signal - MIL ON
             Freeze Frame:
                    Fault Status: 11101000
                    Fault Priority: 6
                    Fault Frequency: 1
                    Reset counter: 0
                    Mileage: 146395 km
                    Time Indication: 0
                    Date: 2000.00.00
                    Time: 18:19:01


             Freeze Frame:
                    Battery Volts: 14.5 V
                        DU
                    Temperature: 38.0°C
                    Count: 5
                    Steering Angle: 15.27°
                    Count: 0
                        SteerAng Init




-------------------------------------------------------------------------------
Address 46: Central Conv.        Labels: 1K0-959-433-MAX.clb
   Part No SW: 1K0 959 433 BT    HW: 1K0 959 433 BT
   Component:    KSG PQ35 G2  020 0204  
   Revision: 00020000    Serial number: 00000000000000
   Coding: 819002085103087F2D04840570085A0690BC00
   Shop #: 

WSC

 11111 111 45725
   VCID: 032B76804289302663-8056


   Subsystem 1 - Component:   Sounder No Answer     


   Subsystem 2 - Component:       NGS n.mounted     


   Subsystem 3 - Component:      IRUE n.mounted     


2 Faults Found:
01134 - Alarm Horn (H12) 
            004 - No Signal/Communication
             Freeze Frame:
                    Fault Status: 01100100
                    Fault Priority: 4
                    Fault Frequency: 1
                    Reset counter: 238
                    Mileage: 146101 km
                    Time Indication: 0
                    Date: 2000.00.00
                    Time: 20:10:39


00950 - Central Locking Motor - tailgate (V53); UNLOCK 
            007 - Short to Ground
             Freeze Frame:
                    Fault Status: 01100111
                    Fault Priority: 4
                    Fault Frequency: 10
                    Reset counter: 239
                    Mileage: 146114 km
                    Time Indication: 0
                    Date: 2000.00.00
                    Time: 18:00:03




-------------------------------------------------------------------------------
Address 52: Door Elect, Pass.        Labels: 1K0-959-702-MIN3.lbl
   Part No SW: 1K0 959 702 M    HW: 1K0 959 702 M
   Component: Tuer-SG         006 120B  
   Coding: 0000564
   Shop #: 

WSC

 00000 785 00200
   VCID: 3957D46870C5BAF679-806C


No fault code found.


-------------------------------------------------------------------------------
Address 55: Headlight Range        Labels: 1T0-907-357.lbl
   Part No: 1T0 907 357 
   Component: Dynamische LWR      0003  
   Coding: 0000003
   Shop #: 

WSC

 00000 785 00200
   VCID: 74C9255C1727079E6A-8020


4 Faults Found:
01539 - Headlights Not Adjusted 
            005 - No or Incorrect Basic Setting / Adaptation
01535 - Control Circuit for Right Headlight Range Adjusting Motor (V49) 
            010 - Open or Short to Plus
01534 - Control Circuit for Left Headlight Range Adjusting Motor (V48) 
            010 - Open or Short to Plus
01533 - Terminal 56 (High Beams) 
            011 - Open Circuit - Intermittent


-------------------------------------------------------------------------------
Address 56: Radio        Labels: 1K0-035-1xx-56.lbl
   Part No SW: 1K0 035 180 M    HW: 1K0 035 180 M
   Component: Radio PM6       018 0035  
   Revision: 00018000    Serial number: VWZ5Z7G2174742
   Coding: 0040400
   Shop #: 

WSC

 00000 785 00200
   VCID: 2A75FB248563016E00-807E


1 Fault Found:
00872 - Bass Speaker Rear Left (R15) 
            011 - Open Circuit - Intermittent
             Freeze Frame:
                    Fault Status: 00111011
                    Fault Priority: 3
                    Fault Frequency: 3
                    Reset counter: 37
                    Mileage: 146241 km
                    Time Indication: 0
                    Date: 2000.00.00
                    Time: 14:51:21




End-------------------------(Elapsed Time: 01:02)--------------------------