ST?ID=64929
So I just fielded a phone call with a mobile tech for a 2015 GTI. The Steering Wheel Electronics (J524) was replaced. Here is a sample from another car (same part number):
Address 16: Steering wheel (J524) Labels: 5Q0-953-549.clb
Part No SW: 5Q0 953 521 K HW: 5Q0 953 569 A
Component: Lenks.Modul 075 0135
Revision: FF027027 Serial number: 20131111400005
Coding: 0400
So out of the box, the J524 had a soft coding value of 2E10, so many levels of wrong. We tried coding it to 0400 but it was rejected. Cycled ignition, hook up a battery charger, no luck. As per Dana's suggestion, make small changes and see if that helps, so we tried 2E00, still rejected. Asked if there was a Workshop Code (
WSC
) and Importer number values shown, there was (I didn't note the values that were there).
Some brief base knowledge is needed here... every VW/Audi dealer has a "Workshop Code" or
WSC
. It is a 5 digit value. The factory scan tools at the dealers have said dealer's
WSC
and Importer number set up in it. Any time a control module is coded, the factory scan tool also submits the dealer's
WSC
/Importer to the control module. Control module wants this info. Now this
WSC
/Importer has no effect on the module beyond the module wants it when doing soft coding... the control module will still perform all the same no matter what
WSC
/Importer number it ends up accepting.
The
VCDS
software has a "stealth mode", in which if the
VCDS
software finds a non 00000 number for the
WSC
and non 000 for the Importer, it will resubmit those values. If the values are 00000 and 000, then the software will suggest 12345 and 123.
So here is the problem, this brand new J524 had some
WSC
/Import values in it, and when
VCDS
was resubmitting those values during the soft coding, the control module would reject the coding, error 31 as I recall.
I had the caller go the first screen of
VCDS
, then [Options] and [User Interface and Identification].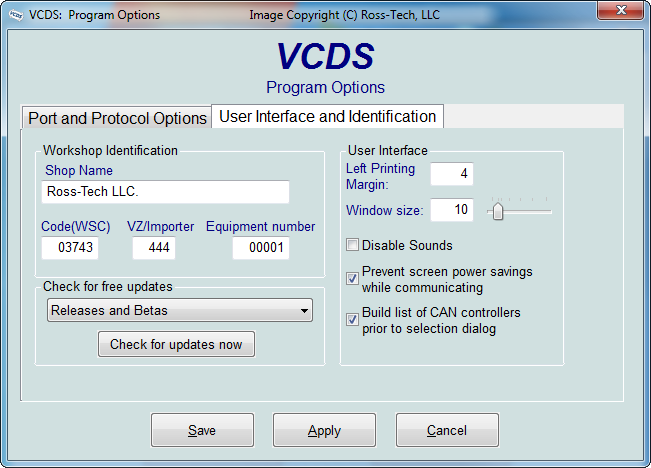 Source and more info here
On that screen, dealer techs can set up their
VCDS
software to have their dealer's
WSC
info (03743 in the above example) in there and submitted every time they do coding, just like the factory scan tool would. So I gave the caller the
WSC
for the dealer I worked for. The importer in the US market is always 444. The Equipment Number doesn't matter too much.. dealers can have several different OE scan tools and assign them numbers..... we went with 00215.
So with a valid
WSC
and Importer now being submitted during soft coding, the J524 accepted the correct 0400 coding value without issue, and all codes cleared out.
If you want to find out what your local dealer's
WSC
is, just look at the dealer sticker on any new car:
The 403099 is the
WSC
, but scan tools use a 5 digit version, so drop the first digit 4 and you are left with 03099 as a valid
WSC
.
In the US market, one could most likely use your own ZIP code as a
WSC
since it is 5 numbers. Canada...
WTF
is "J4G 1R7"? Maybe use the last 5 digits of your phone number.

TL/DR
- Replacement control modules for newer generation vehicles may have a Workshop code in them, when that value is resubmitted during coding, the control module will reject your valid soft coding.
As always, I don't make typos, I just plant Easter Eggs that I'm not aware of.