Wondering if anyone has seen something like this before and can advise corrective action.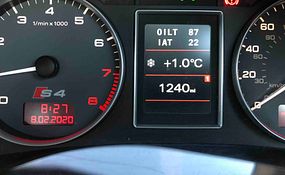 Car is 2003 with the Bosch RB4 cluster - no fault codes - but with cold weather and lack of regular use I think a low/flat battery has corrupted some settings in the cluster as it now reports something ridiculous like 1240 or 1250 miles range in the tank - regardless of fill level.
I do suspect one of the fuel level sensors is on the fritz as the needle doesn't appear consistent below roughly half a tank so I am also wondering if I need to renew that and go through some calibration / adaptation sequence. I have had a look thru usual
wiki
pages and Audi manuals that I have but not seeing anything obvious on the subject of range (other than the option to make small corrections on what info comes from the
ECU
).
Or is there a kind of master reset / default that I can choose through
VCDS
and manually code back all the components attached to the various CAN busses on the car ?