Verified VCDS User
Verified
Joined

Jun 2, 2020
Messages

10
Reaction score

3
Location
VCDS Serial number

C?ID=394811
Good Day All,
I am a relatively new
VCDS
owner - I bought this vehicle as a lease-return with certified pre-owned warranty at the end of 2016. It had 24k miles on it and now has 103k so no more warranty

About 2 months ago the occasional "
acc
not available" message became a permanent issue. For several months prior it would clear itself after a couple of start/stop cycles.
I've done some basic troubleshooting work:
1) Removed and re-inserted the infamous camera image processing cable from the camera in the rearview mirror base.
2) Followed another thread suggestion that I shave a little off the plastic to see if it seats better. Same result.
3) Here in AZ, rocks regularly mess with windshields and mine had a good sized chip, so I took my car to Audi dealer and had windshield replaced, knowing that my insurance company would pay for
OEM
windshield plus $580 more for Audi adjustments to this system. Dealer explained that they could not get the system back running and suggested $1,500 for replacement of the image processing cable - no guarantee that was the problem.
4) Hoping I could save $1,300, I bought the cable -
OEM
part 4G1-971-192-A and connected this morning. I used
VCDS
to clear all codes, drove the car for about 5 minutes and same result.
The following
VCDS
scan is essentially the same as I have been getting. I am only concerned about the camera/lane assist/
acc
/auto-brake function.
I hope I have included all pertinent info here - thank you in advance: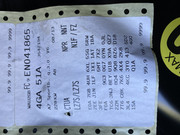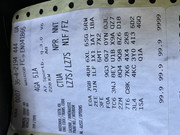 Code:
Sunday,08,November,2020,09:39:38:65410


VCDS

 -- Windows Based VAG/VAS Emulator Running on Windows 10 x64(Parallels)


VCDS

 Version 20.4.2.0 (x64)  HEX-V2 

CB

: 0.4513.4
Data version: 20200730 DS317.0
www.Ross-Tech.com


VIN: WAU2GBFC9EN041865   License Plate:
Mileage: 166722km-103596mi   Repair Order:



--------------------------------------------------------------------------------
--------------------------------------------------------------------------------


Chassis Type: FC-AU57 (4G0)
Scan: 01 02 03 05 08 09 10 13 15 16 17 19 28 36 3B 3C 42 44 46 47
          52 53 55 56 5F 62 6C 6D 72 82 84 85 8B 8E 8F 90

VIN: WAU2GBFC9EN041865   Mileage: 166722km-103596miles

01-Engine -- Status: OK 0000
02-Auto Trans -- Status: OK 0000
03-

ABS

 Brakes -- Status: OK 0000
04-Steering Angle -- Status: OK 0000
05-

Acc

/Start Auth. -- Status: OK 0000
08-Auto HVAC -- Status: OK 0000
09-Cent. Elect. -- Status: Malfunction 0010
10-Park/Steer Assist -- Status: OK 0000
13-Auto Dist. Reg -- Status: Malfunction 0010
15-Airbags -- Status: OK 0000
16-Steering wheel -- Status: OK 0000
17-Instruments -- Status: OK 0000
19-CAN Gateway -- Status: OK 0000
28-HVAC, Rear -- Status: Malfunction 0010
36-Seat Mem. Drvr -- Status: OK 0000
3B-Sensor Elect. -- Status: OK 0000
3C-Lane Change -- Status: OK 0000
42-Door Elect, Driver -- Status: OK 0000
44-Steering Assist -- Status: OK 0000
46-Central Conv. -- Status: Malfunction 0010
47-Sound System -- Status: OK 0000
52-Door Elect, Pass. -- Status: OK 0000
53-Parking Brake -- Status: OK 0000
55-Headlight Range -- Status: OK 0000
56-Radio -- Status: Malfunction 0010
5F-Information Electr. -- Status: OK 0000
62-Door, Rear Left -- Status: OK 0000
6C-Back-up Cam. -- Status: OK 0000
6D-Trunk Elect. -- Status: OK 0000
72-Door, Rear Right -- Status: OK 0000
82-Heads Up Display -- Status: OK 0000
84-Night Vision -- Status: OK 0000
85-On Board Cam. -- Status: OK 0000
8B-Adaptive Cruise 2 -- Status: OK 0000
8E-Image Processing -- Status: Malfunction 0010
8F-Pretens. Frt Left -- Status: OK 0000
90-Pretens. Frt Right -- Status: OK 0000
-------------------------------------------------------------------------------
Address 01: Engine (J623-CTUA)       Labels:. 06E-907-551-CGW.clb
   Part No SW: 4G0 907 551 J    HW: 4G0 907 551 A
   Component: 3.0l V6 TFSIH07 0004 
   Revision: --H07---   
   Coding: 1A2A0034056601060000
   Shop #: 

WSC

 02391 785 00200
   

ASAM

 Dataset: EV_ECM30TFS0214G0907551J 001004
   ROD: EV_ECM30TFS0214G0907551J.rod
   VCID: 303916877AACABABE23-8065

No fault code found.
Readiness: 0000 0100

-------------------------------------------------------------------------------
Address 02: Auto Trans (J217)       Labels:| 0BK-927-156.clb
   Part No SW: 4G1 927 158 A    HW: 0BK 927 156 AM
   Component: 0BK 30TFSIUSA H16 1006 
   Revision: --H16---   
   Coding: 000002
   Shop #: 

WSC

 00000 000 00000
   

ASAM

 Dataset: EV_TCMAL551211 002022
   ROD: EV_TCMAL551211_002_AU48.rod
   VCID: 2D070FF36D9EC643C95-8079

No fault code found.

-------------------------------------------------------------------------------
Address 03: 

ABS

 Brakes (J104)       Labels:. 4G0-907-379-V1.clb
   Part No SW: 4G0 907 379 M    HW: 4G0 907 379 M
   Component: ESP PREMIUM   H09 0450 
   Revision: --------    Serial number: --------------
   Coding: 44A7970322E5E9C04B00
   Shop #: 

WSC

 02391 785 00200
   

ASAM

 Dataset: EV_ESPPremiAU57X 004039
   ROD: EV_ESPPremiAU57X_004_AU57.rod
   VCID: 3B2331ABA3EA58F3471-806F

No fault code found.

-------------------------------------------------------------------------------
Address 05: 

Acc

/Start Auth. (J393)       Labels:. 8K0-907-064-05.clb
   Part No SW: 4H0 907 064 DR    HW: 4H0 907 064 DR
   Component: BCM2 2.0      H35 0510 
   Revision: 00002001   
   Coding: 0DAA2046000000000000
   Shop #: 

WSC

 02391 785 00200
   VCID: 7CA1F2B7E6E49FCB0EB-8029

   Subsystem 2 - Part No SW: 4H0 905 852 C    HW: 4H0 905 852 C
   Component: J764 ELV 

MLB

  H40 0046
   Serial number: 2313000129342008   

No fault code found.

-------------------------------------------------------------------------------
Address 08: Auto HVAC (J255)       Labels:| 4G0-820-043-4Z.clb
   Part No SW: 4G0 820 043 AF    HW: 4G0 820 043 AF
   Component: KLIMA 4 ZONEN H13 0087 
   Serial number: 17071300040605
   Coding: 668320BA5D
   Shop #: 

WSC

 02391 785 00200
   

ASAM

 Dataset: EV_AirCondiComfoUDS 002040
   ROD: EV_AirCondiComfoUDS_002.rod
   VCID: 6393A9CB7BDA40332F1-8037

No fault code found.

-------------------------------------------------------------------------------
Address 09: Cent. Elect. (J519)       Labels:. 4H0-907-063-V1.clb
   Part No SW: 4H0 907 063 CG    HW: 4H0 907 063
   Component: BCM1 2.0      H12 0130 
   Revision: 11012002    Serial number: 00000001465407
   Coding: 0D072091073E9FE28F000884A0003820CF9CD308A6090225800308457B00
   Shop #: 

WSC

 02391 785 00200
   VCID: 6FBBD5FBA792F453BB9-803B

   Subsystem 1 - Part No SW: 4G1 955 119     HW: 4G8 955 119   Labels: 1KX-955-119.CLB
   Component: WWS57X 130704  H36 0080
   Serial number:         130712104402
   Coding: 0045F7

   Subsystem 2 - Part No SW: 8U0 955 559 B    HW: 8U0 955 559 B  Labels: 8U0-955-559.CLB
   Component: G397_RLFS  H06 0002
   Serial number: 21581582           
   Coding: 02006E

   Subsystem 3 - Part No SW: 4G0 941 531 H    HW: 4G0 941 531 H
   Component: E1 - 

LDS

  H07 0044
   Serial number: 18 07 2013  00001036

   Subsystem 4 - Part No SW: 4G0 907 410 A    HW: 4H0 907 410 A
   Component: USHL4.2  H30 0030
   Serial number: 0000002274555R6ZD602

   Subsystem 5 - Part No SW: 8K0 959 772 E    HW: 8K0 959 772
   Component: SLR-B8  H06 0007
   Serial number:           0069195332
   Coding: 853000

   Subsystem 6 - Part No SW: 4G0 907 472     HW: 4G0 907 472
   Component: A31 LED Mod1L  H02 0002
   Serial number: 00000000001306200658

   Subsystem 7 - Part No SW: 4G0 907 472     HW: 4G0 907 472
   Component: A27 LED Mod1R  H02 0002
   Serial number: 00000000001306200476

   Subsystem 8 - Part No SW: 4H0 907 705 K    HW: 4H0 907 705 C
   Component: EVLS-SG  H08 0300
   Serial number: WA107413000004156167
   Coding: 020300

   Subsystem 9 - Part No SW: 4H0 907 658     HW: 4H0 907 658
   Component: AQ_Hum_Sensor  H03 0003
   Serial number: 71D8CDB6000000000001

   Subsystem 10 - Part No SW: 4G0 907 472 A    HW: 4G0 907 472 A
   Component: A32 LED Mod2L  H02 0002
   Serial number: 00000000001306192385

   Subsystem 11 - Part No SW: 4G0 907 472 A    HW: 4G0 907 472 A
   Component: A28 LED Mod2R  H02 0002
   Serial number: 00000000001306192671

1 Fault Found:
00471 - Control Module for Elect. Regulated Dampers (J250)
            004 - No Signal/Communication
             Freeze Frame:
                    Fault Status: 01100100
                    Fault Priority: 6
                    Fault Frequency: 1
                    Reset counter: 89
                    Mileage: 166713 km
                    Time Indication: 0
                    Date: 2020.11.08
                    Time: 09:21:00


-------------------------------------------------------------------------------
Address 10: Park/Steer Assist (J446)       Labels:| 4H0-919-475-7X2.clb
   Part No SW: 4H0 919 475 AA    HW: 4H0 919 475 AG
   Component: PARKHILFE 

ACC

 H01 0083 
   Revision: 11001001    Serial number: 61031320701768
   Coding: A8EB04
   Shop #: 

WSC

 02391 785 00200
   

ASAM

 Dataset: EV_EPHVA18AU57X0000 004009
   ROD: EV_EPHVA18AU57X0000_004.rod
   VCID: 71BFD383B126E2A3ADD-8025

No fault code found.

-------------------------------------------------------------------------------
Address 13: Auto Dist. Reg (J428)       Labels:| 4H0-907-561.clb
   Part No SW: 4G0 907 561 A    HW: 4G0 907 561
   Component: ACC3          H19 0410 
   Serial number: 00000000000000
   Coding: 7E01010201
   Shop #: 

WSC

 02391 785 00200
   

ASAM

 Dataset: EV_AdaptCruisContrAU57X 002010
   ROD: EV_AdaptCruisContrAU57X_002.rod
   VCID: 2809FEE7427CE36B3A3-807D

1 Fault Found:
93440 - Function Restriction due to Faults in Other Modules
          U1113 00 [009] - -
          [FAULT_CIS_VIDEO_FAIL]
          Confirmed - Tested Since Memory Clear
             Freeze Frame:
                    Fault Status: 00000001
                    Fault Priority: 6
                    Fault Frequency: 2
                    Reset counter: 89
                    Mileage: 166713 km
                    Date: 2020.11.08
                    Time: 09:21:59

                    Control Module temperature: 28 °C
                    Voltage terminal 15: 11.809 V
                    Velocity_vehicle_reference: -0.01 m/s
                    Longitudinal_acceleration_vehicle_reference: 0.00 m/s²


-------------------------------------------------------------------------------
Address 15: Airbags (J234)       Labels:* 4H0-959-655.clb
   Part No SW: 4G0 959 655 A    HW: 4G0 959 655 A
   Component: Airbag10.43   H33 0033 
   Revision: --------    Serial number: 003D8003AF5E
   Coding: 303145313131303031324A55304C34473853
   Shop #: 

WSC

 02391 785 00200
   

ASAM

 Dataset: EV_AirbaAU10BPAAU64X 001014
   ROD: EV_AirbaAU10BPAAU64X_VW51.rod
   VCID: 3333198B8BBA90B39F1-8067

   Seat occupied recognition:
   Subsystem 1 - Part No SW: 5C6 959 339 B    HW: 5C6 959 339 B
   Component: BF-Gewichtss.  H10 0046
   Serial number: 6940000Y130000VJJP0M

   Crash sensor for side airbag: driver side:
   Serial number: 3575HRB400K50GS479NJ

   Crash sensor for side airbag: front passenger side:
   Serial number: 3585HRB400K50J0M9OIP

   Crash sensor for side airbag: rear: driver side:
   Serial number: 3515JRB401650KJOFPU5

   Crash sensor for side airbag: rear: passenger side:
   Serial number: 3525JRB401650KJOF969

   Crash sensor for front airbag: driver side:
   Serial number: 3554VRB400M50M2E49FB

   Crash sensor for front airbag: front passenger side:
   Serial number: 3564VRB400I50M2EPPTG

No fault code found.

-------------------------------------------------------------------------------
Address 16: Steering wheel (J527)       Labels:. 4H0-953-568.clb
   Part No SW: 4H0 953 568 H    HW: 4H0 953 568 H
   Component: Lenks.Modul   H04 0005 
   Revision: --------    Serial number: 90372MGN000FA
   Coding: 0004DC
   Shop #: 

WSC

 02391 785 00200
   VCID: 38292EA7925C73EBAA3-806D

   Subsystem 1 - Part No SW: 4G0 951 528 F    HW: 4G0 951 528 F
   Component: E221 - MFL  H09 0010
   Serial number: 26 06 2013  A1203373

No fault code found.

-------------------------------------------------------------------------------
Address 17: Instruments (J285)       Labels:| 4H0-920-xxx-17.clb-SRI1
   Part No SW: 4G8 920 984 S    HW: 4G8 920 984 S
   Component: TBenUsaAccNv  H80 0618 
   Revision: 30460230    Serial number: 658150713596011
   Coding: 0BC701060F53D705020100
   Shop #: 

WSC

 02391 785 00200
   

ASAM

 Dataset: EV_RBD4K 004048
   ROD: EV_RBD4K_AU57.rod
   VCID: 46D5505FE828151B28F-8013

No fault code found.

-------------------------------------------------------------------------------
Address 19: CAN Gateway (J533)       Labels:* None
   Part No SW: 4G0 907 468 AC    HW: 4G0 907 468 AC
   Component: J533--Gateway H12 0037 
   Revision: --------    Serial number: 00000001039050
   Coding: 00CD073000
   Shop #: 

WSC

 02391 785 00200
   

ASAM

 Dataset: EV_GatewPkoUDS 001018
   ROD: EV_GatewPkoUDS_001_AU57.rod
   VCID: 71BFD383B126E2A3ADD-8025

   Battery Monitoring Control Module:
   Subsystem 1 - Part No SW: 8T0 915 181     HW: 8T0 915 181
   Component: J367-BDMHella  H03 8041
   Serial number: 3711041003         

   Voltage stabilizer:
   Subsystem 2 - Part No SW: 8K0 959 663 F    HW: 8K0 959 663
   Component: J532_DCDCStab  H23 0021
   Serial number: 13052700000000000211

No fault code found.

-------------------------------------------------------------------------------
Address 28: HVAC, Rear (E265)       Labels:* 4G0-919-158.clb
   Part No SW: 4G0 919 158 K    HW: 4G0 919 158 K
   Component: KLIMA FOND    H07 0087 
   Serial number: 25071300040250
   Coding: 20
   Shop #: 

WSC

 02391 785 00200
   

ASAM

 Dataset: EV_ClimaContrUnitRearUDS 002019
   ROD: EV_ClimaContrUnitRearUDS_002.rod
   VCID: 372B2D9B9FC27C93A39-8063

2 Faults Found:
0033 - Motor for Rear Right Upper Body Vent
          B10D4 22 [009] - Signal Amplitude Too High
          Confirmed - Tested Since Memory Clear
             Freeze Frame:
                    Fault Status: 00000001
                    Fault Priority: 3
                    Fault Frequency: 1
                    Reset counter: 89
                    Mileage: 166713 km
                    Date: 2020.11.08
                    Time: 09:22:08

                    Voltage terminal 30: 11.91 V
                    Outside air temperature: 22.0 °C
                    Right Rear Upper Body Vent Motor-Act.val.: 12001
                    Right Rear Upper Body Vent Motor-Specified value: 12001
                    Right Rear Upper Body Vent Motor-Stop open: 10000
                    Right Rear Upper Body Vent Motor-Stop closed: 10000

0094 - No Basic Setting
          B2010 00 [009] - -
          [Basic settings not carried out]
          Confirmed - Tested Since Memory Clear
             Freeze Frame:
                    Fault Status: 00000001
                    Fault Priority: 3
                    Fault Frequency: 1
                    Reset counter: 89
                    Mileage: 166713 km
                    Date: 2020.11.08
                    Time: 09:21:59

                    Basic setting of flap motors-Left Rear Upper Body Vent Motor: OK
                    Basic setting of flap motors-Right Rear Upper Body Vent Motor: ERROR


-------------------------------------------------------------------------------
Address 36: Seat Mem. Drvr (J136)       Labels: None
   Part No SW: 4G8 959 760 A    HW: 4G8 959 760 A
   Component: MEM-FS        H03 0154 
   Revision: AA000000    Serial number: 00000068432864
   Coding: C0581B008F006001000001010101102030303232203232
   Shop #: 

WSC

 02391 785 00200
   VCID: 38292EA7925C73EBAA3-806D

No fault code found.

-------------------------------------------------------------------------------
Address 3B: Sensor Elect. (J849)       Labels: 4G0-907-637.clb
   Part No SW: 4G0 907 637 K    HW: 4G0 907 637 F
   Component: SARA 6D       H02 0056 
   Revision: --------    Serial number: EJ1BPA8204CW4D
   Shop #: 

WSC

 00000 000 00000
   

ASAM

 Dataset: EV_SARA2 005012
   ROD: EV_SARA2.rod
   VCID: 3635209F98C8859BB8F-8063

No fault code found.

-------------------------------------------------------------------------------
Address 3C: Lane Change        Labels: Redir Fail!
   Part No SW: 4G0 907 566 J    HW: 4G0 907 566
   Component: J769  

SWA

 MasterH04 0060 
   Revision: 00H04000    Serial number: 6PZ 010 287-08
   Coding: 0000007
   Shop #: 

WSC

 02391 785 00200
   VCID: 3635209F9448859BB8F-8063

   Subsystem 1 - Part No: 4G0 907 568 J
   Component: J770  

SWA

 Slave H04 0060

   Subsystem 2 - Serial number: 6PZ 010 287-28

   Subsystem 3 - Serial number: 5F27.07.1300H04000AMS15684ÿ

   Subsystem 4 - Serial number: S15684ÿ

No fault code found.

-------------------------------------------------------------------------------
Address 42: Door Elect, Driver (J386)       Labels:. 4H0-959-793.clb
   Part No SW: 4G8 959 793 H    HW: 4G8 959 793 F
   Component: 

TSG

 FA        H04 0507 
   Revision: --------    Serial number: --------------
   Coding: 011F5F025E00628002000413
   Shop #: 

WSC

 02391 785 00200
   VCID: 45D75753D5AE1E03215-8011

No fault code found.

-------------------------------------------------------------------------------
Address 44: Steering Assist (J500)       Labels:| 4G0-909-144.clb
   Part No SW: 4G0 909 144 L    HW: 4G0 909 144 G
   Component: RCEPS         H38 0010 
   Revision: 00001000    Serial number: 0020782121
   Coding: 101001010000
   Shop #: 

WSC

 02391 785 00200
   

ASAM

 Dataset: EV_RCEPS 009008
   ROD: EV_RCEPS_009.rod
   VCID: 323D1C8F74A099BB947-8067

No fault code found.

-------------------------------------------------------------------------------
Address 46: Central Conv. (J393)       Labels:. 4H0-907-064-46.clb
   Part No SW: 4H0 907 064 DR    HW: 4H0 907 064 DR
   Component: BCM2 2.0      H35 0510 
   Revision: 00002001    Serial number: 0312357666   
   Coding: 0122063A20FAF08580B00A8402030D470000000000000000000000000000
   Shop #: 

WSC

 02391 785 00200
   VCID: 7CA1F2B7E6E49FCB0EB-8029

   Subsystem 1 - Part No SW: 4G0 959 719     HW: 4G0 959 719
   Component: GTO BF  H01 0080
   Serial number: 00000000000000168736

   Subsystem 2 - Part No: 1K0 951 605 C
   Component: 

LIN

 BACKUP HO  H05 1501

   Subsystem 3 - Part No SW: 4G8 959 591     HW: 7P0 959 591 C
   Component: J245 PS40.039  H01 0008
   Serial number:     WOO2308606%     
   Coding: 101F00

   Subsystem 4 - Part No SW: 4G0 947 135 G    HW: 4G0 947 135
   Component: Dachelektroni  H10 0100
   Serial number: 0000000AP00003960049
   Coding: 010000

   Subsystem 5 - Part No SW: 4G8 959 252     HW: 4G8 959 252
   Component: 

HSP

-SG  H11 0029
   Serial number: WA106239000004186004

   Subsystem 6 - Part No SW: 3AA 962 243 B    HW: 3AA 962 243 B
   Component: GEB.F.Heckoef  H16 0810
   Serial number: 93044571           

2 Faults Found:
01403 - Glass-Break Sensors; Rear
            011 - Open Circuit
             Freeze Frame:
                    Fault Status: 01101011
                    Fault Priority: 2
                    Fault Frequency: 1
                    Reset counter: 89
                    Mileage: 166713 km
                    Time Indication: 0
                    Date: 2020.11.08
                    Time: 09:21:56

01134 - Alarm Horn (H12)
            014 - Defective
             Freeze Frame:
                    Fault Status: 01101110
                    Fault Priority: 2
                    Fault Frequency: 1
                    Reset counter: 89
                    Mileage: 166713 km
                    Time Indication: 0
                    Date: 2020.11.08
                    Time: 09:22:00


-------------------------------------------------------------------------------
Address 47: Sound System (J525)       Labels: None
   Part No SW: 4G0 035 223 C    HW: 4G0 035 223 A
   Component: BOSE-G3-C7    H07 0160 
   Revision: CJ007001    Serial number: 00000000014568
   Coding: 030000
   Shop #: 

WSC

 02391 785 00200
   VCID: 1D67DF331DBE36C3595-8049

No fault code found.

-------------------------------------------------------------------------------
Address 52: Door Elect, Pass. (J387)       Labels:. 4H0-959-792.clb
   Part No SW: 4G8 959 792 H    HW: 4G8 959 792 F
   Component: 

TSG

 BF        H04 0507 
   Revision: --------    Serial number: --------------
   Coding: 011F5F025E00628002000402
   Shop #: 

WSC

 02391 785 00200
   VCID: 44D14A57DE94270B36B-8011

No fault code found.

-------------------------------------------------------------------------------
Address 53: Parking Brake (----)       Labels: 4H0-907-801.clb
   Part No SW: 4H0 907 801 G    HW: 4H0 907 801 A
   Component: 

EPB

-4         H03 0014 
   Revision: --------    Serial number: 00000000778594
   

ASAM

 Dataset: EV_ParkiBrake 001028
   ROD: EV_ParkiBrake_VW51.rod
   VCID: 2C0102F75684CF4BDEB-8079

No fault code found.

-------------------------------------------------------------------------------
Address 55: Headlight Range (J431)       Labels:| 8X0-907-357.clb
   Part No SW: 4H0 907 357 B    HW: 4H0 907 357 B
   Component: ....LWR12.... H02 0010 
   Serial number: 130729-0002-130
   Coding: 1223A6601002A500
   Shop #: 

WSC

 02391 785 00200
   

ASAM

 Dataset: EV_HeadlRegulBasic 005001
   ROD: EV_HeadlRegulBasic.rod
   VCID: 2D070FF36D9EC643C95-8079

No fault code found.

-------------------------------------------------------------------------------
Address 56: Radio (R)       Labels: Redir Fail!
   Part No SW: 4G0 035 082 G    HW: 4G0 035 082
   Component: Radio U SIRIU H60 0133 
   Revision: AB001007    Serial number: 156G60D7830779
   Coding: 020007010000000001
   Shop #: 

WSC

 02391 785 00200
   VCID: 2411EAD73ED4070B16B-8071

1 Fault Found:
02983 - Connection between Impedance Converter 1 and Window Antenna
            011 - Open Circuit
             Freeze Frame:
                    Fault Status: 01101011
                    Fault Priority: 5
                    Fault Frequency: 1
                    Reset counter: 89
                    Mileage: 166713 km
                    Time Indication: 0
                    Date: 2020.11.08
                    Time: 09:22:07

             Freeze Frame:
                    Voltage: 11.80 V


-------------------------------------------------------------------------------
Address 5F: Information Electr. (J794)       Labels:. 4E0-035-6xx-5F.clb
   Part No SW: 4G0 035 746 E    HW: 4G0 035 746 E
   Component: H-BNT-NA      H40 0735 
   Revision: --------    Serial number: 194G+0D7541455
   Coding: 090200040003EDEF7D16CB1E00000003100001000000000000
   Shop #: 

WSC

 02391 785 00200
   VCID: 290FFBE359F6DA6325D-807D

   Subsystem 1 - Part No: 8R0 060 884 BD
   Component: 

NAR

 2013/2014  0802

   Subsystem 2 - Part No SW: 4G0 919 605 C    HW: 4G0 919 605 C
   Component: DU8 C7 SV  H43 0021
   Serial number: AUZ8ZDDD00236TP     

   Subsystem 3 - Part No SW: 4G1 919 610 C    HW: 4G1 919 610 C
   Component: E380 BDT C7  H11 0204
   Serial number: 90349MGP000QG       

   Subsystem 4 - Part No: 8R0 060 961 F
   Component: CD-Database  5298

No fault code found.

-------------------------------------------------------------------------------
Address 62: Door, Rear Left (J388)       Labels:. 4H0-959-795.clb
   Part No SW: 4G8 959 795 H    HW: 4G8 959 795 F
   Component: 

TSG

 HL        H03 0507 
   Revision: --------    Serial number: --------------
   Coding: 010F1F024000628002000002
   Shop #: 

WSC

 02391 785 00200
   VCID: 47CB5D5BEFA20C13D39-8013

No fault code found.

-------------------------------------------------------------------------------
Address 6C: Back-up Cam. (J928)       Labels:* None
   Part No SW: 4H0 907 428 A    HW: 7P6 907 441 D
   Component: TopView       H05 0150 
   Revision: 11001001    Serial number: 82330JF0097760
   Coding: 0205000001010100000102000000
   Shop #: 

WSC

 02391 785 00200
   

ASAM

 Dataset: EV_CamerSysteTopViewAUDI 006025
   ROD: EV_CamerSysteTopViewAUDI_006.rod
   VCID: 2B0301EB538AC873D71-807F

No fault code found.

-------------------------------------------------------------------------------
Address 6D: Trunk Elect. (----)       Labels:* Redir Fail!
   Part No SW: 4G8 959 107 R    HW: 4G8 959 107 G
   Component: HDSG-Modul    H13 0043 
   Revision: 12013001    Serial number: 180300898
   Coding: 0A3305C102
   Shop #: 

WSC

 02391 785 00200
   

ASAM

 Dataset: EV_HDSGAu573 001022
   ROD: EV_HDSGAu571.rod
   VCID: 44D14A57DE14270B36B-8011

No fault code found.

-------------------------------------------------------------------------------
Address 72: Door, Rear Right (J389)       Labels:. 4H0-959-795.clb
   Part No SW: 4G8 959 795 H    HW: 4G8 959 795 F
   Component: 

TSG

 HR        H03 0507 
   Revision: --------    Serial number: --------------
   Coding: 010F1F024000628002000002
   Shop #: 

WSC

 02391 785 00200
   VCID: 47CB5D5BEFA20C13D39-8013

No fault code found.

-------------------------------------------------------------------------------
Address 82: Heads Up Display (J898)       Labels:* None
   Part No SW: 4G8 919 604 K    HW: 4G8 919 604 K
   Component: HeadUpDisplay 004 0201 
   Revision: 00000000    Serial number: 00000000000000
   Coding: D60000
   Shop #: 

WSC

 02391 785 00200
   

ASAM

 Dataset: EV_HUDContiC7 001023
   ROD: EV_HUDContiC7.rod
   VCID: 3B2331ABA3EA58F3471-806F

No fault code found.

-------------------------------------------------------------------------------
Address 84: Night Vision (J853)       Labels:| 4H0-907-547.clb
   Part No SW: 4H0 907 547 F    HW: 4H0 907 547
   Component: NV-

ECU

-Gen1   H10 0042 
   Serial number: 0K84AE40099271
   Coding: 1411
   Shop #: 

WSC

 02391 785 00200
   

ASAM

 Dataset: EV_NightVisioGen1 001002
   ROD: EV_NightVisioGen1.rod
   VCID: 323D1C8F74A099BB947-8067

   Night vision system camera:
   Subsystem 1 - Part No SW: 4H0 980 552 A    HW: 4H0 980 552
   Component: NV-CAM-Gen1  H09 0008
   Serial number: 00000000001314200302

No fault code found.

-------------------------------------------------------------------------------
Address 85: On Board Cam. (J852)       Labels:| 7P6-907-217.clb
   Part No SW: 4G0 907 217 A    HW: 4H0 907 217 A
   Component: DPC-SG        H26 0038 
   Revision: --------    Serial number: 262130025421000
   Coding: 6A060000
   Shop #: 

WSC

 02391 785 00200
   

ASAM

 Dataset: EV_OnBoardCamerDPC 001007
   ROD: EV_OnBoardCamerDPC.rod
   VCID: 2615F0DF4868F51B08F-8073

No fault code found.

-------------------------------------------------------------------------------
Address 8B: Adaptive Cruise 2 (J428)       Labels:| 4H0-907-561.clb
   Part No SW: 4G0 907 541 A    HW: 4G0 907 541
   Component: ACC3          H19 0400 
   Serial number: 00000000000000
   Coding: 7E01010201
   Shop #: 

WSC

 02391 785 00200
   

ASAM

 Dataset: EV_AdaptCruisContr2AU57X 002008
   ROD: EV_AdaptCruisContr2AU57X_002.rod
   VCID: 2615F0DF4868F51B08F-8073

No fault code found.

-------------------------------------------------------------------------------
Address 8E: Image Processing (J851)       Labels:| 4H0-907-107-V2.clb
   Part No SW: 4G0 907 107 E    HW: 4H0 907 107
   Component: BV-SG         H32 0041 
   Serial number: 005000121707137
   Coding: 03C198180111
   Shop #: 

WSC

 02391 785 00200
   

ASAM

 Dataset: EV_BC7 001001
   ROD: EV_BC7.rod
   VCID: 2809FEE7427CE36B3A3-807D

1 Fault Found:
0161 - Video Cable for Image Processing
          C1107 02 [009] - Signal Failure
          [No_camera_found_on_startup]
          Confirmed - Tested Since Memory Clear
             Freeze Frame:
                    Fault Status: 00000001
                    Fault Priority: 3
                    Fault Frequency: 1
                    Reset counter: 89
                    Mileage: 166713 km
                    Date: 2020.11.08
                    Time: 09:22:08

                    Outside air temperature: 22.0 °C
                    Voltage terminal 15: 11.8 V
                    Control Module temperature: 30.0 °C


-------------------------------------------------------------------------------
Address 8F: Pretens. Frt Left (J854)       Labels: 4H0-980-94x-RGS.clb
   Part No SW: 4H0 980 945 B    HW: 4H0 980 945 C
   Component: RGS-VL        H13 0080 
   Coding: 0066E608031F0376070308014240C2010000
   Shop #: 

WSC

 02391 785 00200
   

ASAM

 Dataset: EV_RGS_L 002004
   ROD: EV_RGS_L_VW51.rod
   VCID: 313F138371A6A2A3EDD-8065

No fault code found.

-------------------------------------------------------------------------------
Address 90: Pretens. Frt Right (J855)       Labels: 4H0-980-94x-RGS.clb
   Part No SW: 4H0 980 946 B    HW: 4H0 980 946 C
   Component: RGS-VR        H13 0080 
   Coding: 0066E608031F0376070308014240C2010000
   Shop #: 

WSC

 02391 785 00200
   

ASAM

 Dataset: EV_RGS_R 002004
   ROD: EV_RGS_R_VW51.rod
   VCID: 323D1C8F74A099BB947-8067

No fault code found.

End----------(Elapsed Time: 02:58, VBatt start/end: 14.4V/14.4V)-----------
Code:
Sunday,08,November,2020,09:46:48:65410


VCDS

 -- Windows Based VAG/VAS Emulator Running on Windows 10 x64(Parallels)


VCDS

 Version 20.4.2.0 (x64)  HEX-V2 

CB

: 0.4513.4
Data version: 20200730 DS317.0
www.Ross-Tech.com


VIN: WAU2GBFC9EN041865   License Plate:
Mileage: 166722km-103596mi   Repair Order:



--------------------------------------------------------------------------------
--------------------------------------------------------------------------------


Chassis Type: FC-AU57 (4G0)
Scan: 01 02 03 05 08 09 10 13 15 16 17 19 28 36 3B 3C 42 44 46 47
          52 53 55 56 5F 62 6C 6D 72 82 84 85 8B 8E 8F 90

VIN: WAU2GBFC9EN041865   Mileage: 166722km-103596miles

01-Engine -- Status: OK 0000
02-Auto Trans -- Status: OK 0000
03-

ABS

 Brakes -- Status: OK 0000
04-Steering Angle -- Status: OK 0000
05-

Acc

/Start Auth. -- Status: OK 0000
08-Auto HVAC -- Status: OK 0000
09-Cent. Elect. -- Status: Malfunction 0010
10-Park/Steer Assist -- Status: OK 0000
13-Auto Dist. Reg -- Status: Malfunction 0010
15-Airbags -- Status: OK 0000
16-Steering wheel -- Status: OK 0000
17-Instruments -- Status: OK 0000
19-CAN Gateway -- Status: OK 0000
28-HVAC, Rear -- Status: Malfunction 0010
36-Seat Mem. Drvr -- Status: OK 0000
3B-Sensor Elect. -- Status: OK 0000
3C-Lane Change -- Status: OK 0000
42-Door Elect, Driver -- Status: OK 0000
44-Steering Assist -- Status: OK 0000
46-Central Conv. -- Status: Malfunction 0010
47-Sound System -- Status: OK 0000
52-Door Elect, Pass. -- Status: OK 0000
53-Parking Brake -- Status: OK 0000
55-Headlight Range -- Status: OK 0000
56-Radio -- Status: Malfunction 0010
5F-Information Electr. -- Status: OK 0000
62-Door, Rear Left -- Status: OK 0000
6C-Back-up Cam. -- Status: OK 0000
6D-Trunk Elect. -- Status: OK 0000
72-Door, Rear Right -- Status: OK 0000
82-Heads Up Display -- Status: OK 0000
84-Night Vision -- Status: OK 0000
85-On Board Cam. -- Status: OK 0000
8B-Adaptive Cruise 2 -- Status: OK 0000
8E-Image Processing -- Status: Malfunction 0010
8F-Pretens. Frt Left -- Status: OK 0000
90-Pretens. Frt Right -- Status: OK 0000
-------------------------------------------------------------------------------
Address 01: Engine (J623-CTUA)       Labels:. 06E-907-551-CGW.clb
   Part No SW: 4G0 907 551 J    HW: 4G0 907 551 A
   Component: 3.0l V6 TFSIH07 0004 
   Revision: --H07---   
   Coding: 1A2A0034056601060000
   Shop #: 

WSC

 02391 785 00200
   

ASAM

 Dataset: EV_ECM30TFS0214G0907551J 001004
   ROD: EV_ECM30TFS0214G0907551J.rod
   VCID: 303916877AACABABE23-8065

No fault code found.
Readiness: 1110 1101

-------------------------------------------------------------------------------
Address 02: Auto Trans (J217)       Labels:| 0BK-927-156.clb
   Part No SW: 4G1 927 158 A    HW: 0BK 927 156 AM
   Component: 0BK 30TFSIUSA H16 1006 
   Revision: --H16---   
   Coding: 000002
   Shop #: 

WSC

 00000 000 00000
   

ASAM

 Dataset: EV_TCMAL551211 002022
   ROD: EV_TCMAL551211_002_AU48.rod
   VCID: 2D070FF36D9EC643C95-8079

No fault code found.

-------------------------------------------------------------------------------
Address 03: 

ABS

 Brakes (J104)       Labels:. 4G0-907-379-V1.clb
   Part No SW: 4G0 907 379 M    HW: 4G0 907 379 M
   Component: ESP PREMIUM   H09 0450 
   Revision: --------    Serial number: --------------
   Coding: 44A7970322E5E9C04B00
   Shop #: 

WSC

 02391 785 00200
   

ASAM

 Dataset: EV_ESPPremiAU57X 004039
   ROD: EV_ESPPremiAU57X_004_AU57.rod
   VCID: 3B2331ABA3EA58F3471-806F

No fault code found.

-------------------------------------------------------------------------------
Address 05: 

Acc

/Start Auth. (J393)       Labels:. 8K0-907-064-05.clb
   Part No SW: 4H0 907 064 DR    HW: 4H0 907 064 DR
   Component: BCM2 2.0      H35 0510 
   Revision: 00002001   
   Coding: 0DAA2046000000000000
   Shop #: 

WSC

 02391 785 00200
   VCID: 7CA1F2B7E6E49FCB0EB-8029

   Subsystem 2 - Part No SW: 4H0 905 852 C    HW: 4H0 905 852 C
   Component: J764 ELV 

MLB

  H40 0046
   Serial number: 2313000129342008   

No fault code found.

-------------------------------------------------------------------------------
Address 08: Auto HVAC (J255)       Labels:| 4G0-820-043-4Z.clb
   Part No SW: 4G0 820 043 AF    HW: 4G0 820 043 AF
   Component: KLIMA 4 ZONEN H13 0087 
   Serial number: 17071300040605
   Coding: 668320BA5D
   Shop #: 

WSC

 02391 785 00200
   

ASAM

 Dataset: EV_AirCondiComfoUDS 002040
   ROD: EV_AirCondiComfoUDS_002.rod
   VCID: 6393A9CB7BDA40332F1-8037

No fault code found.

-------------------------------------------------------------------------------
Address 09: Cent. Elect. (J519)       Labels:. 4H0-907-063-V1.clb
   Part No SW: 4H0 907 063 CG    HW: 4H0 907 063
   Component: BCM1 2.0      H12 0130 
   Revision: 11012002    Serial number: 00000001465407
   Coding: 0D072091073E9FE28F000884A0003820CF9CD308A6090225800308457B00
   Shop #: 

WSC

 02391 785 00200
   VCID: 6FBBD5FBA792F453BB9-803B

   Subsystem 1 - Part No SW: 4G1 955 119     HW: 4G8 955 119   Labels: 1KX-955-119.CLB
   Component: WWS57X 130704  H36 0080
   Serial number:         130712104402
   Coding: 0045F7

   Subsystem 2 - Part No SW: 8U0 955 559 B    HW: 8U0 955 559 B  Labels: 8U0-955-559.CLB
   Component: G397_RLFS  H06 0002
   Serial number: 21581582           
   Coding: 02006E

   Subsystem 3 - Part No SW: 4G0 941 531 H    HW: 4G0 941 531 H
   Component: E1 - 

LDS

  H07 0044
   Serial number: 18 07 2013  00001036

   Subsystem 4 - Part No SW: 4G0 907 410 A    HW: 4H0 907 410 A
   Component: USHL4.2  H30 0030
   Serial number: 0000002274555R6ZD602

   Subsystem 5 - Part No SW: 8K0 959 772 E    HW: 8K0 959 772
   Component: SLR-B8  H06 0007
   Serial number:           0069195332
   Coding: 853000

   Subsystem 6 - Part No SW: 4G0 907 472     HW: 4G0 907 472
   Component: A31 LED Mod1L  H02 0002
   Serial number: 00000000001306200658

   Subsystem 7 - Part No SW: 4G0 907 472     HW: 4G0 907 472
   Component: A27 LED Mod1R  H02 0002
   Serial number: 00000000001306200476

   Subsystem 8 - Part No SW: 4H0 907 705 K    HW: 4H0 907 705 C
   Component: EVLS-SG  H08 0300
   Serial number: WA107413000004156167
   Coding: 020300

   Subsystem 9 - Part No SW: 4H0 907 658     HW: 4H0 907 658
   Component: AQ_Hum_Sensor  H03 0003
   Serial number: 71D8CDB6000000000001

   Subsystem 10 - Part No SW: 4G0 907 472 A    HW: 4G0 907 472 A
   Component: A32 LED Mod2L  H02 0002
   Serial number: 00000000001306192385

   Subsystem 11 - Part No SW: 4G0 907 472 A    HW: 4G0 907 472 A
   Component: A28 LED Mod2R  H02 0002
   Serial number: 00000000001306192671

1 Fault Found:
00471 - Control Module for Elect. Regulated Dampers (J250)
            004 - No Signal/Communication
             Freeze Frame:
                    Fault Status: 01100100
                    Fault Priority: 6
                    Fault Frequency: 1
                    Reset counter: 90
                    Mileage: 166722 km
                    Time Indication: 0
                    Date: 2020.11.08
                    Time: 09:39:00


-------------------------------------------------------------------------------
Address 10: Park/Steer Assist (J446)       Labels:| 4H0-919-475-7X2.clb
   Part No SW: 4H0 919 475 AA    HW: 4H0 919 475 AG
   Component: PARKHILFE 

ACC

 H01 0083 
   Revision: 11001001    Serial number: 61031320701768
   Coding: A8EB04
   Shop #: 

WSC

 02391 785 00200
   

ASAM

 Dataset: EV_EPHVA18AU57X0000 004009
   ROD: EV_EPHVA18AU57X0000_004.rod
   VCID: 71BFD383B126E2A3ADD-8025

No fault code found.

-------------------------------------------------------------------------------
Address 13: Auto Dist. Reg (J428)       Labels:| 4H0-907-561.clb
   Part No SW: 4G0 907 561 A    HW: 4G0 907 561
   Component: ACC3          H19 0410 
   Serial number: 00000000000000
   Coding: 7E01010201
   Shop #: 

WSC

 02391 785 00200
   

ASAM

 Dataset: EV_AdaptCruisContrAU57X 002010
   ROD: EV_AdaptCruisContrAU57X_002.rod
   VCID: 2809FEE7427CE36B3A3-807D

1 Fault Found:
93440 - Function Restriction due to Faults in Other Modules
          U1113 00 [009] - -
          [FAULT_CIS_VIDEO_FAIL]
          Confirmed - Tested Since Memory Clear
             Freeze Frame:
                    Fault Status: 00000001
                    Fault Priority: 6
                    Fault Frequency: 2
                    Reset counter: 90
                    Mileage: 166722 km
                    Date: 2020.11.08
                    Time: 09:39:01

                    Control Module temperature: 24 °C
                    Voltage terminal 15: 14.313 V
                    Velocity_vehicle_reference: -0.01 m/s
                    Longitudinal_acceleration_vehicle_reference: 0.00 m/s²


-------------------------------------------------------------------------------
Address 15: Airbags (J234)       Labels:* 4H0-959-655.clb
   Part No SW: 4G0 959 655 A    HW: 4G0 959 655 A
   Component: Airbag10.43   H33 0033 
   Revision: --------    Serial number: 003D8003AF5E
   Coding: 303145313131303031324A55304C34473853
   Shop #: 

WSC

 02391 785 00200
   

ASAM

 Dataset: EV_AirbaAU10BPAAU64X 001014
   ROD: EV_AirbaAU10BPAAU64X_VW51.rod
   VCID: 3333198B8BBA90B39F1-8067

   Seat occupied recognition:
   Subsystem 1 - Part No SW: 5C6 959 339 B    HW: 5C6 959 339 B
   Component: BF-Gewichtss.  H10 0046
   Serial number: 6940000Y130000VJJP0M

   Crash sensor for side airbag: driver side:
   Serial number: 3575HRB400K50GS479NJ

   Crash sensor for side airbag: front passenger side:
   Serial number: 3585HRB400K50J0M9OIP

   Crash sensor for side airbag: rear: driver side:
   Serial number: 3515JRB401650KJOFPU5

   Crash sensor for side airbag: rear: passenger side:
   Serial number: 3525JRB401650KJOF969

   Crash sensor for front airbag: driver side:
   Serial number: 3554VRB400M50M2E49FB

   Crash sensor for front airbag: front passenger side:
   Serial number: 3564VRB400I50M2EPPTG

No fault code found.

-------------------------------------------------------------------------------
Address 16: Steering wheel (J527)       Labels:. 4H0-953-568.clb
   Part No SW: 4H0 953 568 H    HW: 4H0 953 568 H
   Component: Lenks.Modul   H04 0005 
   Revision: --------    Serial number: 90372MGN000FA
   Coding: 0004DC
   Shop #: 

WSC

 02391 785 00200
   VCID: 38292EA7925C73EBAA3-806D

   Subsystem 1 - Part No SW: 4G0 951 528 F    HW: 4G0 951 528 F
   Component: E221 - MFL  H09 0010
   Serial number: 26 06 2013  A1203373

No fault code found.

-------------------------------------------------------------------------------
Address 17: Instruments (J285)       Labels:| 4H0-920-xxx-17.clb-SRI1
   Part No SW: 4G8 920 984 S    HW: 4G8 920 984 S
   Component: TBenUsaAccNv  H80 0618 
   Revision: 30460230    Serial number: 658150713596011
   Coding: 0BC701060F53D705020100
   Shop #: 

WSC

 02391 785 00200
   

ASAM

 Dataset: EV_RBD4K 004048
   ROD: EV_RBD4K_AU57.rod
   VCID: 46D5505FE828151B28F-8013

No fault code found.

-------------------------------------------------------------------------------
Address 19: CAN Gateway (J533)       Labels:* None
   Part No SW: 4G0 907 468 AC    HW: 4G0 907 468 AC
   Component: J533--Gateway H12 0037 
   Revision: --------    Serial number: 00000001039050
   Coding: 00CD073000
   Shop #: 

WSC

 02391 785 00200
   

ASAM

 Dataset: EV_GatewPkoUDS 001018
   ROD: EV_GatewPkoUDS_001_AU57.rod
   VCID: 71BFD383B126E2A3ADD-8025

   Battery Monitoring Control Module:
   Subsystem 1 - Part No SW: 8T0 915 181     HW: 8T0 915 181
   Component: J367-BDMHella  H03 8041
   Serial number: 3711041003         

   Voltage stabilizer:
   Subsystem 2 - Part No SW: 8K0 959 663 F    HW: 8K0 959 663
   Component: J532_DCDCStab  H23 0021
   Serial number: 13052700000000000211

No fault code found.

-------------------------------------------------------------------------------
Address 28: HVAC, Rear (E265)       Labels:* 4G0-919-158.clb
   Part No SW: 4G0 919 158 K    HW: 4G0 919 158 K
   Component: KLIMA FOND    H07 0087 
   Serial number: 25071300040250
   Coding: 20
   Shop #: 

WSC

 02391 785 00200
   

ASAM

 Dataset: EV_ClimaContrUnitRearUDS 002019
   ROD: EV_ClimaContrUnitRearUDS_002.rod
   VCID: 372B2D9B9FC27C93A39-8063

2 Faults Found:
0033 - Motor for Rear Right Upper Body Vent
          B10D4 22 [009] - Signal Amplitude Too High
          Confirmed - Tested Since Memory Clear
             Freeze Frame:
                    Fault Status: 00000001
                    Fault Priority: 3
                    Fault Frequency: 1
                    Reset counter: 90
                    Mileage: 166722 km
                    Date: 2020.11.08
                    Time: 09:39:10

                    Voltage terminal 30: 14.43 V
                    Outside air temperature: 16.5 °C
                    Right Rear Upper Body Vent Motor-Act.val.: 12001
                    Right Rear Upper Body Vent Motor-Specified value: 12001
                    Right Rear Upper Body Vent Motor-Stop open: 10000
                    Right Rear Upper Body Vent Motor-Stop closed: 10000

0094 - No Basic Setting
          B2010 00 [009] - -
          [Basic settings not carried out]
          Confirmed - Tested Since Memory Clear
             Freeze Frame:
                    Fault Status: 00000001
                    Fault Priority: 3
                    Fault Frequency: 1
                    Reset counter: 90
                    Mileage: 166722 km
                    Date: 2020.11.08
                    Time: 09:39:00

                    Basic setting of flap motors-Left Rear Upper Body Vent Motor: OK
                    Basic setting of flap motors-Right Rear Upper Body Vent Motor: ERROR


-------------------------------------------------------------------------------
Address 36: Seat Mem. Drvr (J136)       Labels: None
   Part No SW: 4G8 959 760 A    HW: 4G8 959 760 A
   Component: MEM-FS        H03 0154 
   Revision: AA000000    Serial number: 00000068432864
   Coding: C0581B008F006001000001010101102030303232203232
   Shop #: 

WSC

 02391 785 00200
   VCID: 38292EA7925C73EBAA3-806D

No fault code found.

-------------------------------------------------------------------------------
Address 3B: Sensor Elect. (J849)       Labels: 4G0-907-637.clb
   Part No SW: 4G0 907 637 K    HW: 4G0 907 637 F
   Component: SARA 6D       H02 0056 
   Revision: --------    Serial number: EJ1BPA8204CW4D
   Shop #: 

WSC

 00000 000 00000
   

ASAM

 Dataset: EV_SARA2 005012
   ROD: EV_SARA2.rod
   VCID: 3635209F98C8859BB8F-8063

No fault code found.

-------------------------------------------------------------------------------
Address 3C: Lane Change        Labels: Redir Fail!
   Part No SW: 4G0 907 566 J    HW: 4G0 907 566
   Component: J769  

SWA

 MasterH04 0060 
   Revision: 00H04000    Serial number: 6PZ 010 287-08
   Coding: 0000007
   Shop #: 

WSC

 02391 785 00200
   VCID: 3635209F9448859BB8F-8063

   Subsystem 1 - Part No: 4G0 907 568 J
   Component: J770  

SWA

 Slave H04 0060

   Subsystem 2 - Serial number: 6PZ 010 287-28

   Subsystem 3 - Serial number: 5F27.07.1300H04000AMS15684ÿ

   Subsystem 4 - Serial number: S15684ÿ

No fault code found.

-------------------------------------------------------------------------------
Address 42: Door Elect, Driver (J386)       Labels:. 4H0-959-793.clb
   Part No SW: 4G8 959 793 H    HW: 4G8 959 793 F
   Component: 

TSG

 FA        H04 0507 
   Revision: --------    Serial number: --------------
   Coding: 011F5F025E00628002000413
   Shop #: 

WSC

 02391 785 00200
   VCID: 45D75753D5AE1E03215-8011

No fault code found.

-------------------------------------------------------------------------------
Address 44: Steering Assist (J500)       Labels:| 4G0-909-144.clb
   Part No SW: 4G0 909 144 L    HW: 4G0 909 144 G
   Component: RCEPS         H38 0010 
   Revision: 00001000    Serial number: 0020782121
   Coding: 101001010000
   Shop #: 

WSC

 02391 785 00200
   

ASAM

 Dataset: EV_RCEPS 009008
   ROD: EV_RCEPS_009.rod
   VCID: 323D1C8F74A099BB947-8067

No fault code found.

-------------------------------------------------------------------------------
Address 46: Central Conv. (J393)       Labels:. 4H0-907-064-46.clb
   Part No SW: 4H0 907 064 DR    HW: 4H0 907 064 DR
   Component: BCM2 2.0      H35 0510 
   Revision: 00002001    Serial number: 0312357666   
   Coding: 0122063A20FAF08580B00A8402030D470000000000000000000000000000
   Shop #: 

WSC

 02391 785 00200
   VCID: 7CA1F2B7E6E49FCB0EB-8029

   Subsystem 1 - Part No SW: 4G0 959 719     HW: 4G0 959 719
   Component: GTO BF  H01 0080
   Serial number: 00000000000000168736

   Subsystem 2 - Part No: 1K0 951 605 C
   Component: 

LIN

 BACKUP HO  H05 1501

   Subsystem 3 - Part No SW: 4G8 959 591     HW: 7P0 959 591 C
   Component: J245 PS40.039  H01 0008
   Serial number:     WOO2308606%     
   Coding: 101F00

   Subsystem 4 - Part No SW: 4G0 947 135 G    HW: 4G0 947 135
   Component: Dachelektroni  H10 0100
   Serial number: 0000000AP00003960049
   Coding: 010000

   Subsystem 5 - Part No SW: 4G8 959 252     HW: 4G8 959 252
   Component: 

HSP

-SG  H11 0029
   Serial number: WA106239000004186004

   Subsystem 6 - Part No SW: 3AA 962 243 B    HW: 3AA 962 243 B
   Component: GEB.F.Heckoef  H16 0810
   Serial number: 93044571           

2 Faults Found:
01403 - Glass-Break Sensors; Rear
            011 - Open Circuit
             Freeze Frame:
                    Fault Status: 01101011
                    Fault Priority: 2
                    Fault Frequency: 1
                    Reset counter: 90
                    Mileage: 166722 km
                    Time Indication: 0
                    Date: 2020.11.08
                    Time: 09:38:58

01134 - Alarm Horn (H12)
            014 - Defective
             Freeze Frame:
                    Fault Status: 01101110
                    Fault Priority: 2
                    Fault Frequency: 1
                    Reset counter: 90
                    Mileage: 166722 km
                    Time Indication: 0
                    Date: 2020.11.08
                    Time: 09:39:02


-------------------------------------------------------------------------------
Address 47: Sound System (J525)       Labels: None
   Part No SW: 4G0 035 223 C    HW: 4G0 035 223 A
   Component: BOSE-G3-C7    H07 0160 
   Revision: CJ007001    Serial number: 00000000014568
   Coding: 030000
   Shop #: 

WSC

 02391 785 00200
   VCID: 1D67DF331DBE36C3595-8049

No fault code found.

-------------------------------------------------------------------------------
Address 52: Door Elect, Pass. (J387)       Labels:. 4H0-959-792.clb
   Part No SW: 4G8 959 792 H    HW: 4G8 959 792 F
   Component: 

TSG

 BF        H04 0507 
   Revision: --------    Serial number: --------------
   Coding: 011F5F025E00628002000402
   Shop #: 

WSC

 02391 785 00200
   VCID: 44D14A57DE94270B36B-8011

No fault code found.

-------------------------------------------------------------------------------
Address 53: Parking Brake (----)       Labels: 4H0-907-801.clb
   Part No SW: 4H0 907 801 G    HW: 4H0 907 801 A
   Component: 

EPB

-4         H03 0014 
   Revision: --------    Serial number: 00000000778594
   

ASAM

 Dataset: EV_ParkiBrake 001028
   ROD: EV_ParkiBrake_VW51.rod
   VCID: 2C0102F75684CF4BDEB-8079

No fault code found.

-------------------------------------------------------------------------------
Address 55: Headlight Range (J431)       Labels:| 8X0-907-357.clb
   Part No SW: 4H0 907 357 B    HW: 4H0 907 357 B
   Component: ....LWR12.... H02 0010 
   Serial number: 130729-0002-130
   Coding: 1223A6601002A500
   Shop #: 

WSC

 02391 785 00200
   

ASAM

 Dataset: EV_HeadlRegulBasic 005001
   ROD: EV_HeadlRegulBasic.rod
   VCID: 2D070FF36D9EC643C95-8079

No fault code found.

-------------------------------------------------------------------------------
Address 56: Radio (R)       Labels: Redir Fail!
   Part No SW: 4G0 035 082 G    HW: 4G0 035 082
   Component: Radio U SIRIU H60 0133 
   Revision: AB001007    Serial number: 156G60D7830779
   Coding: 020007010000000001
   Shop #: 

WSC

 02391 785 00200
   VCID: 2411EAD73ED4070B16B-8071

1 Fault Found:
02983 - Connection between Impedance Converter 1 and Window Antenna
            011 - Open Circuit
             Freeze Frame:
                    Fault Status: 01101011
                    Fault Priority: 5
                    Fault Frequency: 1
                    Reset counter: 90
                    Mileage: 166722 km
                    Time Indication: 0
                    Date: 2020.11.08
                    Time: 09:39:08

             Freeze Frame:
                    Voltage: 14.40 V


-------------------------------------------------------------------------------
Address 5F: Information Electr. (J794)       Labels:. 4E0-035-6xx-5F.clb
   Part No SW: 4G0 035 746 E    HW: 4G0 035 746 E
   Component: H-BNT-NA      H40 0735 
   Revision: --------    Serial number: 194G+0D7541455
   Coding: 090200040003EDEF7D16CB1E00000003100001000000000000
   Shop #: 

WSC

 02391 785 00200
   VCID: 290FFBE359F6DA6325D-807D

   Subsystem 1 - Part No: 8R0 060 884 BD
   Component: 

NAR

 2013/2014  0802

   Subsystem 2 - Part No SW: 4G0 919 605 C    HW: 4G0 919 605 C
   Component: DU8 C7 SV  H43 0021
   Serial number: AUZ8ZDDD00236TP     

   Subsystem 3 - Part No SW: 4G1 919 610 C    HW: 4G1 919 610 C
   Component: E380 BDT C7  H11 0204
   Serial number: 90349MGP000QG       

   Subsystem 4 - Part No: 8R0 060 961 F
   Component: CD-Database  5298

No fault code found.

-------------------------------------------------------------------------------
Address 62: Door, Rear Left (J388)       Labels:. 4H0-959-795.clb
   Part No SW: 4G8 959 795 H    HW: 4G8 959 795 F
   Component: 

TSG

 HL        H03 0507 
   Revision: --------    Serial number: --------------
   Coding: 010F1F024000628002000002
   Shop #: 

WSC

 02391 785 00200
   VCID: 47CB5D5BEFA20C13D39-8013

No fault code found.

-------------------------------------------------------------------------------
Address 6C: Back-up Cam. (J928)       Labels:* None
   Part No SW: 4H0 907 428 A    HW: 7P6 907 441 D
   Component: TopView       H05 0150 
   Revision: 11001001    Serial number: 82330JF0097760
   Coding: 0205000001010100000102000000
   Shop #: 

WSC

 02391 785 00200
   

ASAM

 Dataset: EV_CamerSysteTopViewAUDI 006025
   ROD: EV_CamerSysteTopViewAUDI_006.rod
   VCID: 2B0301EB538AC873D71-807F

No fault code found.

-------------------------------------------------------------------------------
Address 6D: Trunk Elect. (----)       Labels:* Redir Fail!
   Part No SW: 4G8 959 107 R    HW: 4G8 959 107 G
   Component: HDSG-Modul    H13 0043 
   Revision: 12013001    Serial number: 180300898
   Coding: 0A3305C102
   Shop #: 

WSC

 02391 785 00200
   

ASAM

 Dataset: EV_HDSGAu573 001022
   ROD: EV_HDSGAu571.rod
   VCID: 44D14A57DE14270B36B-8011

No fault code found.

-------------------------------------------------------------------------------
Address 72: Door, Rear Right (J389)       Labels:. 4H0-959-795.clb
   Part No SW: 4G8 959 795 H    HW: 4G8 959 795 F
   Component: 

TSG

 HR        H03 0507 
   Revision: --------    Serial number: --------------
   Coding: 010F1F024000628002000002
   Shop #: 

WSC

 02391 785 00200
   VCID: 47CB5D5BEFA20C13D39-8013

No fault code found.

-------------------------------------------------------------------------------
Address 82: Heads Up Display (J898)       Labels:* None
   Part No SW: 4G8 919 604 K    HW: 4G8 919 604 K
   Component: HeadUpDisplay 004 0201 
   Revision: 00000000    Serial number: 00000000000000
   Coding: D60000
   Shop #: 

WSC

 02391 785 00200
   

ASAM

 Dataset: EV_HUDContiC7 001023
   ROD: EV_HUDContiC7.rod
   VCID: 3B2331ABA3EA58F3471-806F

No fault code found.

-------------------------------------------------------------------------------
Address 84: Night Vision (J853)       Labels:| 4H0-907-547.clb
   Part No SW: 4H0 907 547 F    HW: 4H0 907 547
   Component: NV-

ECU

-Gen1   H10 0042 
   Serial number: 0K84AE40099271
   Coding: 1411
   Shop #: 

WSC

 02391 785 00200
   

ASAM

 Dataset: EV_NightVisioGen1 001002
   ROD: EV_NightVisioGen1.rod
   VCID: 323D1C8F74A099BB947-8067

   Night vision system camera:
   Subsystem 1 - Part No SW: 4H0 980 552 A    HW: 4H0 980 552
   Component: NV-CAM-Gen1  H09 0008
   Serial number: 00000000001314200302

No fault code found.

-------------------------------------------------------------------------------
Address 85: On Board Cam. (J852)       Labels:| 7P6-907-217.clb
   Part No SW: 4G0 907 217 A    HW: 4H0 907 217 A
   Component: DPC-SG        H26 0038 
   Revision: --------    Serial number: 262130025421000
   Coding: 6A060000
   Shop #: 

WSC

 02391 785 00200
   

ASAM

 Dataset: EV_OnBoardCamerDPC 001007
   ROD: EV_OnBoardCamerDPC.rod
   VCID: 2615F0DF4868F51B08F-8073

No fault code found.

-------------------------------------------------------------------------------
Address 8B: Adaptive Cruise 2 (J428)       Labels:| 4H0-907-561.clb
   Part No SW: 4G0 907 541 A    HW: 4G0 907 541
   Component: ACC3          H19 0400 
   Serial number: 00000000000000
   Coding: 7E01010201
   Shop #: 

WSC

 02391 785 00200
   

ASAM

 Dataset: EV_AdaptCruisContr2AU57X 002008
   ROD: EV_AdaptCruisContr2AU57X_002.rod
   VCID: 2615F0DF4868F51B08F-8073

No fault code found.

-------------------------------------------------------------------------------
Address 8E: Image Processing (J851)       Labels:| 4H0-907-107-V2.clb
   Part No SW: 4G0 907 107 E    HW: 4H0 907 107
   Component: BV-SG         H32 0041 
   Serial number: 005000121707137
   Coding: 03C198180111
   Shop #: 

WSC

 02391 785 00200
   

ASAM

 Dataset: EV_BC7 001001
   ROD: EV_BC7.rod
   VCID: 2809FEE7427CE36B3A3-807D

1 Fault Found:
0161 - Video Cable for Image Processing
          C1107 02 [009] - Signal Failure
          [No_camera_found_on_startup]
          Confirmed - Tested Since Memory Clear
             Freeze Frame:
                    Fault Status: 00000001
                    Fault Priority: 3
                    Fault Frequency: 1
                    Reset counter: 90
                    Mileage: 166722 km
                    Date: 2020.11.08
                    Time: 09:39:10

                    Outside air temperature: 16.5 °C
                    Voltage terminal 15: 14.3 V
                    Control Module temperature: 32.0 °C


-------------------------------------------------------------------------------
Address 8F: Pretens. Frt Left (J854)       Labels: 4H0-980-94x-RGS.clb
   Part No SW: 4H0 980 945 B    HW: 4H0 980 945 C
   Component: RGS-VL        H13 0080 
   Coding: 0066E608031F0376070308014240C2010000
   Shop #: 

WSC

 02391 785 00200
   

ASAM

 Dataset: EV_RGS_L 002004
   ROD: EV_RGS_L_VW51.rod
   VCID: 313F138371A6A2A3EDD-8065

No fault code found.

-------------------------------------------------------------------------------
Address 90: Pretens. Frt Right (J855)       Labels: 4H0-980-94x-RGS.clb
   Part No SW: 4H0 980 946 B    HW: 4H0 980 946 C
   Component: RGS-VR        H13 0080 
   Coding: 0066E608031F0376070308014240C2010000
   Shop #: 

WSC

 02391 785 00200
   

ASAM

 Dataset: EV_RGS_R 002004
   ROD: EV_RGS_R_VW51.rod
   VCID: 323D1C8F74A099BB947-8067

No fault code found.

End----------(Elapsed Time: 02:57, VBatt start/end: 14.3V/14.3V)-----------
Code:
Sunday,08,November,2020,10:01:32:65410


VCDS

 -- Windows Based VAG/VAS Emulator Running on Windows 10 x64(Parallels)


VCDS

 Version 20.4.2.0 (x64)  HEX-V2 

CB

: 0.4513.4
Data version: 20200730 DS317.0
www.Ross-Tech.com


VIN: WAU2GBFC9EN041865   License Plate:
Mileage: 166722km-103596mi   Repair Order:


Chassis Type: FC-AU57 (4G0)
Scan: 01 02 03 05 08 09 10 13 15 16 17 19 28 36 3B 3C 42 44 46 47
          52 53 55 56 5F 62 6C 6D 72 82 84 85 8B 8E 8F 90

VIN: WAU2GBFC9EN041865   Mileage: 166722km-103596miles

01-Engine -- Status: OK 0000
02-Auto Trans -- Status: OK 0000
03-

ABS

 Brakes -- Status: OK 0000
04-Steering Angle -- Status: OK 0000
05-

Acc

/Start Auth. -- Status: OK 0000
08-Auto HVAC -- Status: OK 0000
09-Cent. Elect. -- Status: Malfunction 0010
10-Park/Steer Assist -- Status: OK 0000
13-Auto Dist. Reg -- Status: Malfunction 0010
15-Airbags -- Status: OK 0000
16-Steering wheel -- Status: OK 0000
17-Instruments -- Status: OK 0000
19-CAN Gateway -- Status: OK 0000
28-HVAC, Rear -- Status: Malfunction 0010
36-Seat Mem. Drvr -- Status: OK 0000
3B-Sensor Elect. -- Status: OK 0000
3C-Lane Change -- Status: OK 0000
42-Door Elect, Driver -- Status: OK 0000
44-Steering Assist -- Status: OK 0000
46-Central Conv. -- Status: Malfunction 0010
47-Sound System -- Status: OK 0000
52-Door Elect, Pass. -- Status: OK 0000
53-Parking Brake -- Status: OK 0000
55-Headlight Range -- Status: OK 0000
56-Radio -- Status: Malfunction 0010
5F-Information Electr. -- Status: OK 0000
62-Door, Rear Left -- Status: OK 0000
6C-Back-up Cam. -- Status: OK 0000
6D-Trunk Elect. -- Status: OK 0000
72-Door, Rear Right -- Status: OK 0000
82-Heads Up Display -- Status: OK 0000
84-Night Vision -- Status: OK 0000
85-On Board Cam. -- Status: OK 0000
8B-Adaptive Cruise 2 -- Status: OK 0000
8E-Image Processing -- Status: Malfunction 0010
8F-Pretens. Frt Left -- Status: OK 0000
90-Pretens. Frt Right -- Status: OK 0000
-------------------------------------------------------------------------------
Address 01: Engine (J623-CTUA)       Labels:. 06E-907-551-CGW.clb
   Part No SW: 4G0 907 551 J    HW: 4G0 907 551 A
   Component: 3.0l V6 TFSIH07 0004 
   Revision: --H07---   
   Coding: 1A2A0034056601060000
   Shop #: 

WSC

 02391 785 00200
   

ASAM

 Dataset: EV_ECM30TFS0214G0907551J 001004
   ROD: EV_ECM30TFS0214G0907551J.rod
   VCID: 303916877AACABABE23-8065

No fault code found.
Readiness: 1110 1101

-------------------------------------------------------------------------------
Address 02: Auto Trans (J217)       Labels:| 0BK-927-156.clb
   Part No SW: 4G1 927 158 A    HW: 0BK 927 156 AM
   Component: 0BK 30TFSIUSA H16 1006 
   Revision: --H16---   
   Coding: 000002
   Shop #: 

WSC

 00000 000 00000
   

ASAM

 Dataset: EV_TCMAL551211 002022
   ROD: EV_TCMAL551211_002_AU48.rod
   VCID: 2D070FF36D9EC643C95-8079

No fault code found.

-------------------------------------------------------------------------------
Address 03: 

ABS

 Brakes (J104)       Labels:. 4G0-907-379-V1.clb
   Part No SW: 4G0 907 379 M    HW: 4G0 907 379 M
   Component: ESP PREMIUM   H09 0450 
   Revision: --------    Serial number: --------------
   Coding: 44A7970322E5E9C04B00
   Shop #: 

WSC

 02391 785 00200
   

ASAM

 Dataset: EV_ESPPremiAU57X 004039
   ROD: EV_ESPPremiAU57X_004_AU57.rod
   VCID: 3B2331ABA3EA58F3471-806F

No fault code found.

-------------------------------------------------------------------------------
Address 05: 

Acc

/Start Auth. (J393)       Labels:. 8K0-907-064-05.clb
   Part No SW: 4H0 907 064 DR    HW: 4H0 907 064 DR
   Component: BCM2 2.0      H35 0510 
   Revision: 00002001   
   Coding: 0DAA2046000000000000
   Shop #: 

WSC

 02391 785 00200
   VCID: 7CA1F2B7E6E49FCB0EB-8029

   Subsystem 2 - Part No SW: 4H0 905 852 C    HW: 4H0 905 852 C
   Component: J764 ELV 

MLB

  H40 0046
   Serial number: 2313000129342008   

No fault code found.

-------------------------------------------------------------------------------
Address 08: Auto HVAC (J255)       Labels:| 4G0-820-043-4Z.clb
   Part No SW: 4G0 820 043 AF    HW: 4G0 820 043 AF
   Component: KLIMA 4 ZONEN H13 0087 
   Serial number: 17071300040605
   Coding: 668320BA5D
   Shop #: 

WSC

 02391 785 00200
   

ASAM

 Dataset: EV_AirCondiComfoUDS 002040
   ROD: EV_AirCondiComfoUDS_002.rod
   VCID: 6393A9CB7BDA40332F1-8037

No fault code found.

-------------------------------------------------------------------------------
Address 09: Cent. Elect. (J519)       Labels:. 4H0-907-063-V1.clb
   Part No SW: 4H0 907 063 CG    HW: 4H0 907 063
   Component: BCM1 2.0      H12 0130 
   Revision: 11012002    Serial number: 00000001465407
   Coding: 0D072091073E9FE28F000884A0003820CF9CD308A6090225800308457B00
   Shop #: 

WSC

 02391 785 00200
   VCID: 6FBBD5FBA792F453BB9-803B

   Subsystem 1 - Part No SW: 4G1 955 119     HW: 4G8 955 119   Labels: 1KX-955-119.CLB
   Component: WWS57X 130704  H36 0080
   Serial number:         130712104402
   Coding: 0045F7

   Subsystem 2 - Part No SW: 8U0 955 559 B    HW: 8U0 955 559 B  Labels: 8U0-955-559.CLB
   Component: G397_RLFS  H06 0002
   Serial number: 21581582           
   Coding: 02006E

   Subsystem 3 - Part No SW: 4G0 941 531 H    HW: 4G0 941 531 H
   Component: E1 - 

LDS

  H07 0044
   Serial number: 18 07 2013  00001036

   Subsystem 4 - Part No SW: 4G0 907 410 A    HW: 4H0 907 410 A
   Component: USHL4.2  H30 0030
   Serial number: 0000002274555R6ZD602

   Subsystem 5 - Part No SW: 8K0 959 772 E    HW: 8K0 959 772
   Component: SLR-B8  H06 0007
   Serial number:           0069195332
   Coding: 853000

   Subsystem 6 - Part No SW: 4G0 907 472     HW: 4G0 907 472
   Component: A31 LED Mod1L  H02 0002
   Serial number: 00000000001306200658

   Subsystem 7 - Part No SW: 4G0 907 472     HW: 4G0 907 472
   Component: A27 LED Mod1R  H02 0002
   Serial number: 00000000001306200476

   Subsystem 8 - Part No SW: 4H0 907 705 K    HW: 4H0 907 705 C
   Component: EVLS-SG  H08 0300
   Serial number: WA107413000004156167
   Coding: 020300

   Subsystem 9 - Part No SW: 4H0 907 658     HW: 4H0 907 658
   Component: AQ_Hum_Sensor  H03 0003
   Serial number: 71D8CDB6000000000001

   Subsystem 10 - Part No SW: 4G0 907 472 A    HW: 4G0 907 472 A
   Component: A32 LED Mod2L  H02 0002
   Serial number: 00000000001306192385

   Subsystem 11 - Part No SW: 4G0 907 472 A    HW: 4G0 907 472 A
   Component: A28 LED Mod2R  H02 0002
   Serial number: 00000000001306192671

1 Fault Found:
00471 - Control Module for Elect. Regulated Dampers (J250)
            004 - No Signal/Communication
             Freeze Frame:
                    Fault Status: 01100100
                    Fault Priority: 6
                    Fault Frequency: 1
                    Reset counter: 90
                    Mileage: 166722 km
                    Time Indication: 0
                    Date: 2020.11.08
                    Time: 09:44:00


-------------------------------------------------------------------------------
Address 10: Park/Steer Assist (J446)       Labels:| 4H0-919-475-7X2.clb
   Part No SW: 4H0 919 475 AA    HW: 4H0 919 475 AG
   Component: PARKHILFE 

ACC

 H01 0083 
   Revision: 11001001    Serial number: 61031320701768
   Coding: A8EB04
   Shop #: 

WSC

 02391 785 00200
   

ASAM

 Dataset: EV_EPHVA18AU57X0000 004009
   ROD: EV_EPHVA18AU57X0000_004.rod
   VCID: 71BFD383B126E2A3ADD-8025

No fault code found.

-------------------------------------------------------------------------------
Address 13: Auto Dist. Reg (J428)       Labels:| 4H0-907-561.clb
   Part No SW: 4G0 907 561 A    HW: 4G0 907 561
   Component: ACC3          H19 0410 
   Serial number: 00000000000000
   Coding: 7E01010201
   Shop #: 

WSC

 02391 785 00200
   

ASAM

 Dataset: EV_AdaptCruisContrAU57X 002010
   ROD: EV_AdaptCruisContrAU57X_002.rod
   VCID: 2809FEE7427CE36B3A3-807D

1 Fault Found:
93440 - Function Restriction due to Faults in Other Modules
          U1113 00 [009] - -
          [FAULT_CIS_VIDEO_FAIL]
          Confirmed - Tested Since Memory Clear
             Freeze Frame:
                    Fault Status: 00000001
                    Fault Priority: 6
                    Fault Frequency: 3
                    Reset counter: 90
                    Mileage: 166722 km
                    Date: 2020.11.08
                    Time: 09:44:20

                    Control Module temperature: 28 °C
                    Voltage terminal 15: 14.237 V
                    Velocity_vehicle_reference: -0.01 m/s
                    Longitudinal_acceleration_vehicle_reference: 0.00 m/s²


-------------------------------------------------------------------------------
Address 15: Airbags (J234)       Labels:* 4H0-959-655.clb
   Part No SW: 4G0 959 655 A    HW: 4G0 959 655 A
   Component: Airbag10.43   H33 0033 
   Revision: --------    Serial number: 003D8003AF5E
   Coding: 303145313131303031324A55304C34473853
   Shop #: 

WSC

 02391 785 00200
   

ASAM

 Dataset: EV_AirbaAU10BPAAU64X 001014
   ROD: EV_AirbaAU10BPAAU64X_VW51.rod
   VCID: 3333198B8BBA90B39F1-8067

   Seat occupied recognition:
   Subsystem 1 - Part No SW: 5C6 959 339 B    HW: 5C6 959 339 B
   Component: BF-Gewichtss.  H10 0046
   Serial number: 6940000Y130000VJJP0M

   Crash sensor for side airbag: driver side:
   Serial number: 3575HRB400K50GS479NJ

   Crash sensor for side airbag: front passenger side:
   Serial number: 3585HRB400K50J0M9OIP

   Crash sensor for side airbag: rear: driver side:
   Serial number: 3515JRB401650KJOFPU5

   Crash sensor for side airbag: rear: passenger side:
   Serial number: 3525JRB401650KJOF969

   Crash sensor for front airbag: driver side:
   Serial number: 3554VRB400M50M2E49FB

   Crash sensor for front airbag: front passenger side:
   Serial number: 3564VRB400I50M2EPPTG

No fault code found.

-------------------------------------------------------------------------------
Address 16: Steering wheel (J527)       Labels:. 4H0-953-568.clb
   Part No SW: 4H0 953 568 H    HW: 4H0 953 568 H
   Component: Lenks.Modul   H04 0005 
   Revision: --------    Serial number: 90372MGN000FA
   Coding: 0004DC
   Shop #: 

WSC

 02391 785 00200
   VCID: 38292EA7925C73EBAA3-806D

   Subsystem 1 - Part No SW: 4G0 951 528 F    HW: 4G0 951 528 F
   Component: E221 - MFL  H09 0010
   Serial number: 26 06 2013  A1203373

No fault code found.

-------------------------------------------------------------------------------
Address 17: Instruments (J285)       Labels:| 4H0-920-xxx-17.clb-SRI1
   Part No SW: 4G8 920 984 S    HW: 4G8 920 984 S
   Component: TBenUsaAccNv  H80 0618 
   Revision: 30460230    Serial number: 658150713596011
   Coding: 0BC701060F53D705020100
   Shop #: 

WSC

 02391 785 00200
   

ASAM

 Dataset: EV_RBD4K 004048
   ROD: EV_RBD4K_AU57.rod
   VCID: 46D5505FE828151B28F-8013

No fault code found.

-------------------------------------------------------------------------------
Address 19: CAN Gateway (J533)       Labels:* None
   Part No SW: 4G0 907 468 AC    HW: 4G0 907 468 AC
   Component: J533--Gateway H12 0037 
   Revision: --------    Serial number: 00000001039050
   Coding: 00CD073000
   Shop #: 

WSC

 02391 785 00200
   

ASAM

 Dataset: EV_GatewPkoUDS 001018
   ROD: EV_GatewPkoUDS_001_AU57.rod
   VCID: 71BFD383B126E2A3ADD-8025

   Battery Monitoring Control Module:
   Subsystem 1 - Part No SW: 8T0 915 181     HW: 8T0 915 181
   Component: J367-BDMHella  H03 8041
   Serial number: 3711041003         

   Voltage stabilizer:
   Subsystem 2 - Part No SW: 8K0 959 663 F    HW: 8K0 959 663
   Component: J532_DCDCStab  H23 0021
   Serial number: 13052700000000000211

No fault code found.

-------------------------------------------------------------------------------
Address 28: HVAC, Rear (E265)       Labels:* 4G0-919-158.clb
   Part No SW: 4G0 919 158 K    HW: 4G0 919 158 K
   Component: KLIMA FOND    H07 0087 
   Serial number: 25071300040250
   Coding: 20
   Shop #: 

WSC

 02391 785 00200
   

ASAM

 Dataset: EV_ClimaContrUnitRearUDS 002019
   ROD: EV_ClimaContrUnitRearUDS_002.rod
   VCID: 372B2D9B9FC27C93A39-8063

2 Faults Found:
0033 - Motor for Rear Right Upper Body Vent
          B10D4 22 [009] - Signal Amplitude Too High
          Confirmed - Tested Since Memory Clear
             Freeze Frame:
                    Fault Status: 00000001
                    Fault Priority: 3
                    Fault Frequency: 2
                    Reset counter: 90
                    Mileage: 166722 km
                    Date: 2020.11.08
                    Time: 09:44:24

                    Voltage terminal 30: 14.43 V
                    Outside air temperature: 18.5 °C
                    Right Rear Upper Body Vent Motor-Act.val.: 12001
                    Right Rear Upper Body Vent Motor-Specified value: 12001
                    Right Rear Upper Body Vent Motor-Stop open: 10000
                    Right Rear Upper Body Vent Motor-Stop closed: 10000

0094 - No Basic Setting
          B2010 00 [009] - -
          [Basic settings not carried out]
          Confirmed - Tested Since Memory Clear
             Freeze Frame:
                    Fault Status: 00000001
                    Fault Priority: 3
                    Fault Frequency: 1
                    Reset counter: 90
                    Mileage: 166722 km
                    Date: 2020.11.08
                    Time: 09:44:20

                    Basic setting of flap motors-Left Rear Upper Body Vent Motor: OK
                    Basic setting of flap motors-Right Rear Upper Body Vent Motor: ERROR


-------------------------------------------------------------------------------
Address 36: Seat Mem. Drvr (J136)       Labels: None
   Part No SW: 4G8 959 760 A    HW: 4G8 959 760 A
   Component: MEM-FS        H03 0154 
   Revision: AA000000    Serial number: 00000068432864
   Coding: C0581B008F006001000001010101102030303232203232
   Shop #: 

WSC

 02391 785 00200
   VCID: 38292EA7925C73EBAA3-806D

No fault code found.

-------------------------------------------------------------------------------
Address 3B: Sensor Elect. (J849)       Labels: 4G0-907-637.clb
   Part No SW: 4G0 907 637 K    HW: 4G0 907 637 F
   Component: SARA 6D       H02 0056 
   Revision: --------    Serial number: EJ1BPA8204CW4D
   Shop #: 

WSC

 00000 000 00000
   

ASAM

 Dataset: EV_SARA2 005012
   ROD: EV_SARA2.rod
   VCID: 3635209F98C8859BB8F-8063

No fault code found.

-------------------------------------------------------------------------------
Address 3C: Lane Change        Labels: Redir Fail!
   Part No SW: 4G0 907 566 J    HW: 4G0 907 566
   Component: J769  

SWA

 MasterH04 0060 
   Revision: 00H04000    Serial number: 6PZ 010 287-08
   Coding: 0000007
   Shop #: 

WSC

 02391 785 00200
   VCID: 3635209F9448859BB8F-8063

   Subsystem 1 - Part No: 4G0 907 568 J
   Component: J770  

SWA

 Slave H04 0060

   Subsystem 2 - Serial number: 6PZ 010 287-28

   Subsystem 3 - Serial number: 5F27.07.1300H04000AMS15684ÿ

   Subsystem 4 - Serial number: S15684ÿ

No fault code found.

-------------------------------------------------------------------------------
Address 42: Door Elect, Driver (J386)       Labels:. 4H0-959-793.clb
   Part No SW: 4G8 959 793 H    HW: 4G8 959 793 F
   Component: 

TSG

 FA        H04 0507 
   Revision: --------    Serial number: --------------
   Coding: 011F5F025E00628002000413
   Shop #: 

WSC

 02391 785 00200
   VCID: 45D75753D5AE1E03215-8011

No fault code found.

-------------------------------------------------------------------------------
Address 44: Steering Assist (J500)       Labels:| 4G0-909-144.clb
   Part No SW: 4G0 909 144 L    HW: 4G0 909 144 G
   Component: RCEPS         H38 0010 
   Revision: 00001000    Serial number: 0020782121
   Coding: 101001010000
   Shop #: 

WSC

 02391 785 00200
   

ASAM

 Dataset: EV_RCEPS 009008
   ROD: EV_RCEPS_009.rod
   VCID: 323D1C8F74A099BB947-8067

No fault code found.

-------------------------------------------------------------------------------
Address 46: Central Conv. (J393)       Labels:. 4H0-907-064-46.clb
   Part No SW: 4H0 907 064 DR    HW: 4H0 907 064 DR
   Component: BCM2 2.0      H35 0510 
   Revision: 00002001    Serial number: 0312357666   
   Coding: 0122063A20FAF08580B00A8402030D470000000000000000000000000000
   Shop #: 

WSC

 02391 785 00200
   VCID: 7CA1F2B7E6E49FCB0EB-8029

   Subsystem 1 - Part No SW: 4G0 959 719     HW: 4G0 959 719
   Component: GTO BF  H01 0080
   Serial number: 00000000000000168736

   Subsystem 2 - Part No: 1K0 951 605 C
   Component: 

LIN

 BACKUP HO  H05 1501

   Subsystem 3 - Part No SW: 4G8 959 591     HW: 7P0 959 591 C
   Component: J245 PS40.039  H01 0008
   Serial number:     WOO2308606%     
   Coding: 101F00

   Subsystem 4 - Part No SW: 4G0 947 135 G    HW: 4G0 947 135
   Component: Dachelektroni  H10 0100
   Serial number: 0000000AP00003960049
   Coding: 010000

   Subsystem 5 - Part No SW: 4G8 959 252     HW: 4G8 959 252
   Component: 

HSP

-SG  H11 0029
   Serial number: WA106239000004186004

   Subsystem 6 - Part No SW: 3AA 962 243 B    HW: 3AA 962 243 B
   Component: GEB.F.Heckoef  H16 0810
   Serial number: 93044571           

2 Faults Found:
01403 - Glass-Break Sensors; Rear
            011 - Open Circuit
             Freeze Frame:
                    Fault Status: 01101011
                    Fault Priority: 2
                    Fault Frequency: 1
                    Reset counter: 90
                    Mileage: 166722 km
                    Time Indication: 0
                    Date: 2020.11.08
                    Time: 09:44:17

01134 - Alarm Horn (H12)
            014 - Defective
             Freeze Frame:
                    Fault Status: 01101110
                    Fault Priority: 2
                    Fault Frequency: 1
                    Reset counter: 90
                    Mileage: 166722 km
                    Time Indication: 0
                    Date: 2020.11.08
                    Time: 09:44:21


-------------------------------------------------------------------------------
Address 47: Sound System (J525)       Labels: None
   Part No SW: 4G0 035 223 C    HW: 4G0 035 223 A
   Component: BOSE-G3-C7    H07 0160 
   Revision: CJ007001    Serial number: 00000000014568
   Coding: 030000
   Shop #: 

WSC

 02391 785 00200
   VCID: 1D67DF331DBE36C3595-8049

No fault code found.

-------------------------------------------------------------------------------
Address 52: Door Elect, Pass. (J387)       Labels:. 4H0-959-792.clb
   Part No SW: 4G8 959 792 H    HW: 4G8 959 792 F
   Component: 

TSG

 BF        H04 0507 
   Revision: --------    Serial number: --------------
   Coding: 011F5F025E00628002000402
   Shop #: 

WSC

 02391 785 00200
   VCID: 44D14A57DE94270B36B-8011

No fault code found.

-------------------------------------------------------------------------------
Address 53: Parking Brake (----)       Labels: 4H0-907-801.clb
   Part No SW: 4H0 907 801 G    HW: 4H0 907 801 A
   Component: 

EPB

-4         H03 0014 
   Revision: --------    Serial number: 00000000778594
   

ASAM

 Dataset: EV_ParkiBrake 001028
   ROD: EV_ParkiBrake_VW51.rod
   VCID: 2C0102F75684CF4BDEB-8079

No fault code found.

-------------------------------------------------------------------------------
Address 55: Headlight Range (J431)       Labels:| 8X0-907-357.clb
   Part No SW: 4H0 907 357 B    HW: 4H0 907 357 B
   Component: ....LWR12.... H02 0010 
   Serial number: 130729-0002-130
   Coding: 1223A6601002A500
   Shop #: 

WSC

 02391 785 00200
   

ASAM

 Dataset: EV_HeadlRegulBasic 005001
   ROD: EV_HeadlRegulBasic.rod
   VCID: 2D070FF36D9EC643C95-8079

No fault code found.

-------------------------------------------------------------------------------
Address 56: Radio (R)       Labels: Redir Fail!
   Part No SW: 4G0 035 082 G    HW: 4G0 035 082
   Component: Radio U SIRIU H60 0133 
   Revision: AB001007    Serial number: 156G60D7830779
   Coding: 020007010000000001
   Shop #: 

WSC

 02391 785 00200
   VCID: 2411EAD73ED4070B16B-8071

1 Fault Found:
02983 - Connection between Impedance Converter 1 and Window Antenna
            011 - Open Circuit
             Freeze Frame:
                    Fault Status: 01101011
                    Fault Priority: 5
                    Fault Frequency: 1
                    Reset counter: 90
                    Mileage: 166722 km
                    Time Indication: 0
                    Date: 2020.11.08
                    Time: 09:44:28

             Freeze Frame:
                    Voltage: 14.40 V


-------------------------------------------------------------------------------
Address 5F: Information Electr. (J794)       Labels:. 4E0-035-6xx-5F.clb
   Part No SW: 4G0 035 746 E    HW: 4G0 035 746 E
   Component: H-BNT-NA      H40 0735 
   Revision: --------    Serial number: 194G+0D7541455
   Coding: 090200040003EDEF7D16CB1E00000003100001000000000000
   Shop #: 

WSC

 02391 785 00200
   VCID: 290FFBE359F6DA6325D-807D

   Subsystem 1 - Part No: 8R0 060 884 BD
   Component: 

NAR

 2013/2014  0802

   Subsystem 2 - Part No SW: 4G0 919 605 C    HW: 4G0 919 605 C
   Component: DU8 C7 SV  H43 0021
   Serial number: AUZ8ZDDD00236TP     

   Subsystem 3 - Part No SW: 4G1 919 610 C    HW: 4G1 919 610 C
   Component: E380 BDT C7  H11 0204
   Serial number: 90349MGP000QG       

   Subsystem 4 - Part No: 8R0 060 961 F
   Component: CD-Database  5298

No fault code found.

-------------------------------------------------------------------------------
Address 62: Door, Rear Left (J388)       Labels:. 4H0-959-795.clb
   Part No SW: 4G8 959 795 H    HW: 4G8 959 795 F
   Component: 

TSG

 HL        H03 0507 
   Revision: --------    Serial number: --------------
   Coding: 010F1F024000628002000002
   Shop #: 

WSC

 02391 785 00200
   VCID: 47CB5D5BEFA20C13D39-8013

No fault code found.

-------------------------------------------------------------------------------
Address 6C: Back-up Cam. (J928)       Labels:* None
   Part No SW: 4H0 907 428 A    HW: 7P6 907 441 D
   Component: TopView       H05 0150 
   Revision: 11001001    Serial number: 82330JF0097760
   Coding: 0205000001010100000102000000
   Shop #: 

WSC

 02391 785 00200
   

ASAM

 Dataset: EV_CamerSysteTopViewAUDI 006025
   ROD: EV_CamerSysteTopViewAUDI_006.rod
   VCID: 2B0301EB538AC873D71-807F

No fault code found.

-------------------------------------------------------------------------------
Address 6D: Trunk Elect. (----)       Labels:* Redir Fail!
   Part No SW: 4G8 959 107 R    HW: 4G8 959 107 G
   Component: HDSG-Modul    H13 0043 
   Revision: 12013001    Serial number: 180300898
   Coding: 0A3305C102
   Shop #: 

WSC

 02391 785 00200
   

ASAM

 Dataset: EV_HDSGAu573 001022
   ROD: EV_HDSGAu571.rod
   VCID: 44D14A57DE14270B36B-8011

No fault code found.

-------------------------------------------------------------------------------
Address 72: Door, Rear Right (J389)       Labels:. 4H0-959-795.clb
   Part No SW: 4G8 959 795 H    HW: 4G8 959 795 F
   Component: 

TSG

 HR        H03 0507 
   Revision: --------    Serial number: --------------
   Coding: 010F1F024000628002000002
   Shop #: 

WSC

 02391 785 00200
   VCID: 47CB5D5BEFA20C13D39-8013

No fault code found.

-------------------------------------------------------------------------------
Address 82: Heads Up Display (J898)       Labels:* None
   Part No SW: 4G8 919 604 K    HW: 4G8 919 604 K
   Component: HeadUpDisplay 004 0201 
   Revision: 00000000    Serial number: 00000000000000
   Coding: D60000
   Shop #: 

WSC

 02391 785 00200
   

ASAM

 Dataset: EV_HUDContiC7 001023
   ROD: EV_HUDContiC7.rod
   VCID: 3B2331ABA3EA58F3471-806F

No fault code found.

-------------------------------------------------------------------------------
Address 84: Night Vision (J853)       Labels:| 4H0-907-547.clb
   Part No SW: 4H0 907 547 F    HW: 4H0 907 547
   Component: NV-

ECU

-Gen1   H10 0042 
   Serial number: 0K84AE40099271
   Coding: 1411
   Shop #: 

WSC

 02391 785 00200
   

ASAM

 Dataset: EV_NightVisioGen1 001002
   ROD: EV_NightVisioGen1.rod
   VCID: 323D1C8F74A099BB947-8067

   Night vision system camera:
   Subsystem 1 - Part No SW: 4H0 980 552 A    HW: 4H0 980 552
   Component: NV-CAM-Gen1  H09 0008
   Serial number: 00000000001314200302

No fault code found.

-------------------------------------------------------------------------------
Address 85: On Board Cam. (J852)       Labels:| 7P6-907-217.clb
   Part No SW: 4G0 907 217 A    HW: 4H0 907 217 A
   Component: DPC-SG        H26 0038 
   Revision: --------    Serial number: 262130025421000
   Coding: 6A060000
   Shop #: 

WSC

 02391 785 00200
   

ASAM

 Dataset: EV_OnBoardCamerDPC 001007
   ROD: EV_OnBoardCamerDPC.rod
   VCID: 2615F0DF4868F51B08F-8073

No fault code found.

-------------------------------------------------------------------------------
Address 8B: Adaptive Cruise 2 (J428)       Labels:| 4H0-907-561.clb
   Part No SW: 4G0 907 541 A    HW: 4G0 907 541
   Component: ACC3          H19 0400 
   Serial number: 00000000000000
   Coding: 7E01010201
   Shop #: 

WSC

 02391 785 00200
   

ASAM

 Dataset: EV_AdaptCruisContr2AU57X 002008
   ROD: EV_AdaptCruisContr2AU57X_002.rod
   VCID: 2615F0DF4868F51B08F-8073

No fault code found.

-------------------------------------------------------------------------------
Address 8E: Image Processing (J851)       Labels:| 4H0-907-107-V2.clb
   Part No SW: 4G0 907 107 E    HW: 4H0 907 107
   Component: BV-SG         H32 0041 
   Serial number: 005000121707137
   Coding: 03C198180111
   Shop #: 

WSC

 02391 785 00200
   

ASAM

 Dataset: EV_BC7 001001
   ROD: EV_BC7.rod
   VCID: 2809FEE7427CE36B3A3-807D

1 Fault Found:
0161 - Video Cable for Image Processing
          C1107 02 [009] - Signal Failure
          [No_camera_found_on_startup]
          Confirmed - Tested Since Memory Clear
             Freeze Frame:
                    Fault Status: 00000001
                    Fault Priority: 3
                    Fault Frequency: 2
                    Reset counter: 90
                    Mileage: 166722 km
                    Date: 2020.11.08
                    Time: 09:44:29

                    Outside air temperature: 18.5 °C
                    Voltage terminal 15: 14.2 V
                    Control Module temperature: 32.0 °C


-------------------------------------------------------------------------------
Address 8F: Pretens. Frt Left (J854)       Labels: 4H0-980-94x-RGS.clb
   Part No SW: 4H0 980 945 B    HW: 4H0 980 945 C
   Component: RGS-VL        H13 0080 
   Coding: 0066E608031F0376070308014240C2010000
   Shop #: 

WSC

 02391 785 00200
   

ASAM

 Dataset: EV_RGS_L 002004
   ROD: EV_RGS_L_VW51.rod
   VCID: 313F138371A6A2A3EDD-8065

No fault code found.

-------------------------------------------------------------------------------
Address 90: Pretens. Frt Right (J855)       Labels: 4H0-980-94x-RGS.clb
   Part No SW: 4H0 980 946 B    HW: 4H0 980 946 C
   Component: RGS-VR        H13 0080 
   Coding: 0066E608031F0376070308014240C2010000
   Shop #: 

WSC

 02391 785 00200
   

ASAM

 Dataset: EV_RGS_R 002004
   ROD: EV_RGS_R_VW51.rod
   VCID: 323D1C8F74A099BB947-8067

No fault code found.

End----(Elapsed Time: 02:56, VBatt start/end: 12.1V/12.0V. VIgn 11.9V)-----
Last edited by a moderator: