Hi everybody,
I recently bought a 2010 Tiguan 5N that came nicely equipped but unfortunately missed a multi function steering wheel. I then found a beautiful mint condition Polo GT 6R wheel (12-buttons + tiptronic paddles) and went about looking for a replacement SWCM.
The car is originally equipped with a 5K0-653-569F which according to the very nice
Wiki
page is a Midline module that supports
CCS
, has a steering angle sensor (G85) and also supports steering column lock. My Tiguan indeed has a
DSG
gearbox.
I then found a 5K0-653-569L, which seemed to tick all the boxes : Highline with everything I need +
MFSW
support.
Problem is now, I have installed it and I keep getting this on the
ABS
module and the related code on the SWCM :
Code:
00778 - Steering Angle Sensor (G85)

            005 - No or Incorrect Basic Setting / Adaptation
I tried performing Basic settings on the
ABS
module for the steering angle sensor but it does not go through, the field where the value should be displayed just shows "N/A" (see the below screenshot)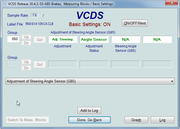 I am blocked now, I just put the original SWCM back on since the car won't enable power steering if the steering angle sensor appears and my wife drives it daily.
Any idea on how I could solve the problem? Please don't tell me I need to buy another SWCM, this one is already the second I buy for this retrofit... OK the first one was my complete mistake, I ordered an 5K0-653-569AE which does not have a G85 sensor, my bad.
Thanks!
Full auto-scan if that is of any help :
Code:
Friday,06,November,2020,21:28:06:24005


VCDS

 -- Windows Based VAG/VAS Emulator Running on Windows 7 x64


VCDS

 Version: 20.4.2.0
Data version: 20200730 DS317.0
www.Ross-Tech.com


VIN: WVGZZZ5NZBW0XXXXX   License Plate:
Mileage: 125470km-77963mi   Repair Order:



--------------------------------------------------------------------------------
--------------------------------------------------------------------------------


Chassis Type: 5N-VW36 (7N0)
Scan: 01 02 03 08 09 10 15 16 17 19 22 25 2E 37 42 44 46 47 4F 52
          53 55 56 62 69 6C 72 77

VIN: WVGZZZ5NZBW045822   Mileage: 125470km-77963miles

01-Engine -- Status: OK 0000
02-Auto Trans -- Status: OK 0000
03-

ABS

 Brakes -- Status: Malfunction 0010
04-Steering Angle -- Status: Sporadic communication error 1000
08-Auto HVAC -- Status: OK 0000
09-Cent. Elect. -- Status: Malfunction 0010
10-Park/Steer Assist -- Status: OK 0000
15-Airbags -- Status: OK 0000
16-Steering wheel -- Status: Malfunction 0010
17-Instruments -- Status: OK 0000
19-CAN Gateway -- Status: Malfunction 0010
22-AWD -- Status: OK 0000
25-Immobilizer -- Status: OK 0000
2E-Media Player 3 -- Status: OK 0000
37-Navigation -- Status: OK 0000
42-Door Elect, Driver -- Status: OK 0000
44-Steering Assist -- Status: Malfunction 0010
46-Central Conv. -- Status: OK 0000
47-Sound System -- Status: OK 0000
4F-Centr. Electr. II -- Status: Malfunction 0010
52-Door Elect, Pass. -- Status: OK 0000
53-Parking Brake -- Status: OK 0000
55-Headlight Range -- Status: Malfunction 0010
56-Radio -- Status: OK 0000
62-Door, Rear Left -- Status: OK 0000
69-Trailer -- Status: OK 0000
6C-Back-up Cam. -- Status: Malfunction 0010
72-Door, Rear Right -- Status: OK 0000
77-Telephone -- Status: OK 0000
 
-------------------------------------------------------------------------------
Address 01: Engine (CCZ)       Labels:. 06J-907-115-CCZ.clb
   Part No SW: 06J 906 026 FH    HW: 06J 906 026 DA
   Component: MED17.5             7327 
   Revision: AAH18---    Serial number:               
   Coding: 0423000C240F0160
   Shop #: 

WSC

 01324 020 00200
   VCID: 75EA11F91C9CF32E30-8020

No fault code found.
Readiness: 0000 0000

-------------------------------------------------------------------------------
Address 02: Auto Trans (J217)       Labels:. 0BH-927-711.clb
   Part No SW: 0BH 300 011 E    HW: 0BH 927 711 C
   Component: 

DSG

 DQ500-7A  H04 1203 
   Revision: 00H04V01   
   Coding: 0014
   Shop #: 

WSC

 00000 000 00000
   

ASAM

 Dataset: EV_TCMDQ500021 001001
   ROD: EV_TCMDQ500021_001_VW36.rod
   VCID: 244C1CBD2F863AA657-8070

No fault code found.

-------------------------------------------------------------------------------
Address 03: 

ABS

 Brakes        Labels: 5N0-614-109-C4.clb
   Part No SW: 5N0 614 109 Q    HW: 5N0 614 109 Q
   Component: J104    C4 450 V2A7 0006 
   Revision: --H28---    Serial number: 00000003216757
   Coding: 0010564
   Shop #: 

WSC

 01324 020 00200
   VCID: 3972DDC97004574E14-806C

1 Fault Found:
00778 - Steering Angle Sensor (G85)
            005 - No or Incorrect Basic Setting / Adaptation

-------------------------------------------------------------------------------
Address 08: Auto HVAC (J255)       Labels:| 5K0-907-044.clb
   Part No SW: 5K0 907 044 BT    HW: 5K0 907 044 BT
   Component: Climatronic   H15 0709 
   Revision: 00003001   
   Coding: 0000000002
   Shop #: 

WSC

 01324 020 00200
   

ASAM

 Dataset: EV_Climatronic A01006
   ROD: EV_ClimaAutoBasis_VW36.rod
   VCID: 7EF80ED5E1AAB07661-802A

No fault code found.

-------------------------------------------------------------------------------
Address 09: Cent. Elect. (J519)       Labels:. 1K0-937-08x-09.clb
   Part No SW: 5K0 937 087 H    HW: 5K0 937 087 H
   Component: 

BCM

 PQ35 H    011 0035 
   Revision: BE011001   
   Coding: 48180A3B8825F3C0408800843400092443553088736D8D605C8000000040
   Shop #: 

WSC

 01324 020 00200
   VCID: 3A70C2C5B5025C561D-FFFE

   Subsystem 1 - Part No: 5N1 955 119 A  Labels: 1KX-955-119.CLB
   Component: WWS 110910 03  32  0010
   Coding: 009795

   Subsystem 2 - Part No: 1K0 955 559 AH  Labels: 1K0-955-559-AG.CLB
   Component: 

RLS

 210910 05  54  0403
   Coding: 03304D

   Subsystem 3 - Part No: 1K8 951 171
   Component: DWA-Sensor 00  001 0104
   Coding: 000000

   Subsystem 4 - Part No: 1K0 951 605 C
   Component: 

LIN

 BACKUP HO  H05 1501
   Coding: 000000

No Faults Found
  or DTCs not supported by controller
  or a communication error occurred

-------------------------------------------------------------------------------
Address 10: Park/Steer Assist (J791)       Labels:. 1T0-919-475.clb
   Part No SW: 1T0 919 475 H    HW: 1T0 919 475
   Component: PARKHILFE PLA H07 0110 
   Revision: --------    Serial number: 88591025868582
   Coding: 310103
   Shop #: 

WSC

 01324 020 00200
   VCID: 4084B02DD3DE068653-8014

No fault code found.

-------------------------------------------------------------------------------
Address 15: Airbags        Labels: 5N0-959-655.lbl
   Part No SW: 5N0 959 655 R    HW: 5N0 959 655 R
   Component: J234__200 VW10 HI   1918 
   Revision: 22014000    Serial number: 003K0PKAEQA% 
   Coding: 0012336
   Shop #: 

WSC

 01324 020 00200
   VCID: 4C9C941D2F96D2E6BF-8018

   Subsystem 1 - Serial number: 6332MTS605502540

   Subsystem 2 - Serial number: 6342MTS651262530

   Subsystem 3 - Serial number: 6351HTS6O1ESE6KR

   Subsystem 4 - Serial number: 6361HTS6OEKSE6KJ

   Subsystem 5 - Serial number: 00000000000000000

   Subsystem 6 - Serial number: 00000000000000000

No fault code found.

-------------------------------------------------------------------------------
Address 16: Steering wheel (J527)       Labels:| 5K0-953-569.clb
   Part No SW: 5K0 953 501 BH    HW: 5K0 953 569 L
   Component: LENKS.MODUL   016 0140 
   Revision: FF010042    Serial number: 20130903201567
   Coding: 1182140000
   Shop #: 

WSC

 01357 011 00200
   

ASAM

 Dataset: EV_VW360SteerWheelUDS A03004
   ROD: EV_VW360SteerWheelUDS.rod
   VCID: 71E225E9A0F4DF0EEC-8024

   Multifunction steering wheel control module:
   Subsystem 1 - Part No SW: 5K0 959 542 B    HW: 5K0 959 542 B  Labels: 3C8-959-537.CLB
   Component: E221__MFL-TAS  H30 0032
   Coding: 830000

1 Fault Found:
1140738 - Steering angle sensor
          B1168 54 [009] - Missing Calibration / Basic Setting
          Confirmed - Tested Since Memory Clear
             Freeze Frame:
                    Fault Status: 00000001
                    Fault Priority: 2
                    Fault Frequency: 1
                    Reset counter: 167
                    Mileage: 125473 km
                    Date: 2020.11.06
                    Time: 00:13:31

                    UBat: 14.10 V
                    MC1 interner Fehlercode: 0
                    MC2 interner Fehlercode: 0


-------------------------------------------------------------------------------
Address 17: Instruments (J285)       Labels:| 5K0-920-xxx-17.clb-SRI1
   Part No SW: 5N0 920 872     HW: 5N0 920 872
   Component: KOMBI         H20 0420 
   Serial number: 00000000000000
   Coding: 110F01
   Shop #: 

WSC

 01324 020 00200
   

ASAM

 Dataset: EV_Kombi_UDS_VDD_RM09 A04089
   ROD: EV_Kombi_UDS_VDD_RM09_004_VW32.rod
   VCID: 6FE62391B6C0C9FEFA-803A

No fault code found.

-------------------------------------------------------------------------------
Address 19: CAN Gateway        Labels:. 7N0-907-530-V1.clb
   Part No SW: 7N0 907 530 A    HW: 1K0 907 951
   Component: J533  Gateway   H25 5603 
   Revision:   H25       Serial number: 220910F2000533
   Coding: FDA37F4650461300006002
   Shop #: 

WSC

 01324 020 00200
   VCID: 2E58FE95B94A80F6B1-807A

1 Fault Found:
00778 - Steering Angle Sensor (G85)
            004 - No Signal/Communication - Intermittent
             Freeze Frame:
                    Fault Status: 00110100
                    Fault Priority: 2
                    Fault Frequency: 1
                    Reset counter: 193
                    Mileage: 125273 km
                    Time Indication: 0
                    Date: 2015.03.27
                    Time: 00:00:27


-------------------------------------------------------------------------------
Address 22: AWD        Labels: 0AY-907-554-V1.clb
   Part No SW: 0AY 907 554 D    HW: 0AY 907 554 D
   Component: Haldex 4Motion      0042 
   Coding: 0000005
   Shop #: 

WSC

 00000 000 00000
   VCID: 4C9C941D2F96D2E6BF-8018

No fault code found.

-------------------------------------------------------------------------------
Address 25: Immobilizer (J334)       Labels:| 5K0-920-xxx-25.clb
   Part No SW: 5K0 953 234     HW: 5K0 953 234
   Component: IMMO          H20 0420 
   Serial number: 00000000000000
   Coding: 000000
   Shop #: 

WSC

 00000 000 00000
   

ASAM

 Dataset: EV_Immo_UDS_VDD_RM09 A03008
   ROD: EV_Immo_UDS_VDD_RM09_VW31.rod
   VCID: 6AD032858D222CD6AD-803E

No fault code found.

-------------------------------------------------------------------------------
Address 2E: Media Player 3 (J650)       Labels:. 5N0-035-342.lbl
   Part No SW: 5N0 035 342 C    HW: 5N0 035 342 C
   Component: SG EXT.PLAYER H13 0111 
   Revision: A1001003    Serial number: 7668661425   
   Coding: 010000
   Shop #: 

WSC

 01324 020 00200
   VCID: 27560BB156B0D1BE72-8072

No fault code found.

-------------------------------------------------------------------------------
Address 37: Navigation (J0506)       Labels:. 1T0-035-680.clb
   Part No SW: 1T0 035 680 L    HW: 1T0 035 680 C
   Component: RNS-MID       H42 5238 
   Revision: AB001001    Serial number: VWZ6Z7K5268052
   Coding: 04050002010000800000
   Shop #: 

WSC

 01324 020 00200
   VCID: 3776DBF18610413EE2-8062

   Subsystem 1 - Part No: 1T0 051 859 AS
   Component: EU West V17  8557

No fault code found.

-------------------------------------------------------------------------------
Address 42: Door Elect, Driver        Labels:. 1K0-959-701-MAX3.clb
   Part No SW: 5N0 959 701 E    HW: 5N0 959 701 E
   Component: Tuer-SG         009 2101 
   Coding: 0004278
   Shop #: 

WSC

 01324 020 00200
   VCID: 3776DBF14610413EE2-8062

No fault code found.

-------------------------------------------------------------------------------
Address 44: Steering Assist        Labels: 5N1-909-144.clb
   Part No SW: 5N1 909 144 L    HW: 5N1 909 148 G
   Component: J500__APA-BS KL.287 0802 
   Revision: 1AH03831    Serial number: 00102600518101
   Coding: 0000258
   Shop #: 

WSC

 01324 020 00200
   VCID: 3B7EC7C17A38655E06-806E

3 Faults Found:
02546 - Steering Limit Stop
            005 - No or Incorrect Basic Setting / Adaptation - MIL ON
             Freeze Frame:
                    Fault Status: 11100101
                    Fault Priority: 2
                    Fault Frequency: 1
                    Reset counter: 167
                    Mileage: 125473 km
                    Time Indication: 0
                    Date: 2015.03.30
                    Time: 00:07:44

             Freeze Frame:
                        Term 15 On
                    RPM: 798 /min
                    Speed: 0.0 km/h
                    (no units): 7.0
                    Voltage: 13.90 V

00566 - Steering Assistance Operation
            008 - Implausible Signal - MIL ON
             Freeze Frame:
                    Fault Status: 11101000
                    Fault Priority: 1
                    Fault Frequency: 1
                    Reset counter: 167
                    Mileage: 125473 km
                    Time Indication: 0
                    Date: 2015.03.30
                    Time: 00:07:44

             Freeze Frame:
                    Hex Value: 0x7301
                    Hex Value: 0x7601
                    Hex Value: 0x0000
                    Hex Value: 0x0000
                    Hex Value: 0x0000

00778 - Steering Angle Sensor (G85)
            005 - No or Incorrect Basic Setting / Adaptation - MIL ON
             Freeze Frame:
                    Fault Status: 11100101
                    Fault Priority: 2
                    Fault Frequency: 1
                    Reset counter: 167
                    Mileage: 125473 km
                    Time Indication: 0
                    Date: 2015.03.30
                    Time: 00:07:44

             Freeze Frame:
                    (no units): 7.0
                    Steering Angle: 0.00°
                        Not OK
                    Steering Angle: 0.00°
                    (no units): 15


-------------------------------------------------------------------------------
Address 47: Sound System (R12)       Labels: 5K0-035-456.clb
   Part No SW: 5K0 035 456     HW: 5K0 035 456
   Component: KonzernAmp 8K H06 0340 
   Revision: --------    Serial number: BP218109101282
   

ASAM

 Dataset: EV_AudioVerst8KanalBNO1 A01003
   ROD: EV_AudioVerst8KanalBNO1.rod
   VCID: 67D64BB19E3011BEB2-8032

No fault code found.

-------------------------------------------------------------------------------
Address 4F: Centr. Electr. II (J520)       Labels:. 1K0-907-532.clb
   Part No SW: 7N0 907 532     HW: 1K0 907 951
   Component: EZE_2         H25 5603 
   Revision:   H25       Serial number: 220910F2000533
   Coding: 050B0500
   Shop #: 

WSC

 01324 020 00200
   VCID: 6FE62391BEC0C9FEFA-803A

   Subsystem 1 - Part No SW: 8R0 959 591 A    HW: 8R0 959 591
   Component: J245EE20SKB13  H02 0220
   Serial number: 0123456789ABCDEFGHIJ

   Subsystem 2 - Part No SW: 8R0 959 591 A    HW: 8R0 959 591
   Component: J394EE20SKB13  H02 0220
   Serial number: 0123456789ABCDEFGHIJ

1 Fault Found:
02071 - Local Databus
            012 - Electrical Fault in Circuit - Intermittent
             Freeze Frame:
                    Fault Status: 00101100
                    Fault Priority: 1
                    Fault Frequency: 2
                    Reset counter: 195
                    Mileage: 125273 km
                    Time Indication: 0
                    Date: 2015.03.27
                    Time: 16:21:33


-------------------------------------------------------------------------------
Address 52: Door Elect, Pass.        Labels:. 1K0-959-702-MAX3.clb
   Part No SW: 5N0 959 702 E    HW: 5N0 959 702 E
   Component: Tuer-SG         009 2101 
   Coding: 0004534
   Shop #: 

WSC

 01324 020 00200
   VCID: 3874D8CD4B0E4E46EB-806C

No fault code found.

-------------------------------------------------------------------------------
Address 53: Parking Brake        Labels: 3AA-907-801.clb
   Part No SW: 3AA 907 801 D    HW: 3AA 907 801 D
   Component: J540 EPB4  VW-53083 0006 
   Revision:   H18       Serial number: 00000000093523
   Coding: 0023057
   Shop #: 

WSC

 01324 020 00200
   VCID: 3260EAE5AD72A416D5-8066

No fault code found.

-------------------------------------------------------------------------------
Address 55: Headlight Range        Labels: 5M0-907-357-V2.lbl
   Part No SW: 5M0 907 357 C    HW: 5M0 907 357 C
   Component: 

AFS

-Steuergeraet    0148 
   Revision: 00H04000    Serial number:               
   Coding: 1361094
   Shop #: 

WSC

 01324 020 00200
   VCID: 346CECFD5766AA26C7-8060

   Subsystem 1 - Part No: 7L6 941 329 B  Labels: 3D0-941-329.CLB
   Component: 

AFS

-Lst.-Modul l    0004 
   Coding: 00000020

   Subsystem 2 - Part No: 7L6 941 329 B  Labels: 3D0-941-329.CLB
   Component: 

AFS

-Lst.-Modul r    0004 
   Coding: 00000020

1 Fault Found:
00778 - Steering Angle Sensor (G85)
            004 - No Signal/Communication - Intermittent
             Freeze Frame:
                    Fault Status: 00100100
                    Fault Priority: 6
                    Fault Frequency: 1
                    Reset counter: 193
                    Mileage: 125273 km
                    Time Indication: 0
                    Date: 2015.03.27
                    Time: 16:16:51

             Freeze Frame:
                    Voltage: 11.64 V
                    Speed: 0.0 km/h
                        

ABS

 1


-------------------------------------------------------------------------------
Address 56: Radio (J0506)       Labels:. 1T0-035-680.clb
   Part No SW: 1T0 035 680 L    HW: 1T0 035 680 C
   Component: RNS-MID       H42 5238 
   Revision: AB001001    Serial number: VWZ6Z7K5268052
   Coding: 04050002010000800000
   Shop #: 

WSC

 01324 020 00200
   VCID: 3776DBF18610413EE2-8062

   Subsystem 1 - Part No: 1T0 051 859 AS
   Component: EU West V17  8557

No fault code found.

-------------------------------------------------------------------------------
Address 62: Door, Rear Left        Labels:. 1K0-959-703-GEN3.clb
   Part No SW: 5N0 959 703 D    HW: 5N0 959 703 D
   Component: Tuer-SG         007 2102 
   Coding: 0000144
   Shop #: 

WSC

 01324 020 1012552
   VCID: 3874D8CD4B0E4E46EB-806C

No fault code found.

-------------------------------------------------------------------------------
Address 69: Trailer (J345)       Labels:. 1K0-907-383-V2.clb
   Part No SW: 1K0 907 383 F    HW: 1K0 907 383 F
   Component: Anhaenger     H07 0100 
   Revision: 3A001001    Serial number: 00000135235485
   Coding: 410D000100000000
   Shop #: 

WSC

 01324 020 00200
   VCID: 3064E0ED637E9606A3-8064

No fault code found.

-------------------------------------------------------------------------------
Address 6C: Back-up Cam.        Labels: 5N0-907-441.clb
   Part No SW: 5N0 907 441 A    HW: 5N0 907 441 A
   Component: J772__Rearview      0020 
   Revision: 00H08000    Serial number: 525PA8-J083270
   Coding: 0030010
   Shop #: 

WSC

 01324 020 00200
   VCID: 2D5AF999B44CFBEE88-8078

2 Faults Found:
00778 - Steering Angle Sensor (G85)
            004 - No Signal/Communication - Intermittent
             Freeze Frame:
                    Fault Status: 00100100
                    Fault Priority: 6
                    Fault Frequency: 5
                    Reset counter: 193
                    Mileage: 125273 km
                    Time Indication: 0

             Freeze Frame:
                        Term 15 On
                        Reverse OFF
                    Count: 3

00778 - Steering Angle Sensor (G85)
            013 - Check 

DTC

 Memory
             Freeze Frame:
                    Fault Status: 01101101
                    Fault Priority: 6
                    Fault Frequency: 1
                    Reset counter: 167
                    Mileage: 125473 km
                    Time Indication: 0

             Freeze Frame:
                        Term 15 On
                        Reverse OFF
                    Count: 3


-------------------------------------------------------------------------------
Address 72: Door, Rear Right        Labels:. 1K0-959-704-GEN3.clb
   Part No SW: 5N0 959 704 D    HW: 5N0 959 704 D
   Component: Tuer-SG         007 2102 
   Coding: 0000144
   Shop #: 

WSC

 01324 020 1012552
   VCID: 3972DDC97004574E14-806C

No fault code found.

-------------------------------------------------------------------------------
Address 77: Telephone (J412)       Labels:| 7P6-035-730.clb
   Part No SW: 5K0 035 730 E    HW: 5K0 035 730 E
   Component: TELEFON       H09 2902 
   Revision: 1B001001    Serial number: 00007661016569
   Coding: 0300040000010110
   Shop #: 

WSC

 01383 790 50316
   

ASAM

 Dataset: EV_UHVNA A01719
   ROD: UHVNA.rod
   VCID: 27560BB15EB0D1BE72-8072

No fault code found.

End-------------------------(Elapsed Time: 04:33)--------------------------