Hello... I am trying do perform an adaption of Control unit 09 Central Electrics in order to delay the turn on of the low beam lights.
I am looking in to RLS_Night_Sensitivity and would like to change the values:
p_lx_rs_day:
Old value: 500
New value: 200
p_lx_rs_dawn:
Old value: 200
New value: 100
I need the security code... I have tried 31347 and 20103, but they are rejected.
Any suggetions?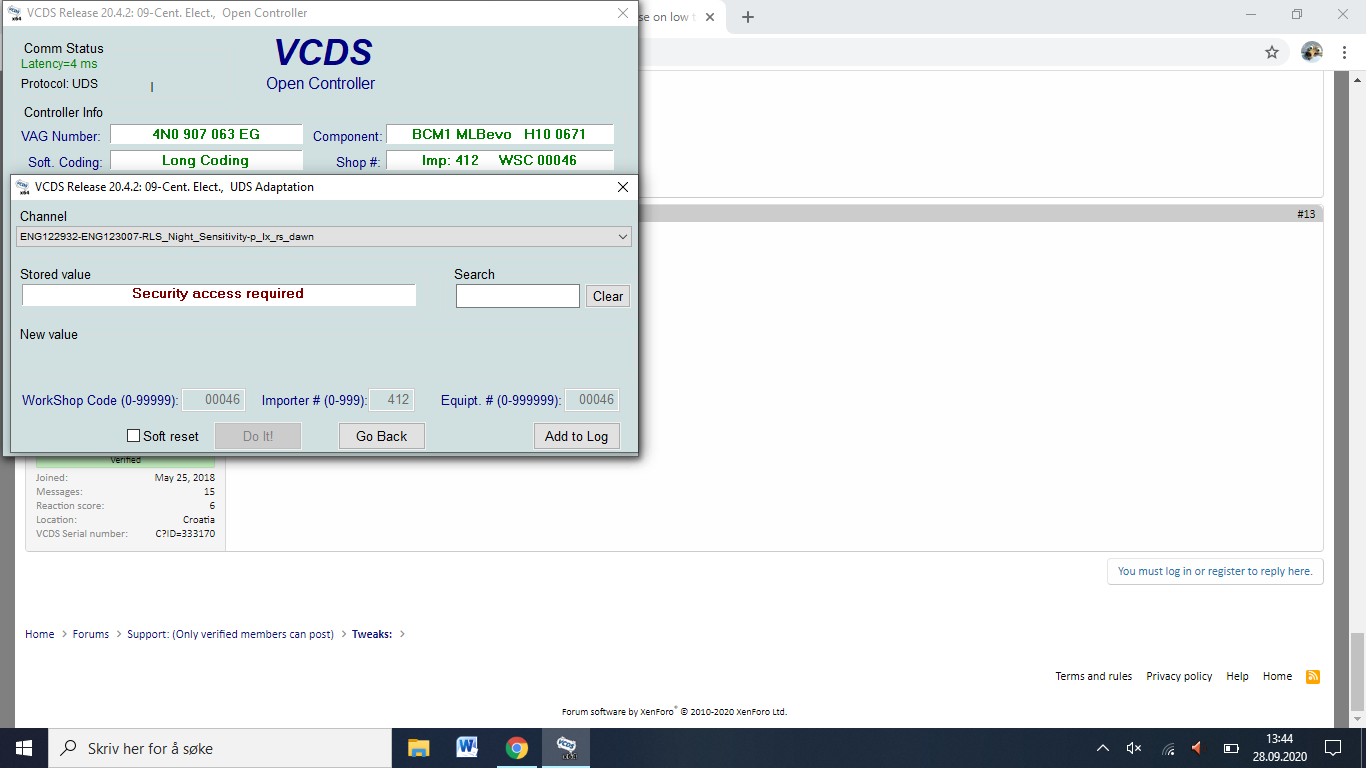 Code:
Friday,04,September,2020,00:11:47:42591


VCDS

 -- Windows Based VAG/VAS Emulator Running on Windows 10 x64


VCDS

 Version: 20.4.2.0 (x64)  HEX-V2 

CB

: 0.4513.4
Data version: 20200730 DS317.0
www.Ross-Tech.com


VIN: WAUZZZGE1KB005103   License Plate:
Mileage: 24218km-15048mi   Repair Order:



--------------------------------------------------------------------------------
--------------------------------------------------------------------------------


Chassis Type: GE-AU58 (4K1)
Scan: 01 03 09 13 15 16 17 19 2B 36 42 44 46 47 51 52 5F 69 6C 6D
          74 75 81 8C A5 BB BC C5 C6 CA CD CE D6 D7 DE 8104 8111 8112

VIN: WAUZZZGE1KB005103   Mileage: 24218km-15048miles

01-Engine -- Status: Malfunction 0010
03-

ABS

 Brakes -- Status: OK 0000
09-Cent. Elect. -- Status: OK 0000
13-Auto Dist. Reg -- Status: Malfunction 0010
15-Airbags -- Status: Malfunction 0010
16-Steering wheel -- Status: OK 0000
17-Instruments -- Status: OK 0000
19-CAN Gateway -- Status: Malfunction 0010
2B-Steer. Col. Lock -- Status: OK 0000
36-Seat Mem. Drvr -- Status: OK 0000
42-Door Elect, Driver -- Status: OK 0000
44-Steering Assist -- Status: OK 0000
46-Central Conv. -- Status: Malfunction 0010
47-Sound System -- Status: OK 0000
51-Electric Drive -- Status: Malfunction 0010
52-Door Elect, Pass. -- Status: OK 0000
5F-Information Electr. -- Status: OK 0000
69-Trailer -- Status: OK 0000
6C-Back-up Cam. -- Status: OK 0000
6D-Trunk Elect. -- Status: OK 0000
74-Chassis Control -- Status: Malfunction 0010
75-Telematics -- Status: OK 0000
81-Gear Shift -- Status: OK 0000
8C-Hybrid Battery -- Status: OK 0000
A5-Frt Sens. Drv. Assist -- Status: Malfunction 0010
BB-Door Rear Drv -- Status: OK 0000
BC-Door Rear Pass -- Status: OK 0000
C5-Therm. mgt. -- Status: OK 0000
C6-Batt. Chrg. -- Status: OK 0000
CA-Sunroof -- Status: OK 0000
CD-Laser Scanner -- Status: Malfunction 0010
CE-Drive Motor 2 -- Status: Malfunction 0010
D6-Light Ctrl Left 2 -- Status: OK 0000
D7-Light Ctrl Right 2 -- Status: OK 0000
DE-Charger 1 for mobile dev -- Status: OK 0000
8104-DC/DC Converter HV -- Status: OK 0000
8111-Rearview Mirror Right -- Status: OK 0000
8112-Rearview Mirror Left -- Status: OK 0000
-------------------------------------------------------------------------------
Address 01: Engine (J623-    )       Labels: None
   Part No SW: 4KE 907 558 E    HW: 4KE 907 558
   Component: I99 99.9l XXX H02 0001
   Coding: 2A0A0012007E040034080000000000000000000000000000
   

ASAM

 Dataset: EV_VCU00XXX0204KE907558E 001001
   ROD: EV_VCU00XXX0204KE907558E.rod
   VCID: 4BC361F9634F75A3F71-801E

1 Fault Found:
23039 - Implausible Data Received from 

ABS

 Control Module
          U0415 00 [032] - -
          Intermittent - Not Confirmed - Tested Since Memory Clear
             Freeze Frame:
                    Fault Status: 00000001
                    Fault Priority: 6
                    Fault Frequency: 2
                    Mileage: 23926 km
                    Date: 2020.08.28
                    Time: 16:58:28

                    Engine speed: 16383.75 /min
                    Normed load value: 100.0 %
                    Vehicle speed: 0 km/h
                    Coolant temperature: 215 ∞C
                    Intake air temperature: 215 ∞C
                    Ambient air pressure: 2550 mbar
                    Voltage terminal 30: 13.750 V
                    Unlearning counter according OBD: 37
                    LF_MVB_PDU_INTC_DIAG_1: 0
                    LF_MVB_PDU_INTC_DIAG_2: 2048
                    LF_MVB_PDU_INTC_DIAG_3: 2080
                    LF_MVB_PDU_INTC_DIAG_4: 32768
                    LF_MVB_PDU_INTC_DIAG_5: 32768
                    LF_MVB_PDU_INTC_DIAG_6: 32
                    LF_MVB_BUS_INTC_DIAG: 12544

Readiness: 0000 0000

-------------------------------------------------------------------------------
Address 03: 

ABS

 Brakes (J104)       Labels: None
   Part No SW: 4KE 909 059 AC    HW: 4KE 909 059 G
   Component: ESC           H09 0078
   Revision: 00000000    Serial number: 63368000000549
   Coding: 008800BA3D940B9ED3510871187AD2E025BEA10000BCD0CB10184B07A47D85
   Shop #: 

WSC

 00150 218 00000
   

ASAM

 Dataset: EV_BRSContiMKC1AU516 009376
   ROD: EV_BRSContiMKC1AU516_009.rod
   VCID: 08499EF532B95EBB1A3-805C

No fault code found.

-------------------------------------------------------------------------------
Address 09: Cent. Elect. (J519)       Labels:* None
   Part No SW: 4N0 907 063 EG    HW: 4N0 907 063 AG
   Component: BCM1 MLBevo   H10 0671
   Coding: 07000943C13900DD0700F7889CBF8C68131B33100806009789030A00792216810A4509BB42B6260B00000303004918180802800044010000000000000000000000
   Shop #: 

WSC

 00046 412 00046
   

ASAM

 Dataset: EV_BCM1BOSCHAU651 015009
   ROD: EV_BCM1BOSCHAU651_015.rod
   VCID: 77ABED094F472143639-8022

   Control Unit For Wiper Motor:
   Subsystem 1 - Part No SW: 4KL 955 119     HW: 4K1 955 119
   Component: J400FRWISCH  063 0840
   Serial number: 00000001810100403638
   Coding: 7DC727

   Rain Light Recognition Sensor:
   Subsystem 2 - Part No SW: 81A 955 555 A    HW: 81A 955 555
   Component: G397_RLFSS  H06 0002
   Serial number: 22314881X81A955555A0
   Coding: 02005E

   Light switch:
   Subsystem 3 - Part No SW: 4K1 941 501 A    HW: 4K1 941 501 A
   Component: E1 - LTM  H09 0086
   Serial number: 14S05.01.1900690622

   Automatic Day Night Interior Mirror:
   Subsystem 4 - Part No SW: 8W0 857 511     HW: 8W0 857 511
   Component: Y7_Innenspieg  H09 0002
   Serial number: GX1CE105101823811407
   Coding: 010000

   Interior Light Module:
   Subsystem 5 - Part No SW: 4K0 947 135 L    HW: 4K0 947 135 L
   Component: Dachmodul  H42 0413
   Serial number: C00153219        
   Coding: 0D0104

   Front windshield washer pump:
   Subsystem 6 - Part No SW: 4N0 907 605 C    HW: 4N0 907 605 A
   Component: J1100/SWP  H21 0015
   Serial number: 00000000001900902032
   Coding: 020000

No fault code found.

-------------------------------------------------------------------------------
Address 13: Auto Dist. Reg (J428)       Labels:* None
   Part No SW: 4KE 907 561 B    HW: 4K0 907 561
   Component: LRR4R         H04 0332
   Coding: 7E61FF4B58082C0001038020000000BA4A1246494481009E01
   Shop #: 

WSC

 00046 412 00046
   

ASAM

 Dataset: EV_ACCBOSCHAU65X 002023
   ROD: EV_ACCBOSCHAU65X_AU58.rod
   VCID: 42DD4CDD5405B4EB047-8016

3 Faults Found:
2342 - Databus
          U1123 00 [009] - Received Error Message
          [FAULT_ACA_QF_STATUS_DISPLAY_ERROR]
          Confirmed - Tested Since Memory Clear
             Freeze Frame:
                    Fault Status: 00000001
                    Fault Priority: 6
                    Fault Frequency: 37
                    Reset counter: 119
                    Mileage: 23743 km
                    Date: 2020.08.26
                    Time: 15:44:24

                    Control Module temperature: 29 ∞C
                    Voltage terminal 15: 14.2 V
                    Velocity_vehicle_reference: 5.42 m/s
                    Longitudinal_acceleration_vehicle_reference: -0.13 m/s≤
                    Status_ACC_System: ACC_reversible_error
                    Steering_angle-Data: 19.900 ∞
                    Yaw_rate-Data: 0.751 rad/s
                    adjustment_calculation: On
                    Misalignment angle: horiz: 0.006 ∞
                    Misalignment angle: horiz: fast algorithm: 0.221 ∞
                    Congestion pilot: status: OFF
                    Outside air temperature: 21.00 ∞C
                    Sensor blindness: radar: no blindness detected

2102 - Databus
          U1122 00 [008] - Implausible Message
          [FAULT_ESP_CONTROL_FAIL]
          Intermittent - Confirmed - Tested Since Memory Clear
             Freeze Frame:
                    Fault Status: 00000001
                    Fault Priority: 6
                    Fault Frequency: 21
                    Reset counter: 158
                    Mileage: 23743 km
                    Date: 2020.08.26
                    Time: 15:44:24

                    Control Module temperature: 29 ∞C
                    Voltage terminal 15: 14.3 V
                    Velocity_vehicle_reference: 5.17 m/s
                    Longitudinal_acceleration_vehicle_reference: 1.90 m/s≤
                    Status_ACC_System: ACC_StandBy
                    Steering_angle-Data: 112.200 ∞
                    Yaw_rate-Data: 4.764 rad/s
                    adjustment_calculation: On
                    Misalignment angle: horiz: 0.006 ∞
                    Misalignment angle: horiz: fast algorithm: 0.221 ∞
                    Congestion pilot: status: OFF
                    Outside air temperature: 21.00 ∞C
                    Sensor blindness: radar: no blindness detected

2341 - Databus
          U1123 00 [009] - Received Error Message
          [FAULT_LIDAR_ERROR]
          Confirmed - Tested Since Memory Clear
             Freeze Frame:
                    Fault Status: 00000001
                    Fault Priority: 6
                    Fault Frequency: 20
                    Reset counter: 119
                    Mileage: 23978 km
                    Date: 2020.08.31
                    Time: 20:36:23

                    Control Module temperature: 25 ∞C
                    Voltage terminal 15: 14.4 V
                    Velocity_vehicle_reference: 8.38 m/s
                    Longitudinal_acceleration_vehicle_reference: 0.05 m/s≤
                    Status_ACC_System: ACC_Override
                    Steering_angle-Data: 3.500 ∞
                    Yaw_rate-Data: 0.270 rad/s
                    adjustment_calculation: On
                    Misalignment angle: horiz: 0.192 ∞
                    Misalignment angle: horiz: fast algorithm: 0.102 ∞
                    Congestion pilot: status: OFF
                    Outside air temperature: 13.00 ∞C
                    Sensor blindness: radar: no blindness detected


-------------------------------------------------------------------------------
Address 15: Airbags (J234)       Labels:* None
   Part No SW: 4KE 959 655     HW: 4KE 959 655
   Component: AirbagVW32    H36 3122
   Serial number: 003XPM00D65L
   Coding: AAFCF0C0002000009A5400FFF80D41A800C5
   Shop #: 

WSC

 00046 412 00046
   

ASAM

 Dataset: EV_AirbaVW31SMEAU65x 001034
   ROD: EV_AirbaVW31SMEAU65x_VW53.rod
   VCID: 0B43A1F923CF35A3371-805E

   Belt Pretensioner left:
   Subsystem 1 - Part No SW: 4N0 980 945 A    HW: 4N0 980 945 A
   Component: BeltPretRevFL  H10 0115
   Serial number: 00AI2019010332500000
   Coding: 03F002

   Belt Pretensioner right:
   Subsystem 2 - Part No SW: 4N0 980 946 A    HW: 4N0 980 946 A
   Component: BeltPretRevFR  H10 0115
   Serial number: 00AI2019012394400000
   Coding: 03F002

   Side Sensor Driver Front:
   Subsystem 3 - Part No SW: -----------    HW: 480 001 512 18
   Component: SideSensor_Df  001 0887
   Serial number: 35700000000733281635
   Coding: 2D2D2D

   Side Sensor Passenger Front:
   Subsystem 4 - Part No SW: -----------    HW: 480 001 512 18
   Component: SideSensor_Pf  001 0887
   Serial number: 35800000000877E8763X
   Coding: 2D2D2D

   Side Sensor Driver Rear:
   Subsystem 5 - Part No SW: -----------    HW: 480 030 301 19
   Component: SideSensor_Dr  002 0149
   Serial number: 351001C18645548048B0
   Coding: 2D2D2D

   Side Sensor Passenger Rear:
   Subsystem 6 - Part No SW: -----------    HW: 480 030 301 19
   Component: SideSensor_Pr  002 0149
   Serial number: 352001C18F7CD0D06FA.
   Coding: 2D2D2D

   Front Sensor Driver:
   Subsystem 7 - Part No SW: -----------    HW: 480 020 901 19
   Component: FrontSensor_D  000 0149
   Serial number: 3550001B32E7F5156603
   Coding: 2D2D2D

   Front Sensor Passenger:
   Subsystem 8 - Part No SW: -----------    HW: 480 020 901 19
   Component: FrontSensor_P  000 0149
   Serial number: 3560001B92F0DDC4A20K
   Coding: 2D2D2D

   Sensor High Voltage System 1:
   Subsystem 9 - Part No SW: -----------    HW: 480 020 612 18
   Component: HVSensor_gSat  000 0149
   Serial number: 3510001A72E698B493FM
   Coding: 2D2D2D

   Side Sensor B-Pillar Driver Front:
   Subsystem 10 - Part No SW: -----------    HW: 480 020 612 18
   Component: SideSens_B_Df  000 0149
   Serial number: 3520001A72ECF895822J
   Coding: 2D2D2D

   Side Sensor B-Pillar Passenger Front:
   Subsystem 11 - Part No SW: -----------    HW: 480 020 612 18
   Component: SideSens_B_Pf  000 0149
   Serial number: 3550001B32E698B44189
   Coding: 2D2D2D

1 Fault Found:
1065477 - Databus
          U1123 00 [008] - Received Error Message
          [NWD: 0xTBD BV_SensorHeader error value BV2_Fehler_MOD]
          Intermittent - Confirmed - Tested Since Memory Clear
             Freeze Frame:
                    Fault Status: 00000001
                    Fault Priority: 6
                    Fault Frequency: 6
                    Reset counter: 157
                    Mileage: 23913 km
                    Date: 2020.08.28
                    Time: 14:51:55


-------------------------------------------------------------------------------
Address 16: Steering wheel (J527)       Labels: 4M0-907-129.clb
   Part No SW: 4N0 907 129 AJ    HW: 4N0 907 129 AJ
   Component: Lenks.Modul   H03 0005
   

ASAM

 Dataset: EV_SMLSKLOAU736 007012
   ROD: EV_SMLSKLOAU736_AU58.rod
   VCID: 79AFEB317953373315D-802C

No fault code found.

-------------------------------------------------------------------------------
Address 17: Instruments (J285)       Labels:* None-SRI2
   Part No SW: 4KE 920 795 B    HW: 4KE 920 795
   Component: FHybRDWACC--- H13 0031
   Coding: 850400C87C90000801A6E170B284680008000100
   Shop #: 

WSC

 00046 412 00046
   

ASAM

 Dataset: EV_DashBoardAU65X 001017
   ROD: EV_DashBoardAU65X_VW53.rod
   VCID: 46D550CD782D88CB28F-8012

No fault code found.

-------------------------------------------------------------------------------
Address 19: CAN Gateway (J533)       Labels:* None
   Part No SW: 4K1 907 468 D    HW: 4K1 907 468 C
   Component: Gateway       H04 0323
   Serial number: 1DF05028243901
   Coding: 02030005000100C000810000005B01329C8A004718000000090000DF00000000
   Shop #: 

WSC

 00046 412 00046
   

ASAM

 Dataset: EV_Gatew31xAU65x 003170
   ROD: EV_Gatew31xAU65x.rod
   VCID: 3635200D08CD184BB8F-8062

   Multi Function Steering Wheel Control Module:
   Subsystem 1 - Part No SW: 4N0 951 523 G    HW: 4N0 951 523 G
   Component: E221__MFL  H06 0003
   Serial number: 00000000000000000000

   Battery Monitoring Control Module:
   Subsystem 2 - Part No SW: 4N0 915 181 D    HW: 4N0 915 181 D
   Component: J367-BDMConti  H03 1051
   Serial number: 7674960100190114008D

   Control module for steering wheel touch recognition:
   Subsystem 3 - Part No SW: 4N0 419 508     HW: 4N0 419 508
   Component: J1158 KLR  H44 0030
   Serial number: 18295043106S00304401

4 Faults Found:
262693 - Function Restricted due to Missing Message(s)
          U1111 00 [008] - -
          [BAP_Timeout_BatteryControl]
          Intermittent - Confirmed - Tested Since Memory Clear
             Freeze Frame:
                    Fault Status: 00000001
                    Fault Priority: 6
                    Fault Frequency: 1
                    Reset counter: 156
                    Mileage: 23926 km
                    Date: 2020.08.28
                    Time: 15:40:39

8913155 - Development Code 4
          B2F04 00 [009] - -
          [RWB_TME_Init_Abwurf_Dauerinit]
          Confirmed - Tested Since Memory Clear
             Freeze Frame:
                    Fault Status: 00000001
                    Fault Priority: 6
                    Fault Frequency: 1
                    Reset counter: 115
                    Mileage: 23743 km
                    Date: 2020.08.26
                    Time: 09:57:20

8913156 - Development Code 5
          B2F05 00 [009] - -
          [RWB_BCME_Init_Abwurf_Dauerinit]
          Confirmed - Tested Since Memory Clear
             Freeze Frame:
                    Fault Status: 00000001
                    Fault Priority: 6
                    Fault Frequency: 1
                    Reset counter: 115
                    Mileage: 23743 km
                    Date: 2020.08.26
                    Time: 09:57:20

8978691 - Unknown Error Code
          B18D3 F1 [008] - Unknown Error Elaboration
          Intermittent - Confirmed - Tested Since Memory Clear
             Freeze Frame:
                    Fault Status: 00000001
                    Fault Priority: 6
                    Fault Frequency: 1
                    Reset counter: 157
                    Mileage: 24034 km
                    Date: 2020.09.02
                    Time: 09:11:57


-------------------------------------------------------------------------------
Address 2B: Steer. Col. Lock (J764)       Labels:* 5Q0-905-861.clb
   Part No SW: 3Q0 905 861 C    HW: 3Q0 905 861 C
   Component: ELV-MLBevo    H05 0020
   Serial number: 18000398473018
   Coding: 8800000000000000
   Shop #: 

WSC

 00046 412 00046
   

ASAM

 Dataset: EV_ELVMarqMQBA0 002002
   ROD: EV_ELVMarqMQBA0_VW41.rod
   VCID: 34311A051EB10A5B86B-8060

No fault code found.

-------------------------------------------------------------------------------
Address 36: Seat Mem. Drvr (J136)       Labels:* None
   Part No SW: 4M6 959 760     HW: 4M4 959 760
   Component: MEM-FS        009 0064
   Serial number: 00000355664429
   Coding: 01581A400000B4010003010101010000000000000000000000000000004000
   Shop #: 

WSC

 00150 218 00000
   

ASAM

 Dataset: EV_SCMDriveSideCONTIAU736 006013
   ROD: EV_SCMDriveSideCONTIAU736_VW38.rod
   VCID: 7BA3F139736F0523071-802E

No fault code found.

-------------------------------------------------------------------------------
Address 42: Door Elect, Driver (J386)       Labels:* None
   Part No SW: 4M0 959 593 M    HW: 4M0 959 593 J
   Component: 

TSG

 FS        007 0387
   Serial number: 0000353279745
   Coding: 001DDA0143000480A000B002
   Shop #: 

WSC

 00535 218 00000
   

ASAM

 Dataset: EV_DCU2DriveSideMAXHCONT 001005
   ROD: EV_DCU2DriveSideMAXHCONT_VW27.rod
   VCID: 46D550CD782D88CB28F-8012

No fault code found.

-------------------------------------------------------------------------------
Address 44: Steering Assist (J500)       Labels:* None
   Part No SW: 4N0 909 144 D    HW: 4N0 909 144 A
   Component: EPS_MLBEVO2BS H21 0504
   Coding: B4110101010000
   Shop #: 

WSC

 00046 412 00046
   

ASAM

 Dataset: EV_EPSVWBSAU426 009015
   ROD: EV_EPSVWBSAU426_009.rod
   VCID: 313F1311E1A33F73EDD-8064

No fault code found.

-------------------------------------------------------------------------------
Address 46: Central Conv. (J393)       Labels:* None
   Part No SW: 8W0 907 064 GH    HW: 8W0 907 064 DH
   Component: BCM2 MLBevo   025 0424
   Coding: 017400074FB103616301A0046C00C80200004000804F02582F0400000504823B001F0100030F33
   Shop #: 

WSC

 00046 412 00046
   

ASAM

 Dataset: EV_BCM2HellaAU736 016016
   ROD: EV_BCM2HellaAU736_016_AU58.rod
   VCID: 08499EF532B95EBB1A3-805C

   Sensor For Anti Theft Alarm System:
   Subsystem 1 - Part No SW: 5Q0 951 177     HW: 5Q0 951 172
   Component: Sensor, DWA  005 0316
   Serial number: 000000000ZY183062V1R

   Alarm horn:
   Subsystem 2 - Part No SW: 5Q0 951 605 A    HW: 5Q0 951 605 A
   Component: Sirene, DWA  005 0314
   Serial number: 00000000000045952201

   Rear Light Left 1:
   Subsystem 3 - Part No SW: 4KE 945 423     HW: 4KE 945 423
   Component: T1 LH ECE HD  H10 0403
   Serial number: A1W700005LV      
   Coding: 000000

   Sensor Controlled Power Rear Lid:
   Subsystem 4 - Part No SW: 3G0 962 243 C    HW: 3G0 962 243 C
   Component: GEB.F.Heckoef  H17 0906
   Serial number: 11406418        

   Dedicated Short Range Communication Aerial:
   Subsystem 5 - Part No SW: 4N1 927 753     HW: 4N1 927 753
   Component: NFCTGS  H13 0050
   Serial number:            382905855
   Coding: 000000

   Antenna 2 for short-range communication:
   Subsystem 6 - Part No SW: 4N0 959 428 A    HW: 4N0 959 428 A
   Component: NFCMIKO  H41 0034
   Serial number: 4418000245201012
   Coding: 000000

   Rear Light Left 2:
   Subsystem 7 - Part No SW: 4KE 945 429 B    HW: 4KE 945 429 B
   Component: T2 LH ECE HD  H12 0403
   Serial number: A1WK0001NDH      
   Coding: 000000

   Rear Light Right 1:
   Subsystem 8 - Part No SW: 4KE 945 424     HW: 4KE 945 424
   Component: T1 RH ECE HD  H10 0403
   Serial number: A1WD0000786      
   Coding: 000000

   Rear Light Right 2:
   Subsystem 9 - Part No SW: 4KE 945 430 B    HW: 4KE 945 430 B
   Component: T2 RH ECE HD  H12 0403
   Serial number: A1WL0001NDJ      
   Coding: 000000

1 Fault Found:
131193 - Virtual Radio Key
          B16E9 29 [008] - Signal Implausible
          Intermittent - Confirmed - Tested Since Memory Clear
             Freeze Frame:
                    Fault Status: 00000001
                    Fault Priority: 6
                    Fault Frequency: 4
                    Reset counter: 156
                    Mileage: 23886 km
                    Date: 2020.08.28
                    Time: 14:20:06

                    Supply voltages-Supply voltage: Terminal 30: 65.535 V
                    Supply voltages-Supply voltage Terminal 30 - 2: 65.535 V
                    Supply voltages-Supply voltage Terminal 30 - 3: 65.535 V
                    general_additional_freeze_frame-Ambient_temperature_not_filtered: -50.0 ∞C
                    general_additional_freeze_frame-coprocessor_spi_status: 00000000
                    general_additional_freeze_frame-dataflash_status: 00000000
                    general_additional_freeze_frame-interior_temperature: -50.0 ∞C
                    general_additional_freeze_frame-Operating_Status: 00000000 00000000
                    general_additional_freeze_frame-production_mode: active
                    general_additional_freeze_frame-reset_cause: 00000000
                    general_additional_freeze_frame-Reset_counter: 0
                    general_additional_freeze_frame-Stall_current_cutoff_level: Not available
                    general_additional_freeze_frame-Stall_Current_Measuring_Mode: Not available
                    general_additional_freeze_frame-subnetwork_status: 00000000 00000000
                    general_additional_freeze_frame-terminal_control_intern_status: FF FF FF FF FF FF
                    general_additional_freeze_frame-Transport_Mode: Not available
                    general_additional_freeze_frame-Vehicle speed: Not available


-------------------------------------------------------------------------------
Address 47: Sound System (J525)       Labels:* None
   Part No SW: 4N0 035 223 C    HW: 4N0 035 223
   Component: MIB2_amp_P_D5 H01 0170
   Revision: 00000001    Serial number: AUZ8ZAJ7D002445
   Coding: 0115160000AAAA2FAA0000010002
   Shop #: 

WSC

 00150 218 00000
   

ASAM

 Dataset: EV_AMPMst16C1Gen2pALPI 001010
   ROD: EV_AMPMst16C1Gen2pALPI.rod
   VCID: 2411EA45AE519ADB16B-8070

No fault code found.

-------------------------------------------------------------------------------
Address 51: Electric Drive (J841)       Labels: None
   Part No SW: 0EF 907 080 G    HW: 0EF 907 080 C
   Component: CUFZD683Q0AD2 H02 0010
   Revision: --------    Serial number: -00125.10.18000
   Coding: 01000000000000000000
   Shop #: 

WSC

 33983 001 1048576
   

ASAM

 Dataset: EV_DMCMHITACAU516 003007
   ROD: EV_DMCM2HITACAU516_003.rod
   VCID: 3A2D343D3CD5FC2B5C7-806E

1 Fault Found:
13828096 - Component protection
          U1115 00 [047] - No basic setting for SHE key
          [CmpntPrtctn_SHEKeyNoCnfg]
          Confirmed - Tested Since Memory Clear
             Freeze Frame:
                    Fault Status: 00000001
                    Fault Priority: 4
                    Fault Frequency: 1
                    Mileage: 23740 km
                    Date: 2020.08.26
                    Time: 09:37:50


-------------------------------------------------------------------------------
Address 52: Door Elect, Pass. (J387)       Labels:* None
   Part No SW: 4M0 959 592 M    HW: 4M0 959 592 J
   Component: 

TSG

 BFS       007 0387
   Serial number: 0000360553005
   Coding: 001DDA0143000480A000B000
   Shop #: 

WSC

 00535 218 00000
   

ASAM

 Dataset: EV_DCU2PasseSideMAXHCONT 001005
   ROD: EV_DCU2PasseSideMAXHCONT_VW27.rod
   VCID: 45D757C1452B83D3215-8010

No fault code found.

-------------------------------------------------------------------------------
Address 5F: Information Electr. (J794)       Labels:* None
   Part No SW: 4K0 035 063 D    HW: 4KE 035 063
   Component: MU-H-LND-EU   046 2711
   Coding: 0115760100000000C3111102C00802302F0001E4037008008E
   Shop #: 

WSC

 00046 412 00046
   

ASAM

 Dataset: EV_MUHigGen2pALPI 001001
   ROD: EV_MUHigGen2pALPI_AU27.rod
   VCID: 2411EA45AE519ADB16B-8070

   Data medium:
   Subsystem 1 - Part No: V03 959 804 BM
   Component: MIB2P_EU_Q120  0440

   Display unit 1 for multimedia system:
   Subsystem 2 - Part No SW: 4KE 919 605 C    HW: 4KE 919 605
   Component: DU AU516 High  H41 0147
   Serial number: INX00116101800130154

   Compact Disc Database:
   Subsystem 3 - Part No: V03 959 800 EG
   Component: Gracenote2  1009

   Volume Control 1:
   Subsystem 4 - Part No SW: 4K1 919 616 B    HW: 4K1 919 616 A
   Component: LSR-D5/C8  H33 0110
   Serial number: 00004418000241010013

   Display Unit 5 For Multimedia System:
   Subsystem 5 - Part No SW: 4KE 919 603 A    HW: 4KE 919 603
   Component: DU AU516 Bot  H41 0147
   Serial number: INX00119101800140466

   Media socket:
   Subsystem 6 - Part No SW: 4N0 035 736 A    HW: 4N0 035 736
   Component: MediaConnectH  014 0133
   Serial number: 051800780905006  

No fault code found.

-------------------------------------------------------------------------------
Address 69: Trailer (J345)       Labels:| 5Q0-907-383.clb
   Part No SW: 4M0 907 383 E    HW: 4M0 907 383
   Component: Anhaenger     H27 0253
   Revision: 9C001003    Serial number: 0501911391
   Coding: 0110000202000000
   Shop #: 

WSC

 00046 412 00046
   

ASAM

 Dataset: EV_TrailFunctGener2Hella 001008
   ROD: EV_TrailFunctGener2Hella_VW27.rod
   VCID: 34311A051EB10A5B86B-8060

No fault code found.

-------------------------------------------------------------------------------
Address 6C: Back-up Cam. (J772)       Labels:* Redir Fail!
   Part No SW: 4M0 980 556 A    HW: 4M0 980 556 A
   Component: RVC Compact   H15 0250
   Coding: 0215060103002005C20040
   Shop #: 

WSC

 00046 412 00046
   

ASAM

 Dataset: EV_CamSysRVRVCPANAMLBEv 005010
   ROD: EV_CamSysRVRVCPANAMLBEv_005_VW53.rod
   VCID: 333319191BBF0D639F1-8066

No fault code found.

-------------------------------------------------------------------------------
Address 6D: Trunk Elect. (J605)       Labels:| 5Q0-959-107.clb
   Part No SW: 8W8 959 107 D    HW: 8W8 959 107
   Component: HDSG-Modul    H13 0170
   Revision: --------    Serial number: A2-C744-8781-0
   Coding: 33B0
   Shop #: 

WSC

 00046 412 00046
   

ASAM

 Dataset: EV_DeckLidCONTIAU736 001016
   ROD: EV_DeckLidCONTIAU736_VW27.rod
   VCID: 4ACD64FD6C356CABCC7-801E

No fault code found.

-------------------------------------------------------------------------------
Address 74: Chassis Control (J775)       Labels:* None
   Part No SW: 4KE 907 777 AD    HW: 4KE 907 777 A
   Component: Fahrwerk-SG   H52 2311
   Serial number: 1201191193
   Coding: 98D86083DA4010
   Shop #: 

WSC

 00046 412 00046
   

ASAM

 Dataset: EV_ChassContrContiAU651 003018
   ROD: EV_ChassContrContiAU651_003.rod
   VCID: 0E45A8ED50DD008BD0F-805A

   Air Suspension Compressor:
   Subsystem 1 - Part No SW: 4M0 907 778     HW: 4M0 907 778
   Component: V66LFKompOLV  H06 0013
   Serial number: 00000000004130469760
   Coding: 303030

4 Faults Found:
6598692 - Internal Fault
          B200F F3 [008] - Unknown Error Elaboration
          [Internal_communication_error_acceleration_longitudinal]
          Intermittent - Confirmed - Tested Since Memory Clear
             Freeze Frame:
                    Fault Status: 00000001
                    Fault Priority: 4
                    Fault Frequency: 1
                    Reset counter: 156
                    Mileage: 23926 km
                    Date: 2020.08.28
                    Time: 16:58:28

                    Internal 

DTC

: 217

6598693 - Latteral Acceleration 1
          C1022 29 [008] - Signal Implausible
          Intermittent - Confirmed - Tested Since Memory Clear
             Freeze Frame:
                    Fault Status: 00000001
                    Fault Priority: 4
                    Fault Frequency: 1
                    Reset counter: 156
                    Mileage: 23926 km
                    Date: 2020.08.28
                    Time: 16:58:28

                    Internal 

DTC

: 218

6598694 - Yaw Rate 1
          C1020 29 [008] - Signal Implausible
          Intermittent - Confirmed - Tested Since Memory Clear
             Freeze Frame:
                    Fault Status: 00000001
                    Fault Priority: 4
                    Fault Frequency: 1
                    Reset counter: 156
                    Mileage: 23926 km
                    Date: 2020.08.28
                    Time: 16:58:28

                    Internal 

DTC

: 219

15462408 - Unknown Error Code
          C137E 00 [008] - -
          Intermittent - Confirmed - Tested Since Memory Clear
             Freeze Frame:
                    Fault Status: 00000001
                    Fault Priority: 4
                    Fault Frequency: 1
                    Reset counter: 156
                    Mileage: 23926 km
                    Date: 2020.08.28
                    Time: 16:58:28

                    Internal 

DTC

: 399
                    quattro_torque_control: -15.00 rad
                    quattro_torque_control: 0
                    quattro_torque_control: 5
                    quattro_torque_control: 0
                    quattro_torque_control: 0
                    quattro_torque_control: 5
                    quattro_torque_control: 0
                    quattro_torque_control: 0
                    quattro_torque_control: -10000
                    quattro_torque_control: 0 m/s
                    Dynamic all wheel drive: overall system status-Status dynamic steering: Initializing
                    Dynamic all wheel drive: overall system status-Rear axle steering: status: Normal oper.
                    Dynamic all wheel drive: overall system status-Dynamic all wheel drive: regulator status: Initializing
                    Dynamic all wheel drive: overall system status-Rear axle steering: status of dynamic all wheel drive: Initializing
                    Dynamic all wheel drive: overall system status-Dynamic steering: status of dynamic all wheel drive: Initializing
                    Systemverbund - Diagnose-QSP Status: 0
                    Systemverbund - Diagnose-Elektroantrieb 1: Istmodus: 0
                    Systemverbund - Diagnose-Elektroantrieb 2: Istmodus: 0
                    Systemverbund - Diagnose-Elektroantrieb 3: Istmodus: 0
                    Systemverbund - Diagnose-Verlagerungsverbot: kein Verbot
                    Systemverbund - Diagnose-Drehmomentanforderung: Summe: -50000 Nm
                    Systemverbund - Diagnose-eAWS Status: 0
                    Systemverbund - Diagnose-Luftfederung: Status: 0
                    Systemverbund - Diagnose-Straight line running factor: -0.100


-------------------------------------------------------------------------------
Address 75: Telematics (J949)       Labels:* None
   Part No SW: 4K1 035 282 D    HW: 4K1 035 282 B
   Component: ConBox        H09 0232
   Serial number: 005CCA11F120292
   Coding: 01C0E0FFC040800000
   Shop #: 

WSC

 00046 412 00046
   

ASAM

 Dataset: EV_ConBoxAU651 002004
   ROD: EV_ConBoxAU651_002.rod
   VCID: 2809FE75D2797EBB3A3-807C

No fault code found.

-------------------------------------------------------------------------------
Address 81: Gear Shift (J587)       Labels: None
   Part No SW: 4KL 713 041 A    HW: 4KL 713 041
   Component: GSM-LL H04 0036
   Serial number: 92145RLK00043
   

ASAM

 Dataset: EV_GSMKLOAU516 001008
   ROD: EV_GSMKLOAU516.rod
   VCID: 3C21322536E1C21B4EB-8068

No fault code found.

-------------------------------------------------------------------------------
Address 8C: Hybrid Battery (J840)       Labels: None
   Part No SW: 4KE 915 233 F    HW: 4KE 915 233 B
   Component: BMC_MLBCBEV   H15 0231
   

ASAM

 Dataset: EV_BECM0842071 001004
   ROD: EV_BECM0842071_AU58.rod
   VCID: 41DF43D15103AFF31DD-8014

   Battery Junction Box:
   Subsystem 1 - Part No SW: 4KE 915 250 C    HW: 4KE 915 250 B
   Component: BJB_MLBBEV  H12 0369

   Cell module: control module 1:
   Subsystem 2 - Part No SW: 4KE 915 215     HW: 4KE 915 215
H06 0107

   Cell module: control module 2:
   Subsystem 3 - Part No SW: 4KE 915 215     HW: 4KE 915 215
H06 0107

   Cell module: control module 3:
   Subsystem 4 - Part No SW: 4KE 915 215     HW: 4KE 915 215
H06 0107

   Cell module: control module 4:
   Subsystem 5 - Part No SW: 4KE 915 215     HW: 4KE 915 215
H06 0107

   Cell module: control module 5:
   Subsystem 6 - Part No SW: 4KE 915 215     HW: 4KE 915 215
H06 0107

   Cell module: control module 6:
   Subsystem 7 - Part No SW: 4KE 915 215     HW: 4KE 915 215
H06 0107

   Cell module: control module 7:
   Subsystem 8 - Part No SW: 4KE 915 215     HW: 4KE 915 215
H06 0107

   Cell module: control module 8:
   Subsystem 9 - Part No SW: 4KE 915 215     HW: 4KE 915 215
H06 0107

   Cell module: control module 9:
   Subsystem 10 - Part No SW: 4KE 915 215     HW: 4KE 915 215
H06 0107

   Cell module: control module 10:
   Subsystem 11 - Part No SW: 4KE 915 215     HW: 4KE 915 215
H06 0107

   Cell module: control module 11:
   Subsystem 12 - Part No SW: 4KE 915 215     HW: 4KE 915 215
H06 0107

   Cell module: control module 12:
   Subsystem 13 - Part No SW: 4KE 915 215     HW: 4KE 915 215
H06 0107

No fault code found.

-------------------------------------------------------------------------------
Address A5: Frt Sens. Drv. Assist (J1121)       Labels:* None
   Part No SW: 4KE 907 107 AB    HW: 4N0 907 107 G
   Component: zFAS Var B    H09 0291
   Coding: 0421840000000000000C060000D4462E189E57000000000000000000000000000019000000000000000000000000000000000000000000000000400000000000000078D80000009000800080000000000080400000A0
   Shop #: 

WSC

 00046 412 00046
   

ASAM

 Dataset: EV_ZFASAU516 001003
   ROD: EV_ZFASAU516_001.rod
   VCID: 7F5B0529677719032B9-802A

3 Faults Found:
2113949 - Databus
          U1123 00 [008] - Received Error Message
          [Bremse_EV_01_EBKV_Bremspedalweg]
          Intermittent - Confirmed - Tested Since Memory Clear
             Freeze Frame:
                    Fault Status: 00000001
                    Fault Priority: 6
                    Fault Frequency: 1
                    Reset counter: 156
                    Mileage: 23926 km
                    Date: 2020.08.28
                    Time: 16:58:28

2114638 - Databus
          U1123 00 [009] - Received Error Message
          [LS1_SensorHeader_LS1_Fehler]
          Confirmed - Tested Since Memory Clear
             Freeze Frame:
                    Fault Status: 00000001
                    Fault Priority: 6
                    Fault Frequency: 20
                    Reset counter: 119
                    Mileage: 23978 km
                    Date: 2020.08.31
                    Time: 20:36:23

4107 - Databus
          U1123 00 [009] - Received Error Message
          [reversibler_Fehler_im_ACC_System]
          Confirmed - Tested Since Memory Clear
             Freeze Frame:
                    Fault Status: 00000001
                    Fault Priority: 6
                    Fault Frequency: 37
                    Reset counter: 119
                    Mileage: 23743 km
                    Date: 2020.08.26
                    Time: 15:44:24


-------------------------------------------------------------------------------
Address BB: Door Rear Drv (J388)       Labels:* None
   Part No SW: 4M0 959 595 M    HW: 4M0 959 595 J
   Component: 

TSG

 HFS       006 0387
   Serial number: 0000360561597
   Coding: 000DD80100000480A000B000
   Shop #: 

WSC

 00535 218 00000
   

ASAM

 Dataset: EV_DCU2RearDriveMAXHCONT 001005
   ROD: EV_DCU2RearDriveMAXHCONT_AU58.rod
   VCID: 48C95EF572399EBBDA3-801C

No fault code found.

-------------------------------------------------------------------------------
Address BC: Door Rear Pass (J389)       Labels:* None
   Part No SW: 4M0 959 595 M    HW: 4M0 959 595 J
   Component: 

TSG

 HBFS      006 0387
   Serial number: 0000360561596
   Coding: 000DD80100000480A000B000
   Shop #: 

WSC

 00535 218 00000
   

ASAM

 Dataset: EV_DCU2RearPasseMAXHCONT 001005
   ROD: EV_DCU2RearPasseMAXHCONT_AU58.rod
   VCID: 48C95EF572399EBBDA3-801C

No fault code found.

-------------------------------------------------------------------------------
Address C5: Therm. mgt. (J1024)       Labels:* None
   Part No SW: 4KE 965 429 C    HW: 4KE 965 429
   Component: TME-Max       H08 0312
   Serial number: 0017640
   Coding: 00
   Shop #: 

WSC

 00150 218 00000
   

ASAM

 Dataset: EV_ThermContrVISAU49X 002036
   ROD: EV_ThermContrVISAU49X_AU58.rod
   VCID: 4ACD64FD6C356CABCC7-801E

   Geber f¸r K‰ltemitteldruck/K‰ltemitteltemperatur:
   Subsystem 1 - Part No SW: 4M0 959 603 C    HW: 4M0 959 603 C
   Component: G395 pT-Sens1  H11 0010

   Control module for auxiliary air heater:
   Subsystem 2 - Part No SW: 3Q0 963 231 E    HW: 3Q0 963 231 E
   Component: J848 HV-

PTC

  200 0204
   Serial number: -00105.0V.3A20370116

   Air Conditioning Compressor Sub:
   Subsystem 3 - Part No SW: 4G0 816 797 B    HW: 4G0 816 797 B
   Component: J842 EKK es33  H03 0004
   Serial number: 00000000018092100748

   Geber f¸r K‰ltemitteldruck/K‰ltemitteltemperatur 2:
   Subsystem 4 - Part No SW: 4M0 959 603 C    HW: 4M0 959 603 C
   Component: G826 pT-Sens2  H11 0010

   Coolant heater:
   Subsystem 5 - Part No SW: 3Q0 963 231 E    HW: 3Q0 963 231 E
   Component: J848 HV-

PTC

  200 0204
   Serial number: -00105.1V.2C20370080

   Refrigerant Expansion Valve 2:
   Subsystem 6 - Part No SW: 4M0 816 682 E    HW: 4M0 816 682 E
   Component: N637 EV2_KaMi  H12 0102
   Serial number: 00000000000150542289

   Refrigerant Shut Off Valve 2:
   Subsystem 7 - Part No SW: 4M0 816 702 A    HW: 4M0 816 702 A
   Component: N640 AV2_KaMi  H12 0102
   Serial number: 00000000000130515295

   Refrigerant Shut Off Valve 3:
   Subsystem 8 - Part No SW: 4M0 816 702 A    HW: 4M0 816 702 A
   Component: N641 AV3_KaMi  H12 0102
   Serial number: 00000000000130515303

   Refrigerant Shut Off Valve 4:
   Subsystem 9 - Part No SW: 4M0 816 702 A    HW: 4M0 816 702 A
   Component: N642 AV4_KaMi  H12 0102
   Serial number: 00000000000130515291

   Refrigerant Shut Off Valve 5:
   Subsystem 10 - Part No SW: 4M0 816 702 A    HW: 4M0 816 702 A
   Component: N643 AV5_KaMi  H12 0102
   Serial number: 00000000000130515301

   Radiator shutter:
   Subsystem 11 - Part No SW: 95B 965 501 S    HW: 95B 965 501 S
   Component: V544KJS1  H12 0109
   Serial number: 20181209060404054408

   Radiator Shutter 2:
   Subsystem 12 - Part No SW: 95B 965 501 S    HW: 95B 965 501 S
   Component: V550KJS2  H12 0109
   Serial number: 20181114020103053861

   Coolant valve 1:
   Subsystem 13 - Part No SW: 4KE 963 375 K    HW: 4KE 963 375 K
   Component: N632 V1_KUEMI  010 0103
   Serial number: 00000000000000039605

   Coolant valve 2:
   Subsystem 14 - Part No SW: 4KE 963 375 J    HW: 4KE 963 375 J
   Component: N633 V2_KUEMI  010 0103
   Serial number: 00000000000000019454

   Coolant valve 3:
   Subsystem 15 - Part No SW: 4KE 963 375 H    HW: 4KE 963 375 H
   Component: N634 V3_KUEMI  010 0103
   Serial number: 00000000000000031023

   Coolant valve 4:
   Subsystem 16 - Part No SW: 4KE 963 375 N    HW: 4KE 963 375 N
   Component: N635 V4_KUEMI  010 0103
   Serial number: 00000000000000026154

No fault code found.

-------------------------------------------------------------------------------
Address C6: Batt. Chrg. (J1050)       Labels:* None
   Part No SW: 5QE 915 684 J    HW: 5QE 915 684 J
   Component: OBC KOSTAL    H24 0023
   Serial number: ---------------
   Coding: 2B48844542080E000000
   Shop #: 

WSC

 00150 218 00000
   

ASAM

 Dataset: EV_OBC3Phase1KLOMLBev14B 002001
   ROD: EV_OBC2PhaseKLOMLBev14P.rod
   VCID: 56F5808DA88D384B58F-8002

No fault code found.

-------------------------------------------------------------------------------
Address CA: Sunroof (J245)       Labels:| 4M0-907-594.clb
   Part No SW: 4K0 907 594 AC    HW: 4K0 907 594
   Component: SAD_STG_1     005 0002
   Coding: 628040051602
   Shop #: 

WSC

 00046 412 00046
   

ASAM

 Dataset: EV_SunRoofCONTIAU736 009011
   ROD: EV_SunRoofCONTIAU736_009_VW27.rod
   VCID: 75B7E701554B5353715-8020

No fault code found.

-------------------------------------------------------------------------------
Address CD: Laser Scanner (J1122)       Labels: None
   Part No SW: 4K8 907 660 B    HW: 4N0 907 660
   Component: LASER_SCANNER H36 0202
   Shop #: 

WSC

 00000 000 00000
   

ASAM

 Dataset: EV_LaserScannAU651 013013
   ROD: EV_LaserScannAU651_013.rod
   VCID: 3537270115CB1353B15-8060

1 Fault Found:
11575303 - Dynamic Calibration
          C1106 F0 [009] - Limit Exceeded
          [Misalignment_Pitch_Angle_fast]
          Confirmed - Tested Since Memory Clear
             Freeze Frame:
                    Fault Status: 00000001
                    Fault Priority: 4
                    Fault Frequency: 2
                    Reset counter: 118
                    Mileage: 23978 km
                    Date: 2020.08.31
                    Time: 20:36:22

                    Control Module temperature-Host: external temperature: 27 ∞C
                    Control Module temperature-Zynq: internal temperature: 42 ∞C
                    Control Module temperature-Host: internal temperature: 27 ∞C
                    Control Module temperature-Zynq: external temperature: 24 ∞C
                    Voltage terminal 15: 14.502 V
                    Vehicle speed: 29.64 km/h
                    Misalignment angle-Yaw angle: 0.48 ∞
                    Misalignment angle-Pitch angle: -0.00 ∞
                    Misalignment angle-Roll angle: 0.50 ∞
                    Heating and cleaning management-Visibility: 0 %
                    Heating and cleaning management-Degree of contamination: 12 %
                    Heating and cleaning management-Heating status: 02
                    Heating and cleaning management-Cleaning status: 02
                    Performed adjustment-Year: 2000
                    Performed adjustment-Month: 8
                    Performed adjustment-Day: 26
                    Performed adjustment-recorded yaw angle: -0.29 ∞
                    Performed adjustment-Saved pitch angle: -0.00 ∞
                    Performed adjustment-Store sway angle: 0.25 ∞
                    Outside air temperature: 13 ∞C
                    online_calibration_angles-pitch_angle_online_calibration: -327.67 ∞
                    online_calibration_angles-roll_angle_online_calibration: -327.67 ∞
                    online_calibration_angles-yaw_angle_online_calibration: 0.93 ∞


-------------------------------------------------------------------------------
Address CE: Drive Motor 2 (J944)       Labels: None
   Part No SW: 0EF 907 180 J    HW: 0EF 907 180 C
   Component: CUBZE683Q0AD2 H02 0010
   Revision: --------    Serial number: -00106.11.18000
   Coding: 01000000000000000000
   Shop #: 

WSC

 12242 004 1048576
   

ASAM

 Dataset: EV_DMCM2HITACAU516 003007
   ROD: EV_DMCM2HITACAU516_003.rod
   VCID: 3E25382D20FDD00B60F-806A

1 Fault Found:
13828096 - Component protection
          U1115 00 [047] - No basic setting for SHE key
          [CmpntPrtctn_SHEKeyNoCnfg]
          Confirmed - Tested Since Memory Clear
             Freeze Frame:
                    Fault Status: 00000001
                    Fault Priority: 4
                    Fault Frequency: 1
                    Mileage: 23740 km
                    Date: 2020.08.26
                    Time: 09:37:50


-------------------------------------------------------------------------------
Address D6: Light Ctrl Left 2 (A31)       Labels: None
   Part No SW: 4K0 941 591 BC    HW: 4K0 941 591 B
   Component: LMS_MLBevo    H11 0031
   

ASAM

 Dataset: EV_LMSLeftHELLAAU58X 001013
   ROD: EV_LMSLeftHELLAAU58X_AU27.rod
   VCID: 71BFD31121237F73ADD-8024

No fault code found.

-------------------------------------------------------------------------------
Address D7: Light Ctrl Right 2 (A27)       Labels: None
   Part No SW: 4K0 941 591 BC    HW: 4K0 941 591 B
   Component: LMS_MLBevo    H11 0031
   

ASAM

 Dataset: EV_LMSRightHELLAAU58X 001013
   ROD: EV_LMSRightHELLAAU58X_AU27.rod
   VCID: 71BFD31121237F73ADD-8024

No fault code found.

-------------------------------------------------------------------------------
Address DE: Charger 1 for mobile dev (J1146)       Labels:* None
   Part No SW: 4N0 035 773 A    HW: 4N0 035 773 A
   Component: WLC Front NFC H11 0061
   Coding: 808000
   Shop #: 

WSC

 00046 412 00046
   

ASAM

 Dataset: EV_Charg1MobilDevicAU651 004001
   ROD: EV_Charg1MobilDevicAU651.rod
   VCID: 2C010265C681529BDEB-8078

No fault code found.

-------------------------------------------------------------------------------
Address 8104: DC/DC Converter HV (A19)       Labels: None
   Part No SW: 4KE 907 171 B    HW: 4KE 907 171 B
   Component: DCDC Wandler H10 0400
   

ASAM

 Dataset: EV_DCDCHVTDKAU516 001004
   ROD: EV_DCDCHVTDKAU516.rod
   VCID: 3FDB452927F7D9036B9-806A

No fault code found.

-------------------------------------------------------------------------------
Address 8111: Rearview Mirror Right (J1030)       Labels:* None
   Part No SW: 4KE 907 181 B    HW: 4KE 907 181 A
   Component: VAS H31 0027
   Coding: 00010807
   Shop #: 

WSC

 00000 000 00000
   

ASAM

 Dataset: EV_RearVLeftFicosAU516 001003
   ROD: EV_RearVLeftFicosAU516.rod
   VCID: 40D946D55A09A6FB123-8014

No fault code found.

-------------------------------------------------------------------------------
Address 8112: Rearview Mirror Left (J1031)       Labels:* None
   Part No SW: 4KE 907 182 B    HW: 4KE 907 182 A
   Component: VAS H31 0027
   Coding: 00010807
   Shop #: 

WSC

 00000 000 00000
   

ASAM

 Dataset: EV_RearVRightFicosAU516 001003
   ROD: EV_RearVRightFicosAU516.rod
   VCID: 41DF43D15103AFF31DD-8014

No fault code found.

End----------(Elapsed Time: 03:10, VBatt start/end: 14.6V/14.6V)-----------
Last edited: