hello,
i
retrofited rear electric
window (from mechanical to electric pulling). the
rear windows work
fine for me. driver motor window is also changing (from 5JA 959 811 K to 6V1 959 801 B), modified I have a complete wiring according to the diagram. and there is a
problem
coding changed according to another car with electric rear windows: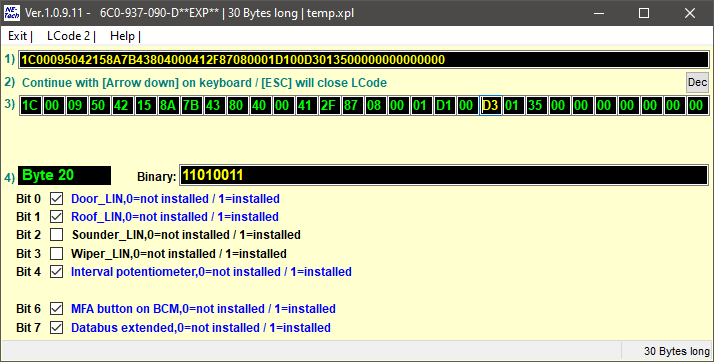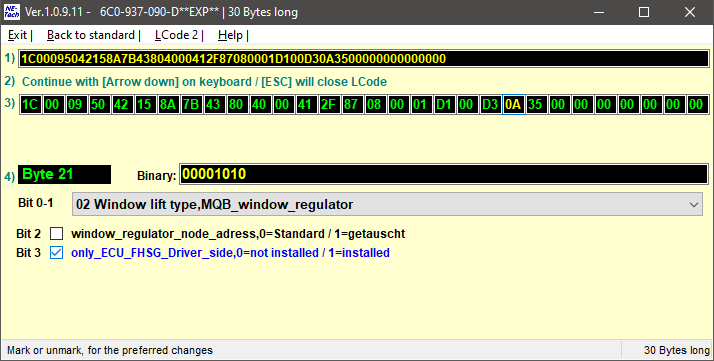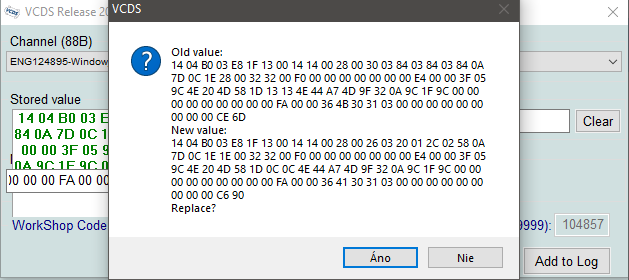 I already have a visible motor for the driver's door (left-hand drive) in the list of units: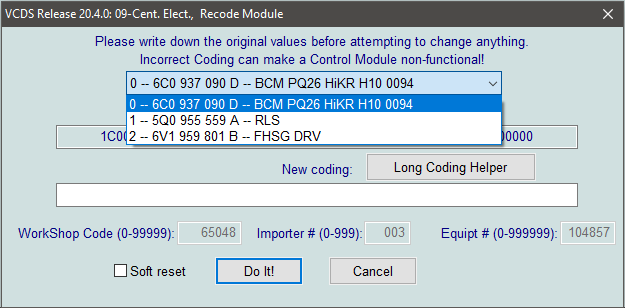 the
problem is that the driver's window
reacts in the opposite way (if I press "up", the window goes down. if I press "down", the window goes up. I don't know where the error is. I don't have another engine to test yet. buttons I tried from another car - no change. I also tried my buttons in another car - the other car works properly ...
is it still possible to modify the encoding somewhere? in unit 09 for FHSG DRV, despite the original cable, I do not have a description of bytes and bits. coding is the same as another car with the original engine
full scan (errors unit 17 and 5F is from another modifiing):
Code:
Saturday,18,April,2020,20:32:00:21987


VCDS

 -- Windows Based VAG/VAS Emulator Running on Windows 10 x86


VCDS

 Version: 20.4.0.1  HEX-V2 

CB

: 0.4513.4
Data version: 20200331 DS317.0
www.Ross-Tech.com


VIN: TMBJN6NJ7GZ173417   License Plate:
Mileage: 98956km-61488mi   Repair Order: 



--------------------------------------------------------------------------------
--------------------------------------------------------------------------------


Chassis Type: NJ-SK26 (6C0)
Scan: 01 03 08 09 10 15 17 19 20 44 5F

VIN: TMBJN6NJ7GZ173417   Mileage: 98956km-61488miles

01-Engine -- Status: OK 0000
03-

ABS

 Brakes -- Status: OK 0000
08-Auto HVAC -- Status: OK 0000
09-Cent. Elect. -- Status: OK 0000
10-Park/Steer Assist -- Status: OK 0000
15-Airbags -- Status: OK 0000
17-Instruments -- Status: Malfunction 0010
19-CAN Gateway -- Status: OK 0000
20-High Beam Assist. -- Status: OK 0000
44-Steering Assist -- Status: OK 0000
5F-Information Electr. -- Status: Malfunction 0010
-------------------------------------------------------------------------------
Address 01: Engine (J623-CJZD)       Labels:. 04E-907-309-V1.clb
   Part No SW: 04E 906 027 BC    HW: 04E 907 309 AF
   Component: R4 1.2l TFS   H23 9086  
   Revision: R4H23---    
   Coding: 01190012232415080000
   Shop #: 

WSC

 65048 003 104857
   

ASAM

 Dataset: EV_ECM12TFS01104E906027BC 001009
   

ROD

: EV_ECM12TFS01104E906027BC.

rod


   VCID: 669446AD08E2930BC9E-8032

   CAN Converter 01: 

No fault code found.
Readiness: 0000 0000

-------------------------------------------------------------------------------
Address 03: 

ABS

 Brakes (J104)       Labels:. 6R0-907-37x-ESP90.clb
   Part No SW: 6C0 907 379 K    HW: 6R0 907 379 BA
   Component: ESP9.0i       H03 0004  
   Serial number: 08514048160314
   Coding: 41F5487D492A33C30918106A0058821292CC9008000DD7098F00
   Shop #: 

WSC

 13765 031 00063
   

ASAM

 Dataset: EV_Brake1ESP90iBOSCHPQ26 100020
   

ROD

: EV_Brake1ESP90iBOSCHPQ26.

rod


   VCID: 372ADBE91FC8DA83A28-8062

No fault code found.

-------------------------------------------------------------------------------
Address 08: Auto HVAC (J301)       Labels:| 6C0-820-045.clb
   Part No SW: 6V0 820 045 A    HW: 6V0 820 045 A
   Component: AC Manuell    H01 0202  
   Serial number:  1603091B-1445
   Coding: 100000001000100000
   Shop #: 

WSC

 73430 031 00063
   

ASAM

 Dataset: EV_ACManueKMMValeoPQ26 002001
   

ROD

: EV_ACManueKMMValeoPQ26_SK26.

rod


   VCID: 3038E0F5FAA60DBBE32-8064

No fault code found.

-------------------------------------------------------------------------------
Address 09: Cent. Elect. (J519)       Labels:| 6C0-937-090-V1.clb
   Part No SW: 6C0 937 090 D    HW: 6C0 937 090 
   Component: 

BCM

 PQ26 HiKR H10 0094  
   Serial number: 006318037927
   Coding: 1C00095042158A7B43804000412F87080001D100D30A3500000000000000
   Shop #: 

WSC

 65048 003 104857
   

ASAM

 Dataset: EV_BCMA0 006002
   

ROD

: EV_BCMA0_006_VW26.

rod


   VCID: 290E0D91D97C7C7324C-807C

   Rain Light Recognition Sensor: 
   Subsystem 1 - Part No SW: 5Q0 955 559 A    HW: 5Q0 955 559 A  Labels: 5Q0-955-547.CLB
   Component: 

RLS

  037 0059 
   Serial number: S2Y15M09D15H00M44S58
   Coding: 00185E

   Drivers Door Control Module: 
   Subsystem 2 - Part No SW: 6V1 959 801 B    HW: 6V1 959 801 B
   Component: FHSG DRV  007 0001 
   Serial number: 00000000000009255270
   Coding: 011200

No fault code found.

-------------------------------------------------------------------------------
Address 10: Park/Steer Assist (J791)       Labels:| 5Q0-919-294.clb
   Part No SW: 5Q0 919 294 E    HW: 5Q0 919 294 A
   Component: PARKHILFE 7K  H03 0048  
   Revision: --------    Serial number: 39331431407392
   Coding: 0031151041
   Shop #: 

WSC

 73430 790 00021
   

ASAM

 Dataset: EV_EPHVA18AU3700000 002024
   

ROD

: EV_EPHVA18AU3700000_VW26.

rod


   VCID: 3D26C9C13DF4F0D3784-8068

No fault code found.

-------------------------------------------------------------------------------
Address 15: Airbags (J234)       Labels:| 6C0-959-655.clb
   Part No SW: 6C0 959 655 K    HW: 6C0 959 655 K
   Component: VW20Airbag743 002 0380  
   Revision: --------    Serial number: 003TJ00313GV
   Coding: 88CCC000000000005C5400CF000800000000
   Shop #: 

WSC

 73430 790 00063
   

ASAM

 Dataset: EV_AirbaVW20BPAVW26X 001001
   

ROD

: EV_AirbaVW20BPAVW26X.

rod


   VCID: 3B22C7D923E0FEE3460-806E

   Side Sensor Driver Front: 
   Subsystem 1 - Part No SW: -----------    HW: 410 822 503 16
   Component: SideSensor_Df  151 0800 
   Serial number: 3575H000E2957E71B11N
   Coding: 2D2D2D

   Side Sensor Passenger Front: 
   Subsystem 2 - Part No SW: -----------    HW: 410 822 503 16
   Component: SideSensor_Pf  151 0800 
   Serial number: 3585H00162957E74138J
   Coding: 2D2D2D

   Side Sensor Driver Rear: 
   Subsystem 3 - Part No SW: -----------    HW: 442 152 103 16
   Component: SideSensor_Dr  1CA 0148 
   Serial number: 3517A00A31F93E220223
   Coding: 2D2D2D

   Side Sensor Passenger Rear: 
   Subsystem 4 - Part No SW: -----------    HW: 442 152 103 16
   Component: SideSensor_Pr  1CA 0148 
   Serial number: 3527A00B31F93E33232A
   Coding: 2D2D2D

No fault code found.

-------------------------------------------------------------------------------
Address 17: Instruments (J285)       Labels:| 5G0-920-XXX-17.clb-SRI3
   Part No SW: 6V0 920 740 A    HW: 6V0 920 740 A
   Component: KOMBI         205 1420  
   Coding: 0BAD0900218000080108B6001C00000000000000
   Shop #: 

WSC

 65517 001 104857
   

ASAM

 Dataset: EV_DashBoardVDDMQBAB 009046
   

ROD

: EV_DashBoardVDDMQBAB_SK25.

rod


   VCID: 3332EFF90BB036A39E0-8066

2 Faults Found:
16777024 - Function Restricted due to Interrupted Communications 
          U1110 00 [008] - -
          [BAP_BCME_0x23 keine Kommunikation]
          Intermittent - Confirmed - Tested Since Memory Clear
             Freeze Frame:
                    Fault Status: 00000001
                    Fault Priority: 6
                    Fault Frequency: 1
                    Reset counter: 42
                    Mileage: 98482 km
                    Date: 2020.04.14
                    Time: 17:56:11

16777051 - Databus 
          U1121 00 [009] - Missing Message
          [TCO_01 keine Kommunikation]
          Confirmed - Tested Since Memory Clear
             Freeze Frame:
                    Fault Status: 00000001
                    Fault Priority: 6
                    Fault Frequency: 1
                    Reset counter: 252
                    Mileage: 98405 km
                    Date: 2020.04.12
                    Time: 14:24:28


-------------------------------------------------------------------------------
Address 19: CAN Gateway (J533)       Labels:| 6C0-909-901-V1.clb
   Part No SW: 6C0 909 901 A    HW: 6C0 937 090 
   Component: GW 

MQB

 A0     H10 0094  
   Revision: --------    Serial number: 006318037927
   Coding: 030100042F0A640000000000000300010001000000000000000000000000
   Shop #: 

WSC

 73430 790 12345
   

ASAM

 Dataset: EV_GatewA0Lear 013020
   

ROD

: EV_GatewA0Lear_013_SK25.

rod


   VCID: 261406ADC862530B09E-8072

   Multi Function Steering Wheel Control Module: 
   Subsystem 1 - Part No SW: 3V0 919 719 A    HW: 3V0 919 719 A
   Component: E221__MFL-PR6  H02 0160 
   Serial number: 000000000D2251200218

   Battery Monitoring Control Module: 
   Subsystem 2 - Part No SW: 6C0 915 181 A    HW: 6C0 915 181 A
   Component: J367-BDM  H08 0223 
   Serial number: 53079716042821739041

No fault code found.

-------------------------------------------------------------------------------
Address 20: High Beam Assist. (J844)       Labels:| 8S0-857-511.clb
   Part No SW: 3G0 857 511 AG    HW: 3G0 857 511 AG
   Component: 

FLA

           H08 0001  
   Revision: AA001001    
   Coding: 010100E500000000000000
   Shop #: 

WSC

 12345 123 12345
   

ASAM

 Dataset: EV_HighBeamAssisAU33X 001016
   

ROD

: EV_HighBeamAssisAU33X_VW37.

rod


   VCID: 6D8639812D14A053884-8038

No fault code found.

-------------------------------------------------------------------------------
Address 44: Steering Assist (J792)       Labels:| 6Rx-909-144-V2.clb
   Part No SW: 6C1 909 144 AG    HW: 6C1 909 144 D
   Component: EPS_TRW_ALow  312 3232  
   Serial number: CG460016
   Coding: 800700
   Shop #: 

WSC

 73430 790 00063
   

ASAM

 Dataset: EV_SteerAssisUDSTRW 016026
   

ROD

: EV_SteerAssisUDSTRW.

rod


   VCID: 6D8639812D14A053884-8038

No fault code found.

-------------------------------------------------------------------------------
Address 5F: Information Electr. (J794)       Labels:* None
   Part No SW: 6V0 035 871 J    HW: 6V0 035 871 J
   Component: MU-E--US      690 8740  
   Serial number: 24081800021394
   Coding: 03620200BE0000001111000401000A00AF0003D40000010004
   Shop #: 

WSC

 73430 790 12345
   

ASAM

 Dataset: EV_MUEnt4CGen2LGE 001041
   

ROD

: EV_MUEnt4CGen2LGE_VW32.

rod


   VCID: 3E24CECD30F2EBCB61E-806A

3 Faults Found:
1543 - Control Module Incorrectly Coded 
          U1014 00 [009] - -
          Confirmed - Tested Since Memory Clear
             Freeze Frame:
                    Fault Status: 00000001
                    Fault Priority: 4
                    Fault Frequency: 1
                    Reset counter: 252
                    Mileage: 98405 km
                    Date: 2020.04.12
                    Time: 14:23:53

                    Voltage terminal 30: 11.9 V
                    Byte_Coding_Condition-byte_0_condition: OK
                    Byte_Coding_Condition-byte_1_condition: OK
                    Byte_Coding_Condition-byte_10_condition: ERROR
                    Byte_Coding_Condition-byte_11_condition: ERROR
                    Byte_Coding_Condition-byte_12_condition: ERROR
                    Byte_Coding_Condition-byte_13_condition: ERROR
                    Byte_Coding_Condition-byte_14_condition: ERROR
                    Byte_Coding_Condition-byte_15_condition: ERROR
                    Byte_Coding_Condition-byte_16_condition: ERROR
                    Byte_Coding_Condition-byte_17_condition: ERROR
                    Byte_Coding_Condition-byte_18_condition: ERROR
                    Byte_Coding_Condition-byte_19_condition: ERROR
                    Byte_Coding_Condition-byte_2_condition: OK
                    Byte_Coding_Condition-byte_20_condition: ERROR
                    Byte_Coding_Condition-byte_21_condition: ERROR
                    Byte_Coding_Condition-byte_22_condition: ERROR
                    Byte_Coding_Condition-byte_23_condition: ERROR
                    Byte_Coding_Condition-byte_24_condition: ERROR
                    Byte_Coding_Condition-byte_25_condition: ERROR
                    Byte_Coding_Condition-byte_26_condition: ERROR
                    Byte_Coding_Condition-byte_27_condition: ERROR
                    Byte_Coding_Condition-byte_3_condition: OK
                    Byte_Coding_Condition-byte_4_condition: OK
                    Byte_Coding_Condition-byte_5_condition: OK
                    Byte_Coding_Condition-byte_6_condition: OK
                    Byte_Coding_Condition-byte_7_condition: OK
                    Byte_Coding_Condition-byte_8_condition: OK
                    Byte_Coding_Condition-byte_9_condition: OK

1564 - Microphone 1 
          B129B 13 [008] - Open Circuit
          Intermittent - Confirmed - Tested Since Memory Clear
             Freeze Frame:
                    Fault Status: 00000001
                    Fault Priority: 4
                    Fault Frequency: 1
                    Reset counter: 44
                    Mileage: 98504 km
                    Date: 2020.04.15
                    Time: 05:47:47

                    Voltage terminal 30: 11.7 V

7195 - Function Restricted due to Missing Message(s) 
          U1111 00 [009] - -
          [Brake assist system (0x1B) - function restriction due to communication error - BapErr_retry not successful]
          Confirmed - Tested Since Memory Clear
             Freeze Frame:
                    Fault Status: 00000001
                    Fault Priority: 6
                    Fault Frequency: 1
                    Reset counter: 252
                    Mileage: 98405 km
                    Date: 2020.04.12
                    Time: 14:23:56

                    Voltage terminal 30: 11.9 V
                    

BAP

-BAP_Function_ID: 00


End----------(Elapsed Time: 00:44, VBatt start/end: 12.3V/12.3V)-----------
thanks for any solutions and sorry for my english