Hi my bulbs started burning out so I replaced all the rear bulbs with Sylvania LEDs (Brake, Turn Signals, Parking, Tail, Back-up and Plate).
I was able to find on Byte 17 to disable Licence Plate Lights Pulse Width Modulation
However I am still getting bulb out for the others. I saw a few posts similar on other models and they all say to go to Byte 18 to turn off Cold Diagnosis. When I go to Byte 18 on mine all it shows is
NAR
, however I noticed if I go to LCode no.2 Byte 18 looks similar to screenshots of others but there is no text next to the Bits.
So my question is there a way to turn on text in LCode no.2 if not, are these options the Cold Diagnosis toggles?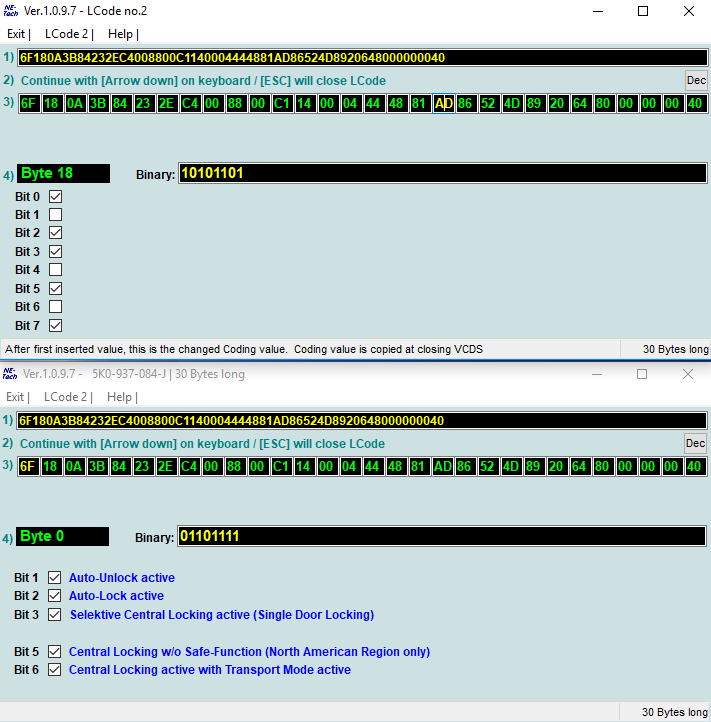 Code:
Wednesday,07,August,2019,21:22:25:57042


VCDS

 -- Windows Based VAG/VAS Emulator Running on Windows 10 x64


VCDS

 Version: 19.6.1.0 (x64)  HEX-V2 

CB

: 0.4508.4
Data version: 20190529 DS308.0
www.Ross-Tech.com


VIN: WVGAV3AX6DW626993   License Plate: 
Mileage: 118770km-73800mi   Repair Order: 



--------------------------------------------------------------------------------
--------------------------------------------------------------------------------


Chassis Type: AX-VW36 (7N0)
Scan: 01 02 03 08 09 15 16 17 19 25 42 44 46 4C 52 53 56 62 72 77
         

VIN: WVGAV3AX6DW626993   Mileage: 118770km-73800miles

01-Engine -- Status: OK 0000
02-Auto Trans -- Status: OK 0000
03-

ABS

 Brakes -- Status: OK 0000
04-Steering Angle -- Status: OK 0000
08-Auto HVAC -- Status: OK 0000
09-Cent. Elect. -- Status: Malfunction 0010
15-Airbags -- Status: Malfunction 0010
16-Steering wheel -- Status: Malfunction 0010
17-Instruments -- Status: OK 0000
19-CAN Gateway -- Status: OK 0000
25-Immobilizer -- Status: OK 0000
42-Door Elect, Driver -- Status: OK 0000
44-Steering Assist -- Status: OK 0000
46-Central Conv. -- Status: OK 0000
4C-Tire Pressure II -- Status: OK 0000
52-Door Elect, Pass. -- Status: OK 0000
53-Parking Brake -- Status: OK 0000
56-Radio -- Status: Malfunction 0010
62-Door, Rear Left -- Status: OK 0000
72-Door, Rear Right -- Status: OK 0000
77-Telephone -- Status: OK 0000
-------------------------------------------------------------------------------
Address 01: Engine (CCT)       Labels:. 06J-906-026-CCT.clb
   Part No SW: 06J 997 027 M    HW: 06J 907 309 A
   Component: MED17.5.2 TFSI 2 06 0396  
   Revision: P3H07---    Serial number:               
   Coding: 0423010A19070160
   Shop #: 

WSC

 54991 001 1048576
   VCID: 3FDB43858B7051DFF33-806A

No fault code found.
Readiness: 0000 0000

-------------------------------------------------------------------------------
Address 02: Auto Trans        Labels: 09G-927-750.clb
   Part No SW: 09G 927 750 NK    HW: 09G 927 750 NK
   Component: AQ 250 6F           2253  
   Revision: 00H97000    Serial number:               
   Coding: 0000840
   Shop #: 

WSC

 01357 011 00200
   VCID: 074B9B659320D91F8B3-8052

No fault code found.

-------------------------------------------------------------------------------
Address 03: 

ABS

 Brakes        Labels: 5N0-614-109-C6.clb
   Part No SW: 5N0 614 109 BD    HW: 5N0 614 109 BD
   Component: J104   C6 450M VDD6 0011  
   Revision: --H07---    Serial number: 00000007016804
   Coding: 0005158
   Shop #: 

WSC

 01357 011 00200
   VCID: 6E85CEC19C9AE857285-803A

No fault code found.

-------------------------------------------------------------------------------
Address 08: Auto HVAC (J301)       Labels:| 3C8-907-336.clb
   Part No SW: 561 907 426     HW: 561 907 426 
   Component: AC Manuell    H02 0101  
   Revision: 00001K07    
   Coding: 0010001002
   Shop #: 

WSC

 01357 011 00200
   

ASAM

 Dataset: EV_ACManuaElectGen2BHTC 001002
   ROD: EV_ACManuaElectGen2BHTC_VW36.rod
   VCID: 58E98819029E86E7D29-800C

No fault code found.

-------------------------------------------------------------------------------
Address 09: Cent. Elect. (J519)       Labels:. 1K0-937-08x-09.clb
   Part No SW: 5K0 937 084 J    HW: 5K0 937 084 J
   Component: 

BCM

 PQ35 B    021 0068  
   Revision: BG021001    
   Coding: 6F180A3B84232EC4008800C1140004444801AD86524D8960648000000040
   Shop #: 

WSC

 33361 790 00999
   VCID: 392F2D9D99547FEFCD7-806C

   Subsystem 1 - Part No: 5N1 955 119 A  Labels: 1KX-955-119.CLB
   Component: WWS 070513 03  32  0010 
   Coding: 009795

6 Faults Found:
00883 - Ignition Switch (D) Terminal S 
            008 - Implausible Signal - Intermittent
             Freeze Frame:
                    Fault Status: 00101000
                    Fault Priority: 4
                    Fault Frequency: 34
                    Reset counter: 254
                    Mileage: 110691 km
                    Time Indication: 0
                    Date: 2013.07.28
                    Time: 05:34:09

             Freeze Frame:
                        Term 15 On
                    Voltage: 12.60 V
                        ON
                        ON
                        OFF
                        OFF
                        OFF

01259 - Fuel Pump Relay (J17) 
            009 - Open or Short to Ground
             Freeze Frame:
                    Fault Status: 01101001
                    Fault Priority: 5
                    Fault Frequency: 1
                    Reset counter: 66
                    Mileage: 37663 km
                    Time Indication: 0
                    Date: 2016.06.17
                    Time: 00:00:04

             Freeze Frame:
                        Term 15 Off
                    Voltage: 12.60 V
                        OFF
                        ON
                        OFF
                        OFF
                        OFF

01501 - Bulb for Blinkers; Rear Left (M6) 
            010 - Open or Short to Plus
             Freeze Frame:
                    Fault Status: 01101010
                    Fault Priority: 2
                    Fault Frequency: 10
                    Reset counter: 214
                    Mileage: 118451 km
                    Time Indication: 0
                    Date: 2013.12.16
                    Time: 08:12:13

             Freeze Frame:
                        Term 15 Off
                    Voltage: 12.65 V
                        OFF
                        ON
                        OFF
                        OFF
                        OFF

01504 - Bulb for License-Plate Light (X) 
            010 - Open or Short to Plus
             Freeze Frame:
                    Fault Status: 01101010
                    Fault Priority: 2
                    Fault Frequency: 20
                    Reset counter: 214
                    Mileage: 118451 km
                    Time Indication: 0
                    Date: 2013.12.16
                    Time: 08:30:06

             Freeze Frame:
                        Term 15 Off
                    Voltage: 12.55 V
                        OFF
                        ON
                        OFF
                        OFF
                        OFF

01505 - Bulb for Blinkers; Rear Right (M8) 
            010 - Open or Short to Plus
             Freeze Frame:
                    Fault Status: 01101010
                    Fault Priority: 2
                    Fault Frequency: 1
                    Reset counter: 201
                    Mileage: 118451 km
                    Time Indication: 0
                    Date: 2013.12.16
                    Time: 08:20:45

             Freeze Frame:
                        Term 15 On
                    Voltage: 12.40 V
                        ON
                        ON
                        OFF
                        OFF
                        OFF

01800 - Light Switch (E1) 
            008 - Implausible Signal - Intermittent
             Freeze Frame:
                    Fault Status: 00101000
                    Fault Priority: 3
                    Fault Frequency: 12
                    Reset counter: 234
                    Mileage: 115810 km
                    Time Indication: 0
                    Date: 2013.11.08
                    Time: 10:18:08

             Freeze Frame:
                        Term 15 On
                    Voltage: 14.15 V
                        ON
                        ON
                        OFF
                        OFF
                        OFF


-------------------------------------------------------------------------------
Address 15: Airbags        Labels: 5N0-959-655.lbl
   Part No SW: 5N0 959 655 AD    HW: 5N0 959 655 AD
   Component: J234__207 VW10 HI   2318  
   Revision: 27019000    Serial number: 003N4P9FBZQM  
   Coding: 0012343
   Shop #: 

WSC

 01357 011 00200
   VCID: 7F5B0385CBF091DFB33-802A

   Subsystem 1 - Part No: 5N0 959 339 B
   Component: BF-Gewichtsens. 003 0001

   Subsystem 2 - Serial number: 0000000000DJLF

   Subsystem 3 - Serial number: 0014.02.130000300000640031ÿ†63

   Subsystem 4 - Serial number: 640031ÿ†6332MTS6456511732ÿ†63

   Subsystem 5 - Serial number: 511732ÿ†6342MTS6658011732ÿ†63

   Subsystem 6 - Serial number: 011732ÿ†6351HTS67L0IRBKJ3ÿ†63

   Subsystem 7 - Serial number: IRBKJ3ÿ†6361HTS691JNRBKJAÿ†63

   Subsystem 8 - Serial number: NRBKJAÿ†63727TS6MT6ORBKR$ÿ†63

   Subsystem 9 - Serial number: ORBKR$ÿ†63827TS68IDORBKJEÿ

   Subsystem 10 - Serial number: ORBKJEÿ

1 Fault Found:
03551 - Functional Restriction of Seat Occupied Recognition 
            000 - - - Intermittent - MIL ON
             Freeze Frame:
                    Fault Status: 10100000
                    Fault Priority: 2
                    Fault Frequency: 1
                    Reset counter: 255
                    Mileage: 110672 km
                    Time Indication: 0
                    Date: 2013.07.28
                    Time: 02:11:57


-------------------------------------------------------------------------------
Address 16: Steering wheel (J527)       Labels:| 5K0-953-569.clb
   Part No SW: 5K0 953 501 AT    HW: 5K0 953 569 H
   Component: LENKS.MODUL   016 0140  
   Revision: FF010042    Serial number: 20130511300686
   Coding: 198A140000
   Shop #: 

WSC

 01357 011 00200
   

ASAM

 Dataset: EV_VW360SteerWheelUDS A03004
   ROD: EV_VW360SteerWheelUDS.rod
   VCID: 7CA1F489D6668AC7961-8028

   Multifunction steering wheel control module: 
   Subsystem 1 - Part No SW: 5K0 959 542 C    HW: 5K0 959 542 C  Labels: 3C8-959-537.CLB
   Component: E221__MFL-TAS  H31 0033 
   Coding: 820000

1 Fault Found:
147462 - Terminal 15 
          B1148 12 [008] - Short to Plus
          Intermittent - Confirmed - Tested Since Memory Clear
             Freeze Frame:
                    Fault Status: 00000001
                    Fault Priority: 2
                    Fault Frequency: 254
                    Reset counter: 254
                    Mileage: 72166 km
                    Date: 2017.08.15
                    Time: 14:08:58


-------------------------------------------------------------------------------
Address 17: Instruments (J285)       Labels:| 5K0-920-xxx-17.clb-SRI1
   Part No SW: 5N0 920 973 B    HW: 5N0 920 973 B
   Component: KOMBI         H06 0705  
   Serial number: 00000000000000
   Coding: 211F01
   Shop #: 

WSC

 01357 011 00200
   

ASAM

 Dataset: EV_Kombi_UDS_VDD_RM09 A04716
   ROD: EV_Kombi_UDS_VDD_RM09_004_VW32.rod
   VCID: 33331FB5BBB885BF07B-8066

No fault code found.

-------------------------------------------------------------------------------
Address 19: CAN Gateway (J533)       Labels:. 7N0-907-530-V2.clb
   Part No SW: 7N0 907 530 AF    HW: 7N0 907 530 AF
   Component: J533  Gateway H52 1634  
   Revision:   H52       Serial number: 060513F1002413
   Coding: 356002
   Shop #: 

WSC

 01357 011 00200
   VCID: 74B1DCA9FEB6C287DE1-8020

No fault code found.

-------------------------------------------------------------------------------
Address 25: Immobilizer (J334)       Labels:| 5K0-920-xxx-25.clb
   Part No SW: 5K0 953 234     HW: 5K0 953 234 
   Component: IMMO          H06 0705  
   Serial number: 00000000000000
   Coding: 000000
   Shop #: 

WSC

 01357 011 00200
   

ASAM

 Dataset: EV_Immo_UDS_VDD_RM09 A03709
   ROD: EV_Immo_UDS_VDD_RM09.rod
   VCID: 6A8DC2D1ACF2047774D-803E

No fault code found.

-------------------------------------------------------------------------------
Address 42: Door Elect, Driver (J386)       Labels:| 3C0-959-70X-GEN4.clb
   Part No SW: 5N0 959 701 F    HW: 3C0 959 793 B
   Component: TUER-SG FT    002 0503  
   Revision: 13110009    Serial number: 0006953596
   Coding: 0004B4
   Shop #: 

WSC

 01357 011 00200
   

ASAM

 Dataset: EV_TSGFPQ35BRFVW46X A04001
   ROD: EV_TSGFPQ35BRFVW46X_VW36.rod
   VCID: 38292899A2DE66E7329-806C

   Slave Driver: 
   Subsystem 1 - Part No SW: 5N0 959 703 G    HW: 3C0 959 794 D  Labels: 1K0-959-70X-GEN4.CLB
   Component: J388__TSG-HL  009 1504 
   Serial number: 00000007886615      
   Coding: 000490

No fault code found.

-------------------------------------------------------------------------------
Address 44: Steering Assist        Labels: 5N1-909-144.clb
   Part No SW: 5N1 909 144 P    HW: 5N1 909 148 J
   Component: J500__APA-BS KL.285 1202  
   Revision: 1BH04839    Serial number: 00131190153901
   Coding: 0000258
   Shop #: 

WSC

 01357 011 00200
   VCID: 3FDB43858B7051DFF33-806A

No fault code found.

-------------------------------------------------------------------------------
Address 52: Door Elect, Pass. (J387)       Labels:| 3C0-959-70X-GEN4.clb
   Part No SW: 5N0 959 702 F    HW: 3C0 959 792 B
   Component: TUER-SG BT    002 0503  
   Revision: 15110009    Serial number: 0006966167
   Coding: 0004B4
   Shop #: 

WSC

 01357 011 00200
   

ASAM

 Dataset: EV_TSGBPQ35BRFVW46X A04001
   ROD: EV_TSGBPQ35BRFVW46X_VW36.rod
   VCID: 392F2D9D99D47FEFCD7-806C

   Slave Passenger: 
   Subsystem 1 - Part No SW: 5N0 959 704 G    HW: 3C0 959 795 D  Labels: 1K0-959-70X-GEN4.CLB
   Component: J389__TSG-HR  009 1504 
   Serial number: 00000007883667      
   Coding: 000490

No fault code found.

-------------------------------------------------------------------------------
Address 53: Parking Brake        Labels: 3AA-907-801.clb
   Part No SW: 3AA 907 801 H    HW: 3AA 907 801 H
   Component: J540 EPB4  VW-86594 0010  
   Revision:   H19       Serial number: 00000001006217
   Coding: 0026156
   Shop #: 

WSC

 01357 011 00200
   VCID: 363526A1A44A9097205-8062

No fault code found.

-------------------------------------------------------------------------------
Address 56: Radio (J503)       Labels:. 5M0-035-1xx-56.clb
   Part No SW: 5N0 035 164 D    HW: 5N0 035 164 D
   Component: LOW 

NAR

 Tig   H02 0006  
   Revision: -----06S    Serial number: VWZ4Z6N3557739
   Coding: 0500040004000C
   Shop #: 

WSC

 01357 011 00200
   VCID: 2A0D02D16CF2C477B4D-807E

1 Fault Found:
03138 - Input AUX IN 
            011 - Open Circuit
             Freeze Frame:
                    Fault Status: 01101011
                    Fault Priority: 5
                    Fault Frequency: 1
                    Reset counter: 31
                    Mileage: 17002 km
                    Time Indication: 0
                    Date: 2015.03.14
                    Time: 21:10:24


-------------------------------------------------------------------------------
Address 77: Telephone (J412)       Labels:| 7P6-035-730.clb
   Part No SW: 7P6 035 730 K    HW: 7P6 035 730 K
   Component: TELEFON       H15 3200  
   Revision: 1B001001    Serial number: 00007664772905
   Coding: 0A10040000010100
   Shop #: 

WSC

 01357 011 00200
   

ASAM

 Dataset: EV_UHVNA 002720
   ROD: EV_UHVNA_002.rod
   VCID: 3A2D32919CD274F7C4D-806E

No fault code found.

End----------(Elapsed Time: 01:13, VBatt start/end: 12.5V/12.5V)-----------
Saturday,10,August,2019,20:13:21:57042


VCDS

 -- Windows Based VAG/VAS Emulator Running on Windows 10 x64


VCDS

 Version: 19.6.1.0 (x64)  HEX-V2 

CB

: 0.4508.4
Data version: 20190529 DS308.0
www.Ross-Tech.com


VIN: WVGAV3AX6DW626993   License Plate: 
Mileage: 119010km-73949mi   Repair Order: 



--------------------------------------------------------------------------------
--------------------------------------------------------------------------------


Chassis Type: AX-VW36 (7N0)
Scan: 01 02 03 08 09 15 16 17 19 25 42 44 46 4C 52 53 56 62 72 77
         

VIN: WVGAV3AX6DW626993   Mileage: 119010km-73949miles

01-Engine -- Status: OK 0000
02-Auto Trans -- Status: OK 0000
03-

ABS

 Brakes -- Status: OK 0000
04-Steering Angle -- Status: OK 0000
08-Auto HVAC -- Status: OK 0000
09-Cent. Elect. -- Status: Malfunction 0010
15-Airbags -- Status: Malfunction 0010
16-Steering wheel -- Status: Malfunction 0010
17-Instruments -- Status: OK 0000
19-CAN Gateway -- Status: OK 0000
25-Immobilizer -- Status: OK 0000
42-Door Elect, Driver -- Status: OK 0000
44-Steering Assist -- Status: OK 0000
46-Central Conv. -- Status: OK 0000
4C-Tire Pressure II -- Status: OK 0000
52-Door Elect, Pass. -- Status: OK 0000
53-Parking Brake -- Status: OK 0000
56-Radio -- Status: Malfunction 0010
62-Door, Rear Left -- Status: OK 0000
72-Door, Rear Right -- Status: OK 0000
77-Telephone -- Status: OK 0000
-------------------------------------------------------------------------------
Address 01: Engine (CCT)       Labels:. 06J-906-026-CCT.clb
   Part No SW: 06J 997 027 M    HW: 06J 907 309 A
   Component: MED17.5.2 TFSI 2 06 0396  
   Revision: P3H07---    Serial number:               
   Coding: 0423010A19070160
   Shop #: 

WSC

 54991 001 1048576
   VCID: 3FDB43858B7051DFF33-806A

No fault code found.
Readiness: 0000 0000

-------------------------------------------------------------------------------
Address 02: Auto Trans        Labels: 09G-927-750.clb
   Part No SW: 09G 927 750 NK    HW: 09G 927 750 NK
   Component: AQ 250 6F           2253  
   Revision: 00H97000    Serial number:               
   Coding: 0000840
   Shop #: 

WSC

 01357 011 00200
   VCID: 074B9B659320D91F8B3-8052

No fault code found.

-------------------------------------------------------------------------------
Address 03: 

ABS

 Brakes        Labels: 5N0-614-109-C6.clb
   Part No SW: 5N0 614 109 BD    HW: 5N0 614 109 BD
   Component: J104   C6 450M VDDB 0011  
   Revision: --H07---    Serial number: 00000007016804
   Coding: 0005158
   Shop #: 

WSC

 01357 011 00200
   VCID: 6E85CEC19C9AE857285-803A

No fault code found.

-------------------------------------------------------------------------------
Address 08: Auto HVAC (J301)       Labels:| 3C8-907-336.clb
   Part No SW: 561 907 426     HW: 561 907 426 
   Component: AC Manuell    H02 0101  
   Revision: 00001K07    
   Coding: 0010001002
   Shop #: 

WSC

 01357 011 00200
   

ASAM

 Dataset: EV_ACManuaElectGen2BHTC 001002
   ROD: EV_ACManuaElectGen2BHTC_VW36.rod
   VCID: 58E98819029E86E7D29-800C

No fault code found.

-------------------------------------------------------------------------------
Address 09: Cent. Elect. (J519)       Labels:. 1K0-937-08x-09.clb
   Part No SW: 5K0 937 084 J    HW: 5K0 937 084 J
   Component: 

BCM

 PQ35 B    021 0068  
   Revision: BG021001    
   Coding: 6F180A3B84232EC4008800C1140004444881AD86524D8920648000000040
   Shop #: 

WSC

 33361 790 00999
   VCID: 392F2D9D99547FEFCD7-806C

   Subsystem 1 - Part No: 5N1 955 119 A  Labels: 1KX-955-119.CLB
   Component: WWS 070513 03  32  0010 
   Coding: 009795

6 Faults Found:
00883 - Ignition Switch (D) Terminal S 
            008 - Implausible Signal
             Freeze Frame:
                    Fault Status: 01101000
                    Fault Priority: 4
                    Fault Frequency: 35
                    Reset counter: 217
                    Mileage: 110691 km
                    Time Indication: 0
                    Date: 2013.07.28
                    Time: 05:34:09

             Freeze Frame:
                        Term 15 On
                    Voltage: 12.60 V
                        ON
                        ON
                        OFF
                        OFF
                        OFF

01259 - Fuel Pump Relay (J17) 
            009 - Open or Short to Ground
             Freeze Frame:
                    Fault Status: 01101001
                    Fault Priority: 5
                    Fault Frequency: 1
                    Reset counter: 66
                    Mileage: 37663 km
                    Time Indication: 0
                    Date: 2016.06.17
                    Time: 00:00:04

             Freeze Frame:
                        Term 15 Off
                    Voltage: 12.60 V
                        OFF
                        ON
                        OFF
                        OFF
                        OFF

01501 - Bulb for Blinkers; Rear Left (M6) 
            010 - Open or Short to Plus
             Freeze Frame:
                    Fault Status: 01101010
                    Fault Priority: 2
                    Fault Frequency: 14
                    Reset counter: 219
                    Mileage: 118451 km
                    Time Indication: 0
                    Date: 2013.12.16
                    Time: 08:12:13

             Freeze Frame:
                        Term 15 Off
                    Voltage: 12.65 V
                        OFF
                        ON
                        OFF
                        OFF
                        OFF

01504 - Bulb for License-Plate Light (X) 
            010 - Open or Short to Plus - Intermittent
             Freeze Frame:
                    Fault Status: 00101010
                    Fault Priority: 2
                    Fault Frequency: 24
                    Reset counter: 4
                    Mileage: 118451 km
                    Time Indication: 0
                    Date: 2013.12.16
                    Time: 08:30:06

             Freeze Frame:
                        Term 15 Off
                    Voltage: 12.55 V
                        OFF
                        ON
                        OFF
                        OFF
                        OFF

01505 - Bulb for Blinkers; Rear Right (M8) 
            010 - Open or Short to Plus
             Freeze Frame:
                    Fault Status: 01101010
                    Fault Priority: 2
                    Fault Frequency: 1
                    Reset counter: 201
                    Mileage: 118451 km
                    Time Indication: 0
                    Date: 2013.12.16
                    Time: 08:20:45

             Freeze Frame:
                        Term 15 On
                    Voltage: 12.40 V
                        ON
                        ON
                        OFF
                        OFF
                        OFF

01800 - Light Switch (E1) 
            008 - Implausible Signal - Intermittent
             Freeze Frame:
                    Fault Status: 00101000
                    Fault Priority: 3
                    Fault Frequency: 12
                    Reset counter: 234
                    Mileage: 115810 km
                    Time Indication: 0
                    Date: 2013.11.08
                    Time: 10:18:08

             Freeze Frame:
                        Term 15 On
                    Voltage: 14.15 V
                        ON
                        ON
                        OFF
                        OFF
                        OFF


-------------------------------------------------------------------------------
Address 15: Airbags        Labels: 5N0-959-655.lbl
   Part No SW: 5N0 959 655 AD    HW: 5N0 959 655 AD
   Component: J234__207 VW10 HI   2318  
   Revision: 27019000    Serial number: 003N4P9FBZQM  
   Coding: 0012343
   Shop #: 

WSC

 01357 011 00200
   VCID: 7F5B0385CBF091DFB33-802A

   Subsystem 1 - Part No: 5N0 959 339 B
   Component: BF-Gewichtsens. 003 0001

   Subsystem 2 - Serial number: 0000000000DJLF

   Subsystem 3 - Serial number: 0014.02.130000300000640031ÿ†63

   Subsystem 4 - Serial number: 640031ÿ†6332MTS6456511732ÿ†63

   Subsystem 5 - Serial number: 511732ÿ†6342MTS6658011732ÿ†63

   Subsystem 6 - Serial number: 011732ÿ†6351HTS67L0IRBKJ3ÿ†63

   Subsystem 7 - Serial number: IRBKJ3ÿ†6361HTS691JNRBKJAÿ†63

   Subsystem 8 - Serial number: NRBKJAÿ†63727TS6MT6ORBKR$ÿ†63

   Subsystem 9 - Serial number: ORBKR$ÿ†63827TS68IDORBKJEÿ

   Subsystem 10 - Serial number: ORBKJEÿ

1 Fault Found:
03551 - Functional Restriction of Seat Occupied Recognition 
            000 - - - Intermittent - MIL ON
             Freeze Frame:
                    Fault Status: 10100000
                    Fault Priority: 2
                    Fault Frequency: 1
                    Reset counter: 255
                    Mileage: 110672 km
                    Time Indication: 0
                    Date: 2013.07.28
                    Time: 02:11:57


-------------------------------------------------------------------------------
Address 16: Steering wheel (J527)       Labels:| 5K0-953-569.clb
   Part No SW: 5K0 953 501 AT    HW: 5K0 953 569 H
   Component: LENKS.MODUL   016 0140  
   Revision: FF010042    Serial number: 20130511300686
   Coding: 198A140000
   Shop #: 

WSC

 01357 011 00200
   

ASAM

 Dataset: EV_VW360SteerWheelUDS A03004
   ROD: EV_VW360SteerWheelUDS.rod
   VCID: 7CA1F489D6668AC7961-8028

   Multifunction steering wheel control module: 
   Subsystem 1 - Part No SW: 5K0 959 542 C    HW: 5K0 959 542 C  Labels: 3C8-959-537.CLB
   Component: E221__MFL-TAS  H31 0033 
   Coding: 820000

1 Fault Found:
147462 - Terminal 15 
          B1148 12 [008] - Short to Plus
          Intermittent - Confirmed - Tested Since Memory Clear
             Freeze Frame:
                    Fault Status: 00000001
                    Fault Priority: 2
                    Fault Frequency: 254
                    Reset counter: 4
                    Mileage: 72166 km
                    Date: 2017.08.15
                    Time: 14:08:58


-------------------------------------------------------------------------------
Address 17: Instruments (J285)       Labels:| 5K0-920-xxx-17.clb-SRI1
   Part No SW: 5N0 920 973 B    HW: 5N0 920 973 B
   Component: KOMBI         H06 0705  
   Serial number: 00000000000000
   Coding: 211F01
   Shop #: 

WSC

 01357 011 00200
   

ASAM

 Dataset: EV_Kombi_UDS_VDD_RM09 A04716
   ROD: EV_Kombi_UDS_VDD_RM09_004_VW32.rod
   VCID: 33331FB5BBB885BF07B-8066

No fault code found.

-------------------------------------------------------------------------------
Address 19: CAN Gateway (J533)       Labels:. 7N0-907-530-V2.clb
   Part No SW: 7N0 907 530 AF    HW: 7N0 907 530 AF
   Component: J533  Gateway H52 1634  
   Revision:   H52       Serial number: 060513F1002413
   Coding: 356002
   Shop #: 

WSC

 01357 011 00200
   VCID: 74B1DCA9FEB6C287DE1-8020

No fault code found.

-------------------------------------------------------------------------------
Address 25: Immobilizer (J334)       Labels:| 5K0-920-xxx-25.clb
   Part No SW: 5K0 953 234     HW: 5K0 953 234 
   Component: IMMO          H06 0705  
   Serial number: 00000000000000
   Coding: 000000
   Shop #: 

WSC

 01357 011 00200
   

ASAM

 Dataset: EV_Immo_UDS_VDD_RM09 A03709
   ROD: EV_Immo_UDS_VDD_RM09.rod
   VCID: 6A8DC2D1ACF2047774D-803E

No fault code found.

-------------------------------------------------------------------------------
Address 42: Door Elect, Driver (J386)       Labels:| 3C0-959-70X-GEN4.clb
   Part No SW: 5N0 959 701 F    HW: 3C0 959 793 B
   Component: TUER-SG FT    002 0503  
   Revision: 13110009    Serial number: 0006953596
   Coding: 0004B4
   Shop #: 

WSC

 01357 011 00200
   

ASAM

 Dataset: EV_TSGFPQ35BRFVW46X A04001
   ROD: EV_TSGFPQ35BRFVW46X_VW36.rod
   VCID: 38292899A2DE66E7329-806C

   Slave Driver: 
   Subsystem 1 - Part No SW: 5N0 959 703 G    HW: 3C0 959 794 D  Labels: 1K0-959-70X-GEN4.CLB
   Component: J388__TSG-HL  009 1504 
   Serial number: 00000007886615      
   Coding: 000490

No fault code found.

-------------------------------------------------------------------------------
Address 44: Steering Assist        Labels: 5N1-909-144.clb
   Part No SW: 5N1 909 144 P    HW: 5N1 909 148 J
   Component: J500__APA-BS KL.285 1202  
   Revision: 1BH04839    Serial number: 00131190153901
   Coding: 0000258
   Shop #: 

WSC

 01357 011 00200
   VCID: 3FDB43858B7051DFF33-806A

No fault code found.

-------------------------------------------------------------------------------
Address 52: Door Elect, Pass. (J387)       Labels:| 3C0-959-70X-GEN4.clb
   Part No SW: 5N0 959 702 F    HW: 3C0 959 792 B
   Component: TUER-SG BT    002 0503  
   Revision: 15110009    Serial number: 0006966167
   Coding: 0004B4
   Shop #: 

WSC

 01357 011 00200
   

ASAM

 Dataset: EV_TSGBPQ35BRFVW46X A04001
   ROD: EV_TSGBPQ35BRFVW46X_VW36.rod
   VCID: 392F2D9D99D47FEFCD7-806C

   Slave Passenger: 
   Subsystem 1 - Part No SW: 5N0 959 704 G    HW: 3C0 959 795 D  Labels: 1K0-959-70X-GEN4.CLB
   Component: J389__TSG-HR  009 1504 
   Serial number: 00000007883667      
   Coding: 000490

No fault code found.

-------------------------------------------------------------------------------
Address 53: Parking Brake        Labels: 3AA-907-801.clb
   Part No SW: 3AA 907 801 H    HW: 3AA 907 801 H
   Component: J540 EPB4  VW-86594 0010  
   Revision:   H19       Serial number: 00000001006217
   Coding: 0026156
   Shop #: 

WSC

 01357 011 00200
   VCID: 363526A1A44A9097205-8062

No fault code found.

-------------------------------------------------------------------------------
Address 56: Radio (J503)       Labels:. 5M0-035-1xx-56.clb
   Part No SW: 5N0 035 164 D    HW: 5N0 035 164 D
   Component: LOW 

NAR

 Tig   H02 0006  
   Revision: -----06S    Serial number: VWZ4Z6N3557739
   Coding: 0500040004000C
   Shop #: 

WSC

 01357 011 00200
   VCID: 2A0D02D16CF2C477B4D-807E

1 Fault Found:
03138 - Input AUX IN 
            011 - Open Circuit
             Freeze Frame:
                    Fault Status: 01101011
                    Fault Priority: 5
                    Fault Frequency: 1
                    Reset counter: 31
                    Mileage: 17002 km
                    Time Indication: 0
                    Date: 2015.03.14
                    Time: 21:10:24


-------------------------------------------------------------------------------
Address 77: Telephone (J412)       Labels:| 7P6-035-730.clb
   Part No SW: 7P6 035 730 K    HW: 7P6 035 730 K
   Component: TELEFON       H15 3200  
   Revision: 1B001001    Serial number: 00007664772905
   Coding: 0A10040000010100
   Shop #: 

WSC

 01357 011 00200
   

ASAM

 Dataset: EV_UHVNA 002720
   ROD: EV_UHVNA_002.rod
   VCID: 3A2D32919CD274F7C4D-806E

No fault code found.

End----------(Elapsed Time: 01:13, VBatt start/end: 12.6V/12.6V)-----------